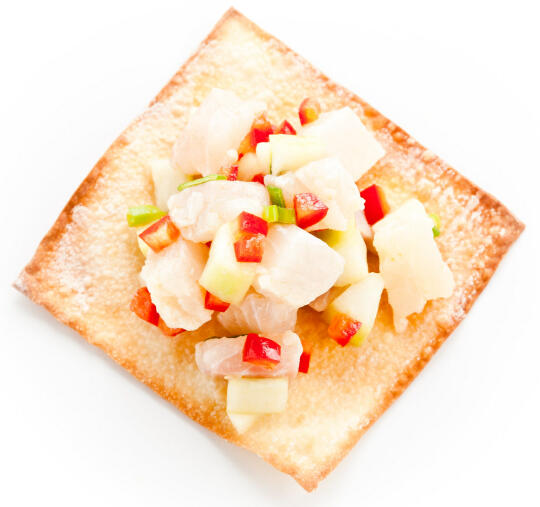 I am not perfect.
In case you were wondering.

I make mistakes, sometimes. Okay, lots of the time.
I was at Mitsuwa the other day, looking for sustainable seafood. (I would have ordered something from I Love Blue Sea, except it was Saturday, and I wanted to make sushi the next day, so there's no way I would have gotten it in time.)
So I pull up the Monterey Bay Aquarium Seafood Watch iPhone App. Standing in front of the refrigerated shelves of sashimi, I went to the "Sushi" section of the application, and sorted it by rating. Because I figured, I only want to buy seafood with the best rating, right?
So matching up the recommendations from the list to the options on the shelves, I saw izumidai – tilapia. It appeared to have a good rating, so I went ahead and bought it.
What I didn't realize until I got home, was that the good rating was only for tilapia farmed in the US. The tilapia I got was from Taiwan. Shoot. That's the worst type.
Cringe.
(Dear Monterey Bay Aquarium Seafood Watch… it would be really great if you could always keep the different ratings for each type of fish grouped, even when we sort it by best rating – so that when I look and see that a type of fish from one region is great, I'll also see that that same type of fish from other regions aren't so great, and can therefore make better informed decisions. Thanks, Allison)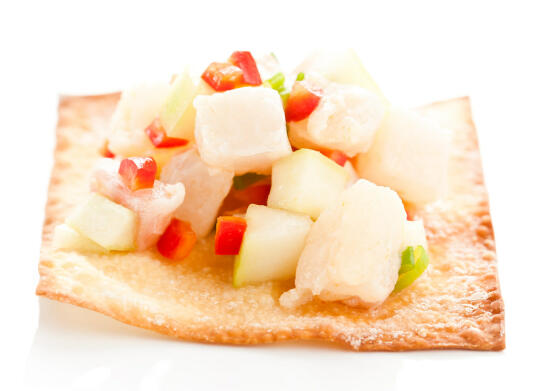 Okay, so that was a big mistake on my part. (And I'm owning up to it so hopefully you won't make the same mistake!) But even though I screwed up, it seems like it would be even worse to waste the fish when I've already bought it… right?
So we came up with a few different ways to use the tilapia, the first of which is a poke inspired by the poke we ate two years ago when we visited Hawaii. And if you can find tilapia farmed in the US, I really recommend this!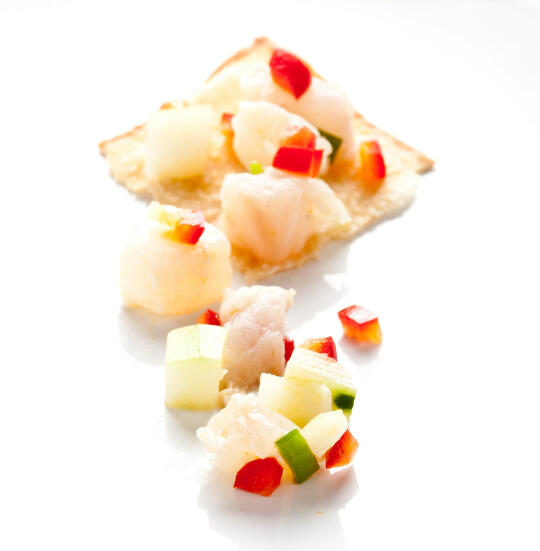 Ingredients
1 lb sashimi-grade tilapia, diced
1 cucumber, peeled, seeds removed, and diced
4 tsp fish sauce
4 tsp rice vinegar
4 stalks green onion, chopped
a few drops of chili oil, to taste
1 large red chili pepper, seeds removed, and chopped
10 wonton skins
sesame oil
Cooking Directions
Mix the diced tilapia, cucumber, fish sauce, rice vinegar, green onion, chili oil, and chili pepper in a bowl. Refrigerate for at least 20 minutes, or up to two hours.
Paint both sides of the wonton skins with sesame oil.
Bake or toast at 400°F for 2-3 minutes. Watch carefully, because it can go from perfect to burnt within seconds.
Top the wonton chips with the tilapia poke. Enjoy!
Coming Soon!
Percent Daily Values are based on a 2000 calorie diet. These values are only estimates based on the individual ingredients, and not meant to replace the advice of a medical professional.
You also might like...
---
---
Comments
The Other Allison says: December 9th, 2010 at 6:48 am

Oh man, I seem to have so much trouble picking out the "responsible" fish– especially Tilapia! I look like a crazy woman in a very crowded grocery store who refuses to move from the fish section after scouring the package for 10 minutes. Just when you get home with the fish you think is correct you see that 6 point font on the back of the package "farmed in Asia!" and you're like "awwww." I really wish there were better labeling requirements. I also have this problem with smoked salmon; sometimes it's impossible to tell whether it's Atlantic or Pacific! I don't have an iphone I can check, but I did get a handy little pocket guide from Oceana.

tilapia ceviche on crispy wontons : CAKIES says: May 8th, 2013 at 5:19 am

[…] Ceviche on Crispy Wontons adapted from this […]

general electric servisi says: August 14th, 2015 at 2:14 am

I want to enjoy it taste great to know that..
Leave a Reply