Archive
For the month of June, 2009
---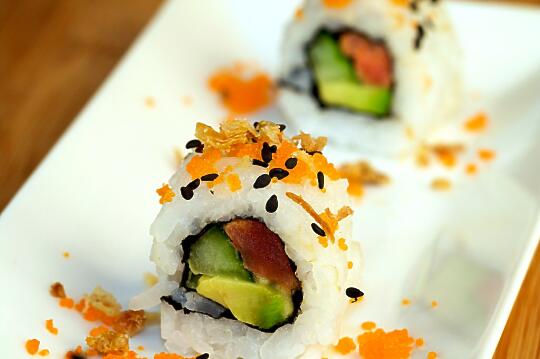 Supposedly today, June 18, is the "1st International Sushi Day". I say supposedly, because November 1, 2006 (coincidentally the day we launched Sushi Day) was also the "1st" International Sushi Day. And it really wouldn't surprise me if there have been others. Seems to me everyone claiming that today is International Sushi Day is referring to a group on facebook… so it seems to be a pretty arbitrary declaration of this new "international holiday". But who am I to complain? Goodness knows I welcome multiple International Sushi Days every year… I'm down with celebrating sushi as often as possible. 😀
So in honor of this "1st" International Sushi Day, of course I have to bring you all a sushi recipe. Because though I know most of you will celebrate by going out for sushi (anyone want to help me convince Son to take me out for sushi tonight? ;)), I'm sure there are at least a few of you who might want to try making sushi at home. So for you, the Red Dragon Roll – my favorite combination of tuna and avocado, with the added coolness of the cucumber to counteract the burning spice of the Sriracha sauce, and the crunchy combination of nutty sesame seeds, salty tobiko, and added umami from the fried onions on top.
Have a wonderful 2nd 1st International Sushi Day!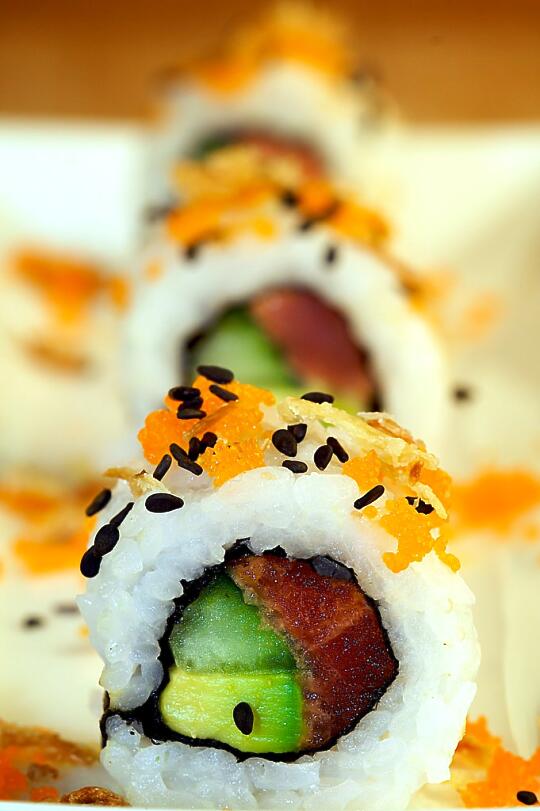 Continue Reading
---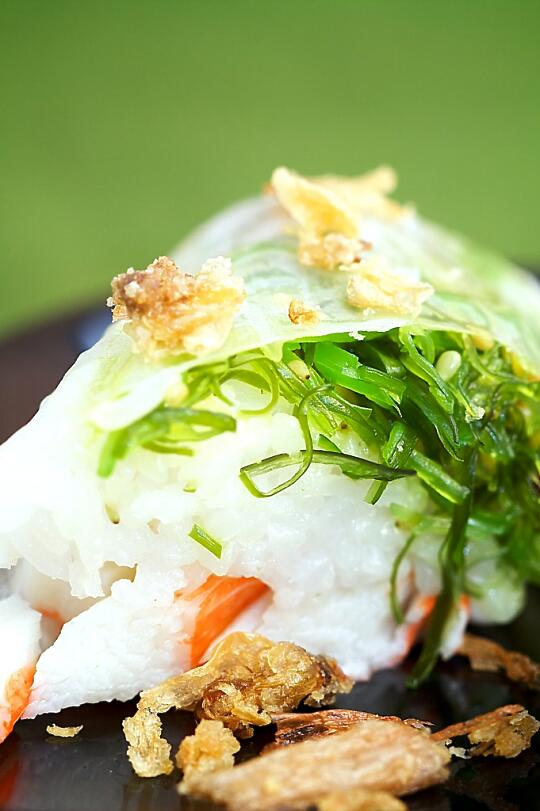 I am not a gamer. While I do enjoy the occasional video game (I enjoyed the 10-day free trial of WoW a few years ago, and I had a blast playing Halo 3 with Son), I spend very little time reading or looking at anything about video games, and even less time actually playing. (Except for Wii Fit. Believe it or not, it's actually a pretty great game if you want to get in shape… assuming you actually use it on a regular basis.)
Son, on the other hand, is a gamer. If he's not working or watching/playing basketball he's playing, reading about, or watching clips about video games. WoW, Halo, NBA 2K9… the man sure does love his video games.
So when we found out that we could get passes for E3 (Electronic Entertainment Expo) this year… Son was incredibly excited. Me… not so much. I was worried that I wouldn't enjoy walking around looking at a bunch of video games I'll probably never play, and I feared I'd feel incredibly out of place there.
Of course, my worries were completely silly. I had a blast. Although many of the games meant very little to me (like I said, not a gamer), there were some I recognized – God of War 2, Assassin's Creed 2, some of the Wii games, and the demo of DJ Hero (like Guitar Hero, but for DJs) seemed pretty cool. Of course, if you want a real review of how E3 was and what was there, you're going to have to look elsewhere. Most of the time I didn't really know what I was looking at and didn't play a single demo, though I did enjoy watching Son and his friend Dave play some of the games.
One of the games that Son played was called Mini Ninjas. It was a cute little game… sort of what you might get if you mixed Ninja Gaiden with Raving Rabbids. (See? I do know what I'm talking about. Sort of.) They have it for PS3, XBox360, and the Wii… it comes out in September. We might end up buying it – Son seemed to enjoy it. But that got me thinking about this Katana Roll, if only because of the name. (What? Swords are über cool in my world.)
So this roll, the Katana Roll. Seaweed salad, imitation crab, and mayonnaise, rolled up with sumeshi in a rice paper spring roll wrapper then topped with fried onions. It's a playful roll, slightly sweet from the imitation crab, crunchy from the seaweed salad, salty from the fried onions on top. Light, summery, delicious.
Note: I do not have a recipe for seaweed salad, though I'm definitely looking. I buy my seaweed salad from my local Japanese market – most Japanese and many Asian markets will carry some variation of it. When I do find a good recipe for seaweed salad, I will post it here for you without hesitation, promise!
Continue Reading
---
In the world of sushi, a big issue these days is sustainability. The way certain fish and other seafood are caught is harmful to the environment, and depleting the limited numbers of fish in the ocean.
One of the most widely-known endangered fish is bluefin tuna. More people who frequently eat sushi know that bluefin is endangered, and may be gone within a few years at the rate we consume them, than any other type of seafood.
Some people who feel strongly about this issue have decided to take action. To help broaden public awareness about the issues concerning bluefin tuna, they are bringing attention to the fact that popular, well-known sushi restaurant Nobu offers bluefin tuna on it's menu. (Many top sushi restaurants no longer serve bluefin tune, opting for the more sustainable yellowfin tuna.)
In recent attempt, many celebrities signed a petition in an attempt to convince the Nobu restaurant in London to remove bluefin from it's offerings, and have threatened to boycott. (See articles here, here, here, and here for more details regarding the petition and boycott.) Alton Brown (of Iron Chef fame) just announced live that he "won't set foot in Nobu until it stops selling bluefin tuna."
Just a week ago there was another such event at the Nobu in TriBeCa, New York, where Greenpeace organized a dine-in. Participants including Casson Trenor, the author of Sustainable Sushi, attempted to replace menus and business cards at Nobu with their own that pointed out Nobu's practice of serving the endangered bluefin tuna, and tried to ask the waitstaff about the sustainability of the sushi they serve. (See articles here, here, and here for more details regarding the dine-in.) It is reported that the participants did tip the waiters that evening, because Nobu's practices are not the responsibility of the waitstaff.
Another such event has been scheduled for tonight at the Nobu in West Hollywood, California.
So I want to know: what do you think about this? Do you think the tactics of Greenpeace were effective? Do you believe Nobu and other restaurants should be left alone to serve whatever they wish? How do you feel about the issue of sustainability as it applies to seafood?
Note: I have never used bluefin tuna on Sushi Day. When I use tuna, I always make a point to use the more sustainable, less endangered yellowfin tuna.
Another note: I really want to hear your opinions, everyone. But please keep it polite and civil – it helps no one if this degenerates into a flame war, and I really don't want to have to butt in and moderate you guys.
Last note, I promise: Don't worry, Sushi Day won't turn into a news-centric site. I'll be back with another sushi recipe within a couple of days, promise.
Continue Reading