I mentioned recently that I used to be a super picky kid, but now I'll eat just about anything. And somebody asked in the comments, what foods do I hate?
That's a really interesting question, because… there are a lot of things I won't eat, but I wouldn't say I hate them.
Take spicy foods, for example. If you take away the heat, a lot of spicy foods have good flavor. And there are a lot of spicy foods that I think are tasty, BUT I don't have a high spice tolerance, so I won't eat them.
I never developed a taste for alcohol, so I don't really drink. But I wouldn't say I hate it, because I'll happily try a sip here and there. I just never really like it enough to take more than a single sip.
There is one thing, that my husband absolutely loves, that I cannot do, and that is balut. But the thing is, I've tried it a number of times, and it's tasty! But mentally, I just can't quite get past it.
So I wouldn't say I hate any foods… but yeah. I can't do balut.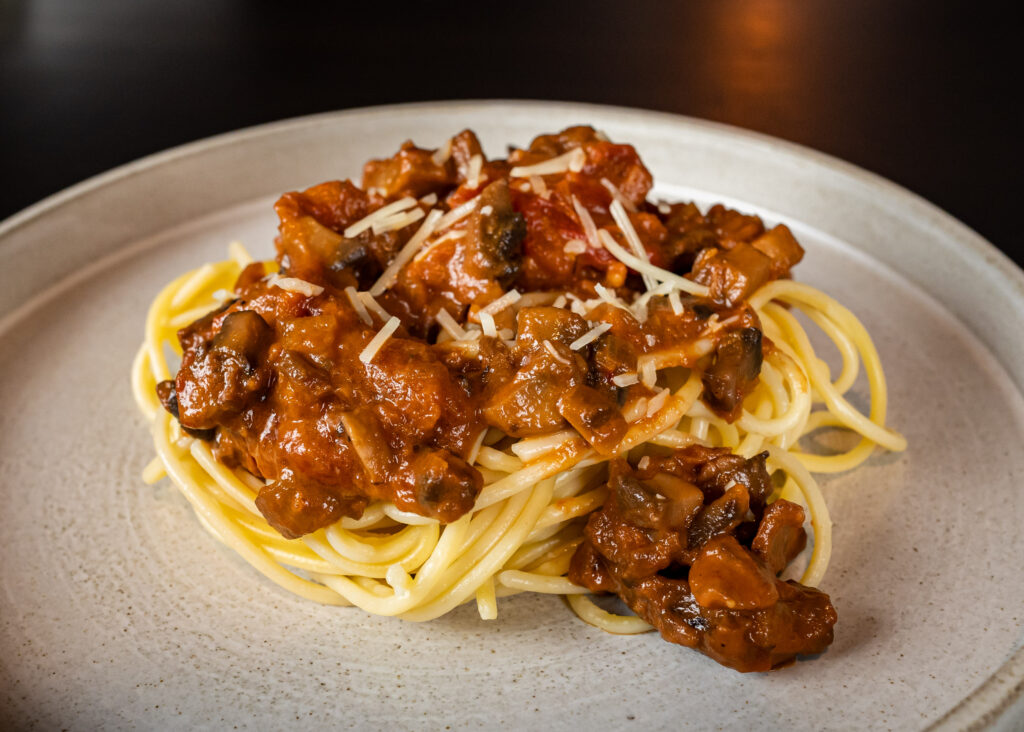 In my neverending quest to eat healthier (and also to help Son's dad eat healthier), I decided to try this mushroom bolognese recipe.
And it was a success!
I'm not one of those people who has to have meat for every meal, so I may not be the best judge here, but I really didn't miss the meat in this dish. Healthy, full of vegetables, and tasty? A definite win.
Mushroom Bolognese
from Everyday Annie
Ingredients
3 tbsp unsalted butter
2 lbs mushrooms, chopped
1 carrot, peeled and chopped
1 onion, peeled and chopped
1/2 oz dried porcini mushrooms, rinsed and minced
3 cloves garlic, minced
1 tsp sugar
2 tbsp tomato paste
1 cup red wine
1 (28 oz) can whole peeled tomatoes
1/2 cup vegetable broth
1 tbsp soy sauce
1/2 tsp kosher salt
1/4 tsp pepper
3 tbsp heavy cream
1 lb pasta of choice
parmesan, for serving
Cooking Directions
Melt the butter in a large Dutch oven over medium heat. Add the chopped vegetables along with the porcini mushrooms. Cover and cook, stirring occasionally, until they release their liquid, about 5 minutes. Uncover, increase the heat to medium-high and cook until the liquid has evaporated and vegetables begin to brown, 12-15 minutes.
Add the garlic and sugar to the pot and cook until fragrant, about 30 seconds. Stir in the tomato paste and cook for 1 minute. Gradually stir in the wine, bring to a simmer and let cook until nearly evaporated, about 5 minutes. Stir in the processed tomatoes, vegetable broth, soy sauce, salt, and pepper and bring the mixture to simmer. Reduce the heat to medium-low and cook until the sauce has thickened but is still moist, about 8-10 minutes. Remove from the heat and stir in the cream.
Meanwhile, bring a large pot of water to boil and cook the pasta according to the package directions just until al dente. Drain, reserving 1/2 cup of the pasta water. Return the pasta to the pot. Toss with the sauce until well combined. Season to taste with additional salt and pepper and adjust consistency, if needed, with the reserved pasta water. Serve warm with freshly grated Parmesan.
Sub to my YouTube channel and follow me on TikTok or Instagram to get notified whenever we have new videos!
Links in this post may be affiliate posts. If you buy an item through an affiliate link, I get a small fee, which helps support this blog!