In high school, a friend once told me, "you know what I hate about you, Allison? It's that you have no opinions."
Unsurprisingly we grew apart real fast after high school, but the thing is, she wasn't wrong.
I spent most of my life being afraid of people judging me. And because of that, I never wanted people to know what I liked, or disliked, or thought about anything, lest they judge me negatively.
Once, when I was in elementary school, my sister told my best friend after school that my favorite song was the Donna Lewis classic, I Love You Always Forever. I was SO mad that I turned around, stuck my tongue out (which was a serious insult at that age)… and then turned around and walked face first into a pole.
There were many tears that day.
I'm far more confident now, but even to this day – my automatic instinct is to be as neutral as possible – lest somebody judge me.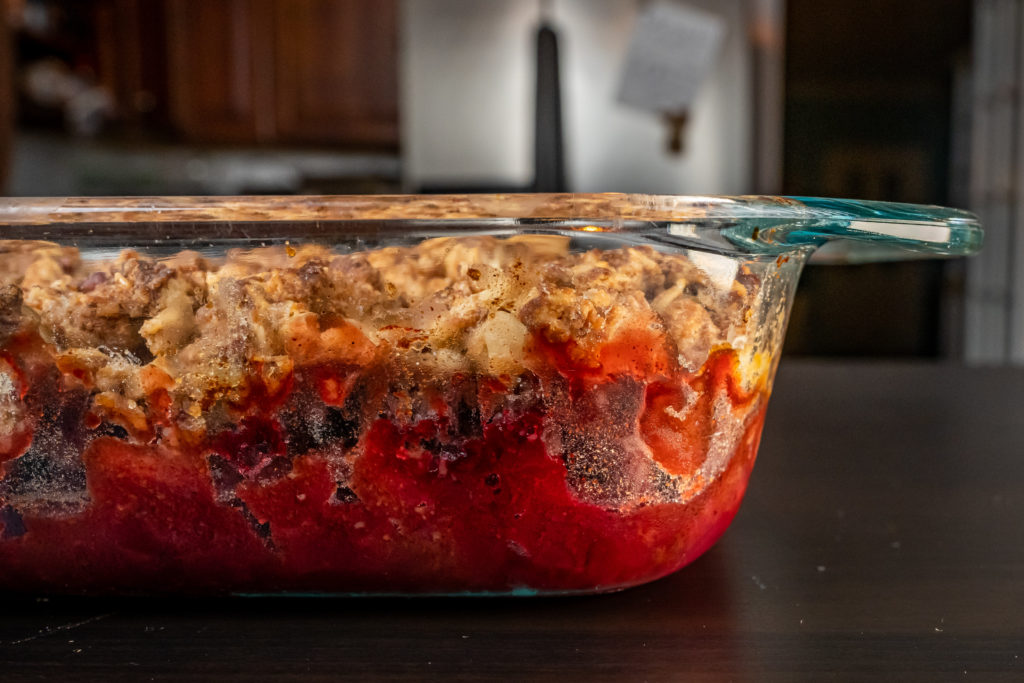 This is my second time making this dish, because I enjoyed it so much the first time around! I made it on my twitch stream last spring, and I've seriously been craving it ever since.
It's healthy and earthy and delicious, especially when served with a hefty scoop of vanilla ice cream or whipped cream.
I was NOT a fan of the vanilla goat cheese yogurt topping that's a part of the original recipe (too tangy, and I'm while I don't mind goat cheese in salads, it's just not my favorite thing), but if you love goat cheese then you might enjoy it.
Vanilla ice cream though… yes that's extremely my jam.
Apple Beet Crisp
slightly adapted from Food 52
Ingredients
Topping
12 tbsp (3/4 cup) unsalted butter, melted
1 1/4 cups all-purpose flour
1 cup old-fashioned rolled oats
1/2 cup chopped pecans or walnuts
1/2 cup packed light brown sugar
1 1/2 tsp ground cinnamon
1/2 tsp kosher salt
Filling
2 tbsp unsalted butter
1 lb beets (about 4 medium beets), peeled and diced
1 lb apples (about 3 medium apples – I used Fuji), peeled, cored, and diced
1/2 cup packed light brown sugar
1/4 cup freshly squeezed orange juice
1 tbsp cornstarch
2 tsp vanilla extract
2 tsp ground cinnamon
1 tsp ground nutmeg
1/2 tsp ground cloves
Cooking Directions
Position a rack in the middle of the oven and preheat to 350°F (176°C).
To make the topping: Combine flour, oats, melted butter, walnuts, brown sugar, cinnamon, and salt in a large bowl and mix using your hands until large clumps form. Set aside.
To make the filling: Melt butter in a large skillet over medium heat. (If you use a cast-iron, you can use this for baking later, but I don't have a cast-iron that will fit in my little oven so I used a nonstick skillet.) Add beets and cook, stirring often, until fork-tender and lightly browned on the edges, about 12 minutes. Remove skillet from heat and let cool for 10 minutes.
To the cooled skillet, add apples, brown sugar, orange juice, cornstarch, vanilla, cinnamon, nutmeg, and cloves. Toss to thoroughly coat the apples and beets. (If your skillet is too small or you're not using it to bake, transfer the mixture into a large bowl, toss to coat, and pour back into the skillet or an 8×8″ baking dish.)
Distribute prepared topping evenly over beets and apple mixture. Bake until the top is lightly browned and the sides are bubbling, about 30 to 40 minutes. Let cool for 20 minutes.
Sub to my YouTube channel and follow me on TikTok or Instagram to get notified whenever we have new videos!
Links in this post may be affiliate posts. If you buy an item through an affiliate link, I get a small fee, which helps support this blog!