What happens if you take the flavors of duck ramen, and turn it into a sandwich?
That wasn't what we set out to do, but that's where we ended up, AND WE REGRET NOTHING.
I decided to make this roast pork butt sandwich from Lady and Pups because I ended up with some broccoli rabe, and needed a way to use it up.
It sounded like a tasty sandwich! And then we made it. And OH MY GOD IT'S SUCH A GOOD SANDWICH.
Start by toasting some fennel and coriander seeds until they're nice and fragrant, then grind them into a powder. I used a mortar and pestle, but a spice or coffee grinder would work fine for this too. At this point they're so wonderfully fragrant – a little anise-y, and very redolent of five spice or pho flavors.
Peel and smash (or smash and peel) some garlic, and slice some fresh ginger.
Cut about 2 pounds or so of pork butt into large chunks, and place them in a deep baking dish.
Rub them with the ground spices, some fish sauce for umami, salt, black pepper, and white pepper.
Top with the crushed garlic and ginger, and roast, low and slow, at 300F for about an hour and a half.
At this point, you can let it cool, and refrigerate the pork and all its fat and juices in an airtight container until you're ready to make the sandwiches, like we did.
Or you can just move on directly to the next step!
Before cooking the pork, I like to get the broccoli rabe out of the way, so we can just use the same pan without having to wash it in-between.
Wash, dry, and cut your broccoli rabe in half. And when I say dry, I really mean dry WELL. It can be hard to get all the water out, so just beware – if it's not fully dry, things are going to be popping wildly when you add the broccoli rabe to the hot oil.
Add a bit of olive oil to a large nonstick pan, and heat over high heat. Add in your broccoli rabe – again, having a splatter screen or lid handy to protect yourself from popping if it's not 100% dry – and let it brown, flipping so both sides are caramelized and slightly charred.
You may need to do this in batches, so set aside each batch on a plate when it's done.
After you've cooked all the broccoli rabe, add it all back to the pan at once, then add a few cloves worth of minced garlic, some salt, and some fresh ground black pepper. Toss that all together until the garlic just starts to get fragrant, and then remove it from the pan and set aside until you're ready to make the sandwiches.
Back to the pork – discard the ginger, but make sure you keep the garlic. If you refrigerated the pork, there should be a good layer of fat on top – you can set this aside to use in place of oil or butter in any dish where you want some porky goodness!
Using a couple of forks, tear the pork into smaller chunks. You don't need to completely shred it, but aim for about 1″ chunks.
Then, put the pork and garlic in the same large nonstick pan from the broccoli rabe, over high heat. If you refrigerated the pork, then you'll probably have a good bit of the gelled broth and fat sticking to it – this is what you want. But if you're doing this immediately after roasting the pork and everything's still warm, then go ahead and add about a quarter cup or so of the drippings into the pan as well.
Cook this, flipping once or twice, until the meat is browning and crisping up nicely. It's really going to smell like a good pho or duck ramen.
Once your meat is browned, add in the rest of the drippings (or the rest of the gelled broth) and let it cook until everything is just-warmed through and combined.
Now it's time to make some sandwiches! Cut some rolls in half, and lightly toast them.
The original recipe called for dijon mustard, but even though we're usually mustard lovers, we found that to be too sharp and contrasted with the rest of the sandwich in a way we didn't love. So we're going with kewpie mayo instead.
Ladle the pork along with just a little of the juices onto the roll (you want the sandwich to be moist but not soggy), and then top with some broccoli rabe. If you're feeling really decadent, you can top this with a fried egg, to really get that ramen vibe – we tested this out, and can confirm that it is delicious.
Pickled peppers are optional, but we highly recommend them to cut through the richness of the rest of the sandwich; do chua would be tasty here as well. If you're a cilantro fan, that would also be a great addition… but it's possible I'm biased because I really just want every sandwich to be a banh mi.
The original recipe also suggested sliced provolone as a tasty optional addition, but I didn't have any on hand… because we maybe used all the provolone for those tasty philly cheesesteak sloppy joes… so we didn't try that.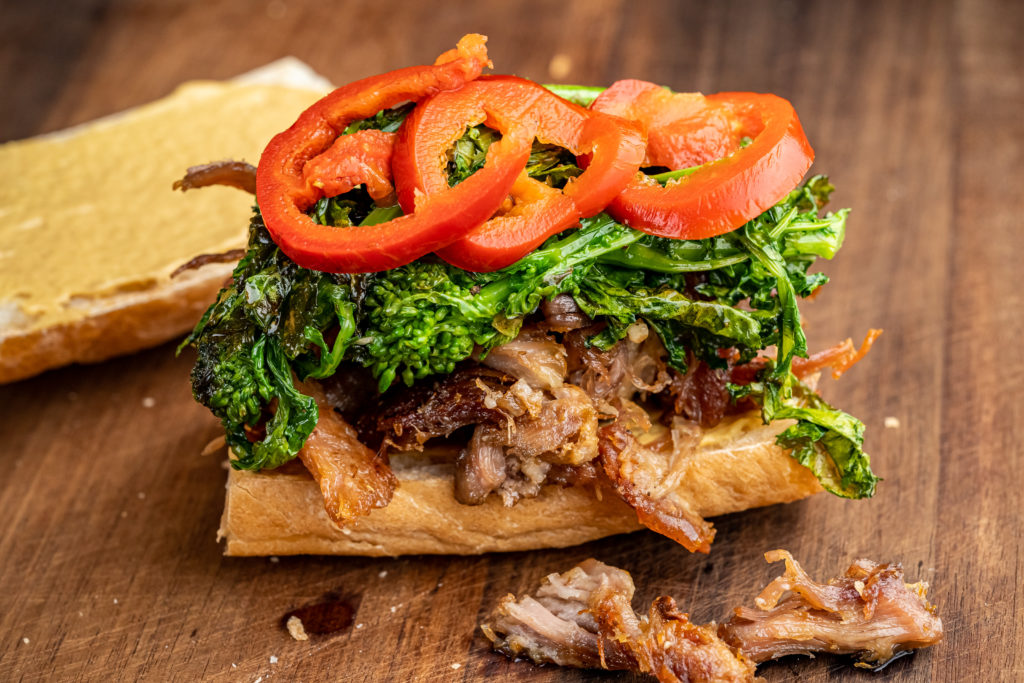 Roast Pork Butt Sandwich
slightly adapted from Lady and Pups
Ingredients
ROAST PORK BUTT:
2 lbs (1 kg) pork butt/pork shoulder
1 tbsp (4 tsp ground) fennel seeds
1 tsp (1 1/4 tsp ground) coriander seeds
6 cloves of garlic, smashed
5 small slices (15 grams) ginger
1 tbsp fish sauce
3/4 tsp salt
1/4 tsp ground black pepper
1/4 tsp ground white pepper
TO ASSEMBLE:
18 oz (500 grams) broccoli rabe
extra virgin olive oil to coat
fine sea salt and freshly ground black pepper to season
3 cloves of garlics, finely minced
4 crusty Italian rolls
Kewpie mayo
pickled peppers
fried egg, optional
Cooking Directions
Preheat the oven to 300F. Cut the pork into large pieces about 5″ x 1 1/2″ big. This allows the seasonings to penetrate better and reduces cooking-time. Toast the fennel and coriander seeds on a skillet over medium heat, swirling constantly, until the seeds start to pop. Ground them coarsely in a mortar or spice-grinder, then rub the spices evenly over the pork along with the garlic, ginger, fish sauce, salt, and black and white peppers in a large and deep baking sheet (the pork will emit considerable amounts of liquid). Cover the baking sheet tightly with aluminum foil, then bake in the oven for about 2 1/2 hours. The pork should be very tender but NOT completely falling apart. You can prepare the pork up to 2 days ahead of time, keep it in an air-tight container soaked in its own juice until needed.
Wash, drain, and cut the broccoli rabe in half lengthwise. Lightly coat with extra virgin olive oil. Heat a large nonstick skillet over high heat, then add the broccoli rabe in a single layer. Cook until the first side is deeply caramelized and partially charred, then flip, and cook until the other side is caramelized as well. The broccoli rabe should be slightly wilted but not too soft at this point. Transfer into a large plate, and repeat with the remaining broccoli rabe. Now add all the caramelized broccoli rabe back into the skillet along with the minced garlic, season with sea salt and black pepper, and toss just until fragrant. Remove from heat, and set aside.
Back to the pork – remove the ginger slices and discard. Pull apart the pork into large 1 1/2″ chunks. Heat the same skillet over high heat. Add the pulled pork along with the cooked garlic, plus ~1/4 cup of the drippings. Cook, mashing the garlic and flipping once or twice, until all the liquid has evaporated and the pork starts to caramelize/brown on the edges. Add the remaining drippings (you should have about 1/2 cup left, if not, make up with chicken stock), and cook just until warmed through. Re-season with salt if needed.
Cut off the tips of the Italian rolls, then slice into half lengthwise. Toast the cut-side lightly under the broiler, then smear with a layer of kewpie mayo on both sides. Ladle the pork onto the roll, including enough juice to seep through the bread but not so much that it becomes soggy. Place pickled peppers, the broccoli rabe, and the fried egg (if using) on top, then top it off. Serve immediately.
Sub to my YouTube channel and follow me on TikTok or Instagram to get notified whenever we have new videos!
Links in this post may be affiliate posts. If you buy an item through an affiliate link, I get a small fee, which helps support this blog!