Our second day in Japan began with onigiri. Delicious, delicious onigiri.
We found an onigiri specialty shop in Shimbashi station (when facing the entrance to the JR lines, it's in the far left corner) called Mai Mai.
(We went there so often, the woman who works there started bringing out the English menu whenever she saw us coming!)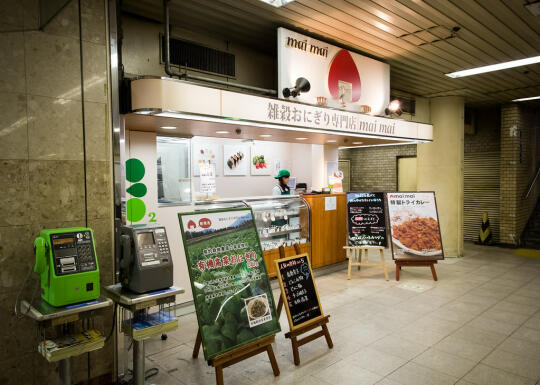 (And what is it with Japanese women taking pictures of posters? Every single time we passed this huge poster in the train station, there was always a group of girls/women standing in front of it, taking photos – no matter what time of day or night. I'm not exaggerating – there literally was not a single time we went by where there wasn't at least one female (usually quite a few more) taking a picture of it.)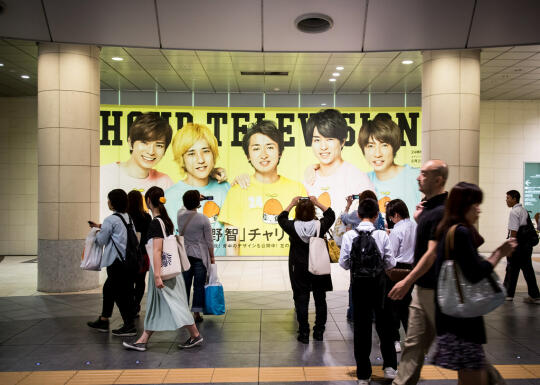 So back to the onigiri. One thing we really loved about the onigiri at Mai Mai was that they used a mixed-grain rice for it.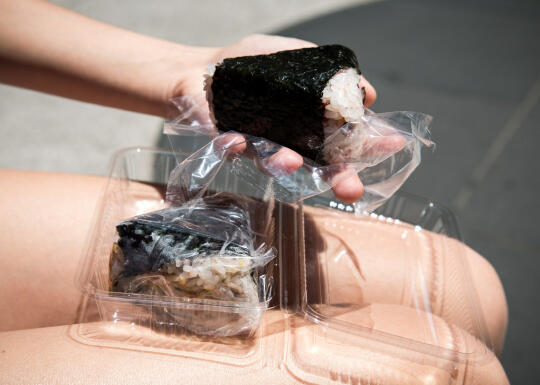 It was delicious.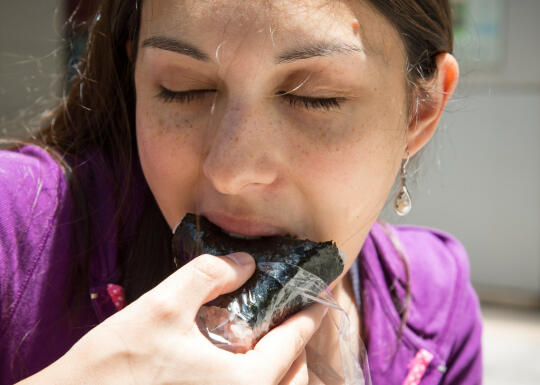 The first time we went, we got an onigiri filled with mayo mixed with salmon, and an onigiri filled with miso paste. (The onigiri there are 220 yen each – about $2.75.)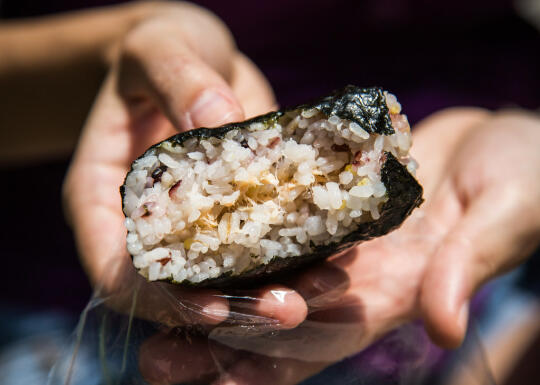 I couldn't tell you which I liked more, because they were both fantastic. Although now that I think about it, I'm still dreaming about that miso onigiri…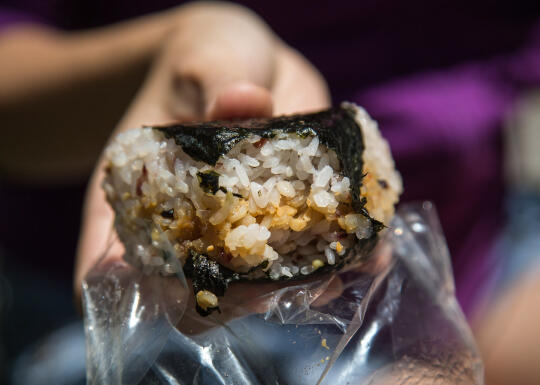 There was a bakery in the train station that we passed by every day, called Kobeya Bakery.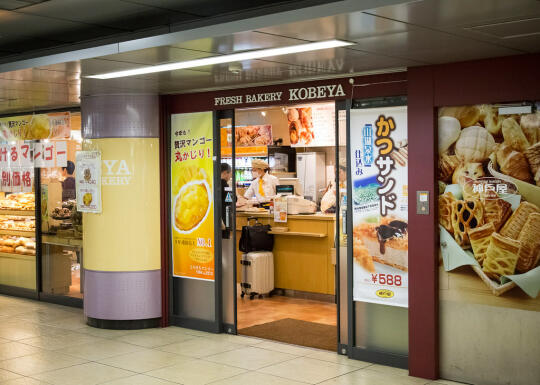 Apparently they're known for their mango hand pies, so of course we had to stop in and see how they were.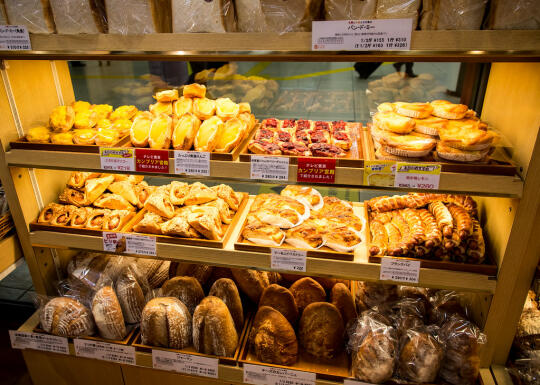 And while we were there, we could't resist drooling over all the rest of their baked goods as well.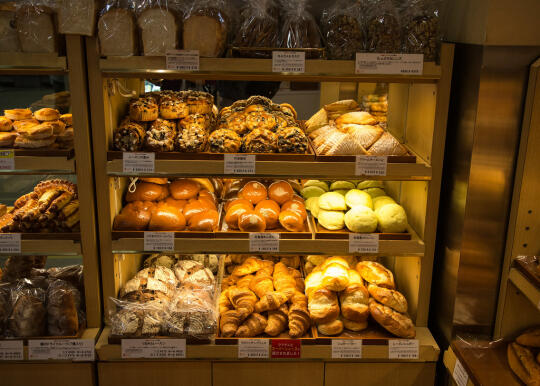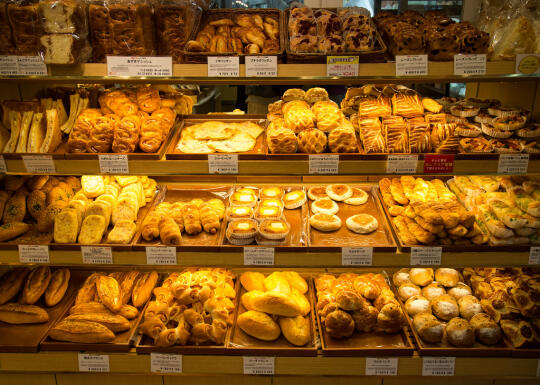 Once we made our purchases, we walked back to a nearby outdoor plaza that had plenty of seating.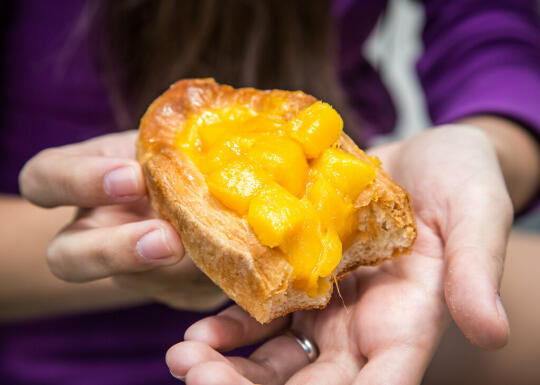 It's no wonder the mango hand pies are their specialty – they were fantastic! Not too sweet, and full of perfectly ripe mango.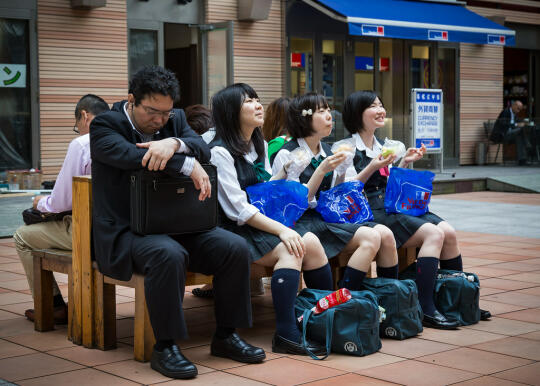 All sorts of people can be seen sharing a bench there – like a businessman trying to catch a quick nap, next to some schoolgirls enjoying a snack.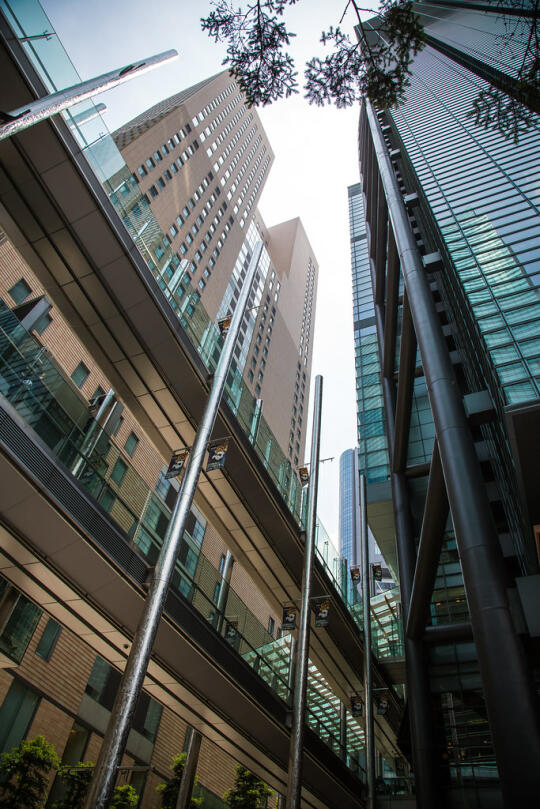 But the thing I was really excited about was the tonkatsu sandwich we also purchased from the bakery.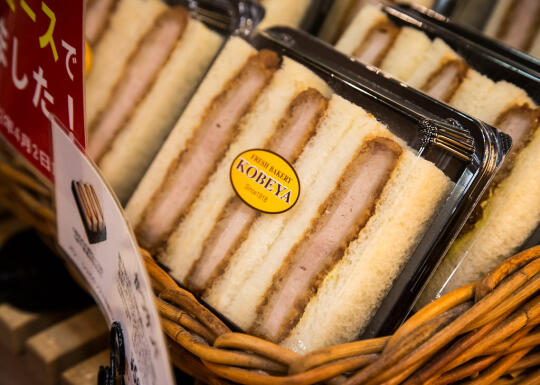 Ever since Rachael and I recorded our Miso Hungry Podcast episode about tonkatsu, I've been wanting to try a katsu sando (tonkatsu sandwich).
Hooooly cow. (Perhaps "holy pig" would be more appropriate in this case.)
I'm kind of obsessed.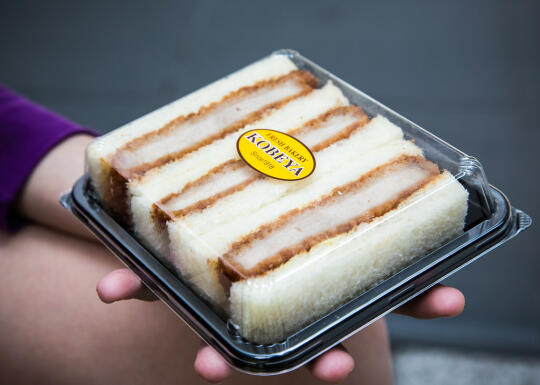 The katsu sando was made with perfectly fried tonkatsu and a tangy sauce between two soft pieces of white bread. So simple, yet so ridiculously freaking good.
(806 yen for the mango hand pie and katsu sando – about $10.40.)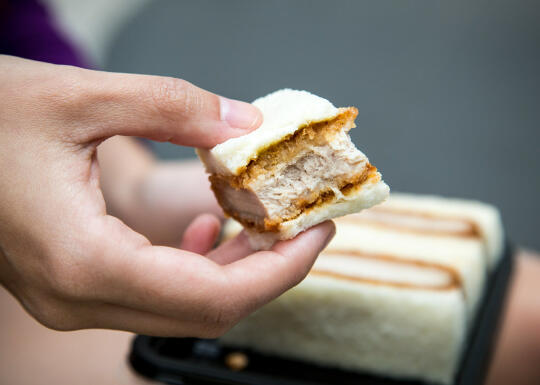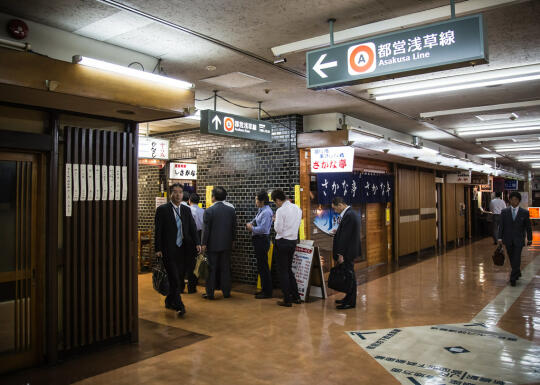 Back through the station…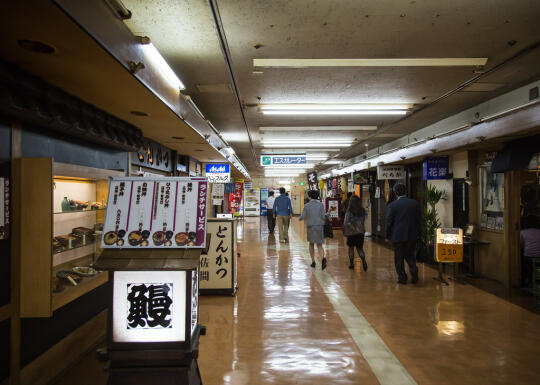 … and then we were off to our actual destination.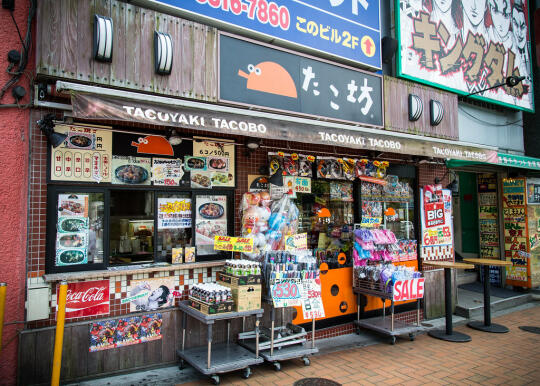 (Not this takoyaki stand, though there is takoyaki in our future!)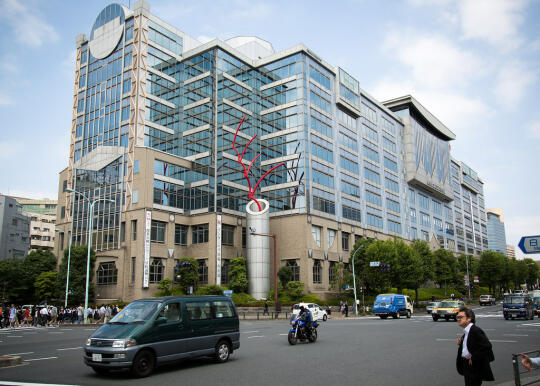 No, we were headed to the Tokyo Dome that day. Though not normally much of a baseball fan, Son wanted to find a gift shop because there was some Japanese baseball team jersey he wanted to see if he could buy.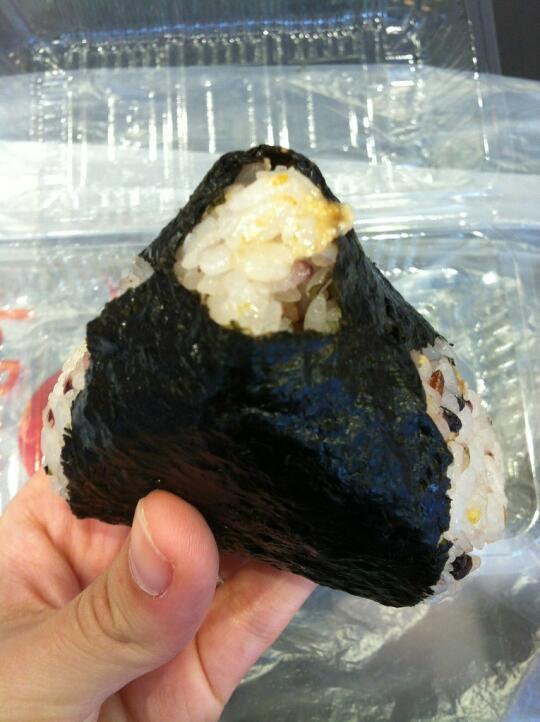 But before wandering the Tokyo Dome, we found we were hungry again (something you'll find to be a common theme of this trip) so we sat down to eat another onigiri that we had gone back to Mai Mai's to get after we enjoyed the first two so much.
This time, the filling was grilled cod roe mixed with mayonnaise. Delicious.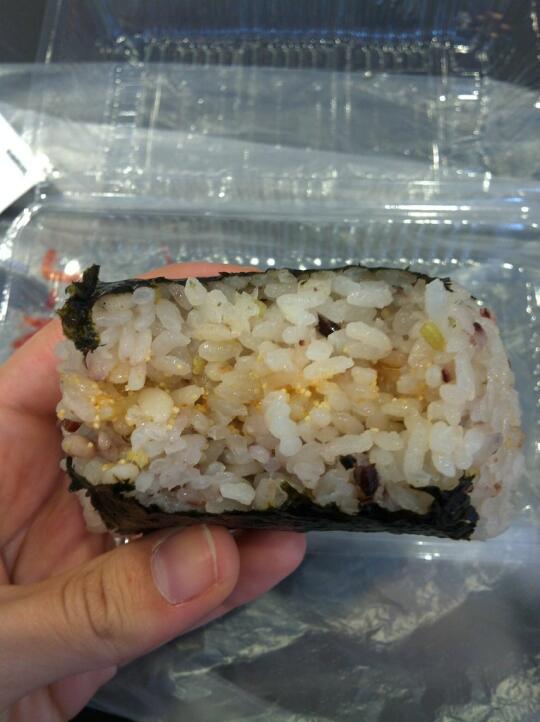 And then we got slightly (understatement of the century) sidetracked by a manga store that was right next to the food court we had sat down in.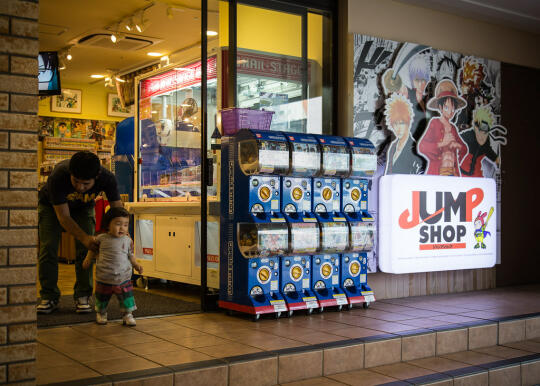 So… we're kind of closet One Piece fans.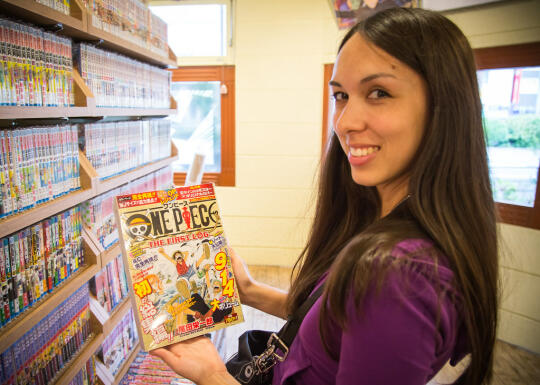 In the first few years we were going out, we spent a ton of time watching episodes of it together.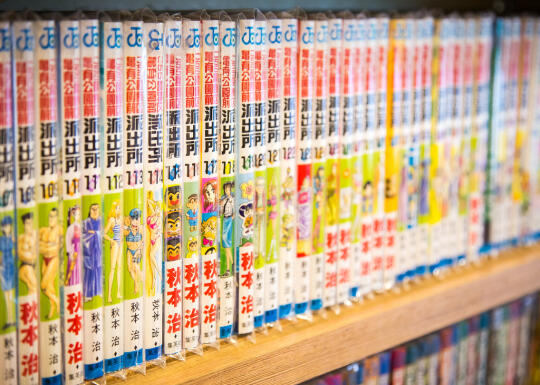 It's unfortunately been a while since we've had time to watch, but I've been wanting to for a while.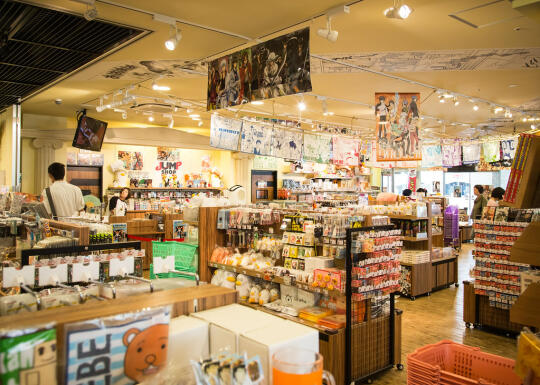 Which meant it was pretty much impossibly not to buy the manga I was holding a few photos up… and a One Piece shaped ice tray. Heh.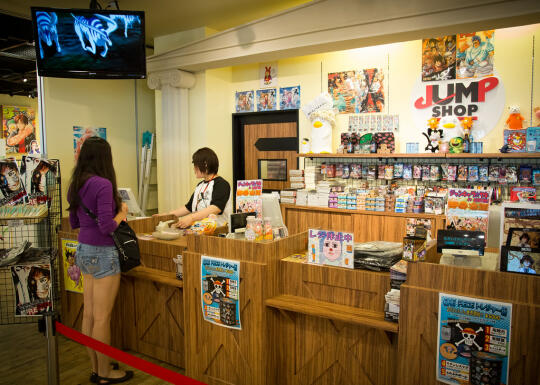 I'm going to be the Pirate King!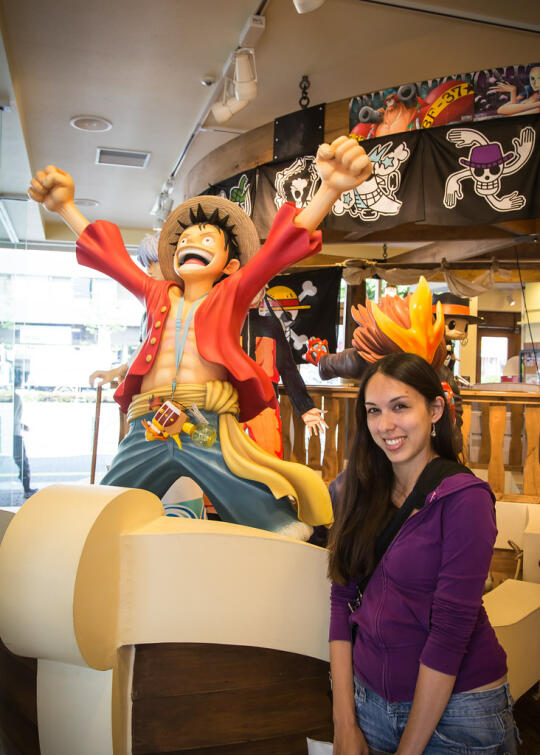 Aaaaanyways… after that minor distraction, we were off wandering again, trying to find the baseball gift shop Son had found online.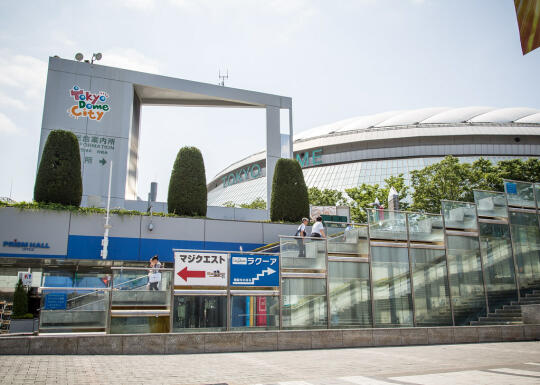 We wandered around Tokyo Dome City, finding some very interesting menus.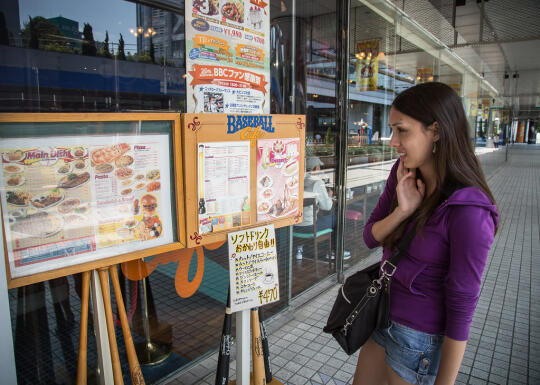 And some very interesting bugs. (I nearly sat on that!)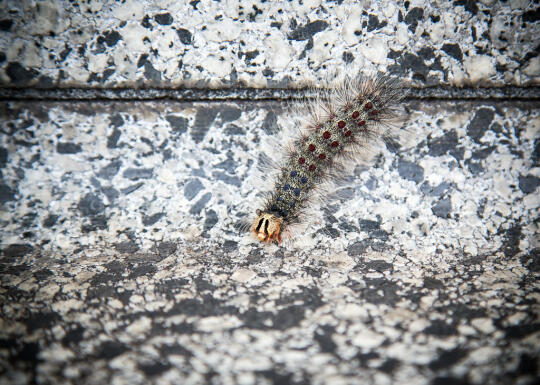 Finally we found the gift shop, attached to the Tokyo Dome (a baseball stadium).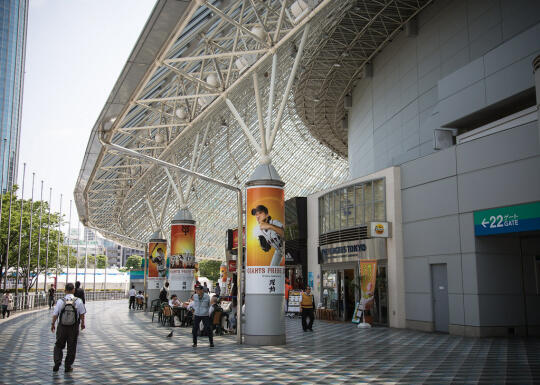 Unfortunately we didn't find the jersey Son wanted, but it was definitely interesting to wander around.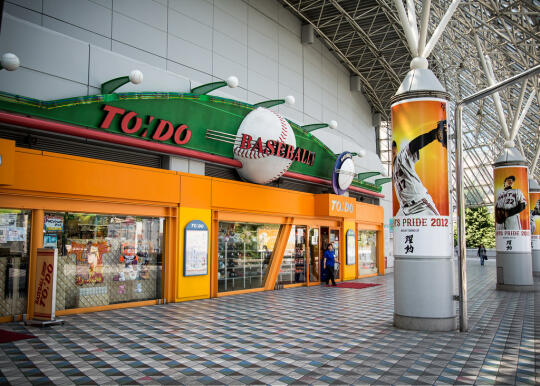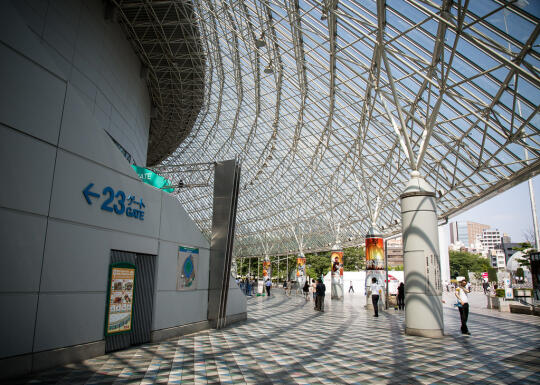 Then we went to find more food. Of course.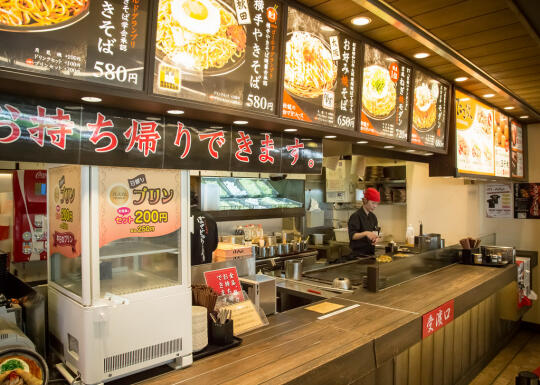 Like I said earlier, takoyaki was to be had today!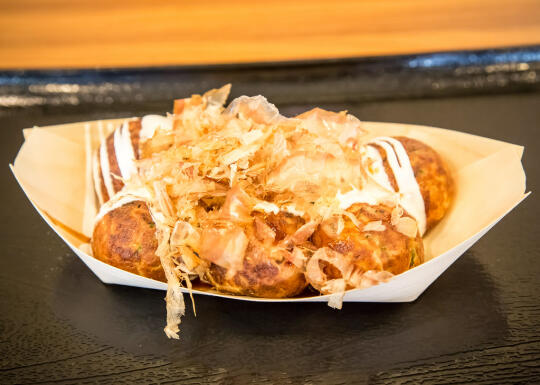 Mmmm, takoyaki.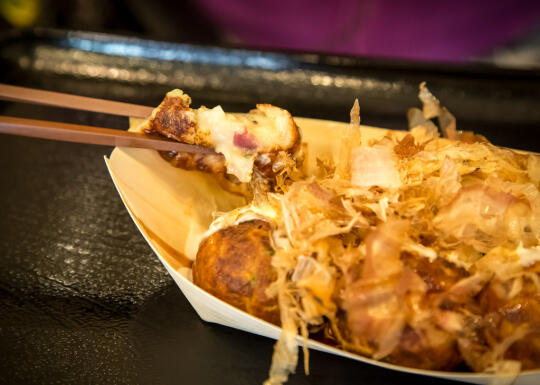 Such a guilty pleasure. Just look at those huge pieces of octopus! (450 yen for 6 pieces – about $5.75)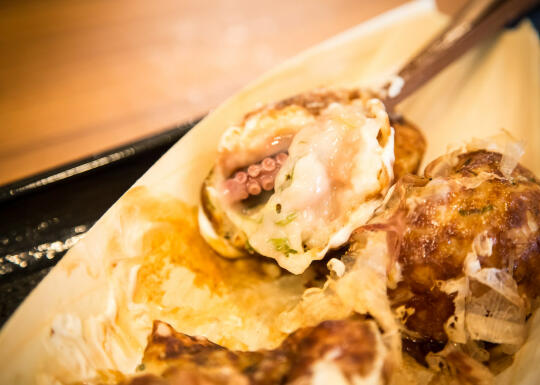 Son opted to get a salmon ochazuke. (750 yen – about $9.50)
Ochazuke is a dish where you pour a hot liquid (I've mostly seen it with green tea, but this one had dashi) over a rice bowl.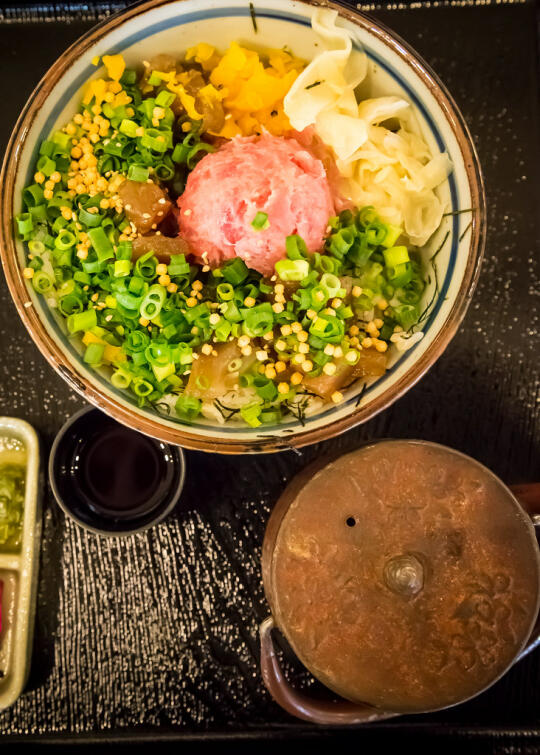 This is the first time I've seen it made with all these toppings, but it was fantastic!
Then it was back to the train station.
We love the train system in Japan.
Especially when there are little dessert shops right near the train tracks!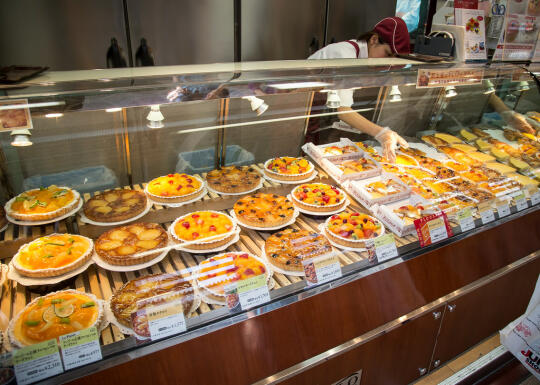 This one was in Akihabara station, which I believe was the station nearest the Tokyo Dome.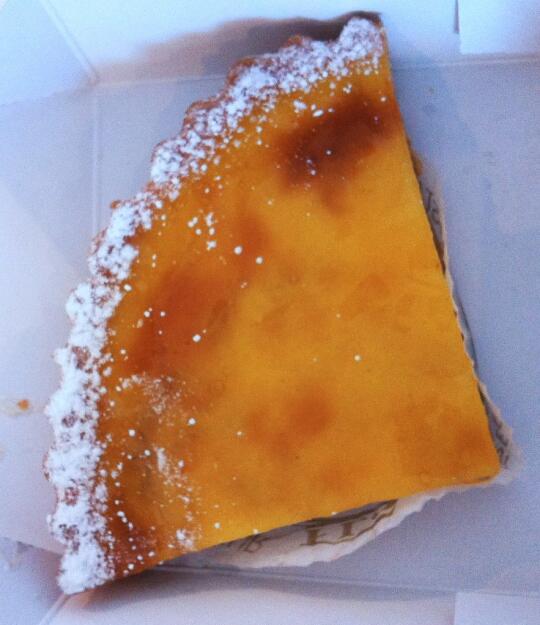 A quarter of a flan-like tart cost us about $4.70.
After that it was back to the hotel for a nap, then we wandered around the area for a bit.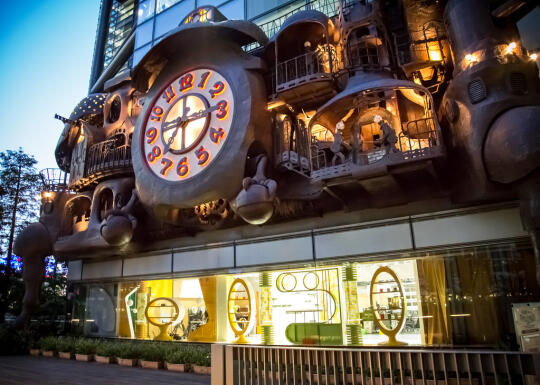 There's some really interesting architecture near the Shimbashi station.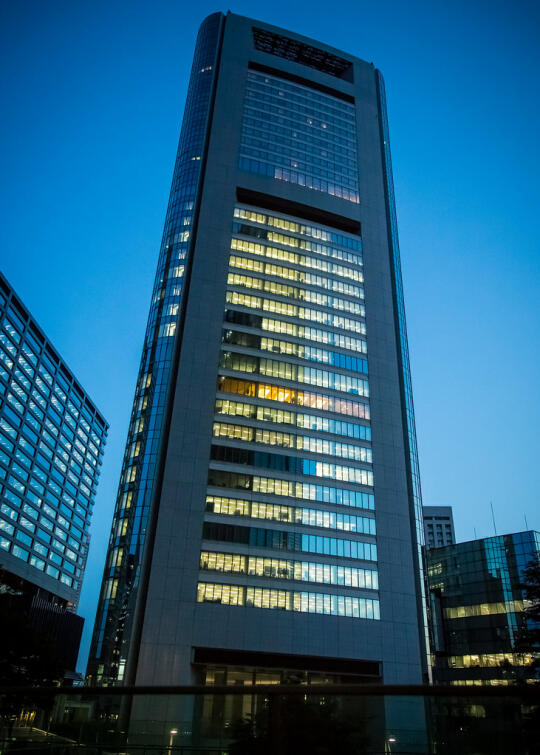 By then it was late enough that we just wanted to find something to eat and get back to sleep. (Yep, still a bit jet-lagged.)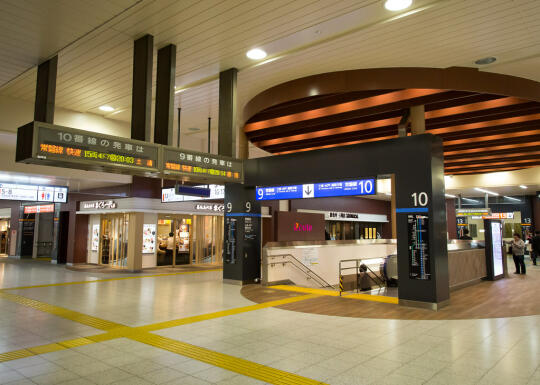 Son decided he wanted to go check out Ueno station and see what they had there.
Japanese train stations almost always have an excellent selection of pretty gosh darned good food, whether it be in restaurants or take-out.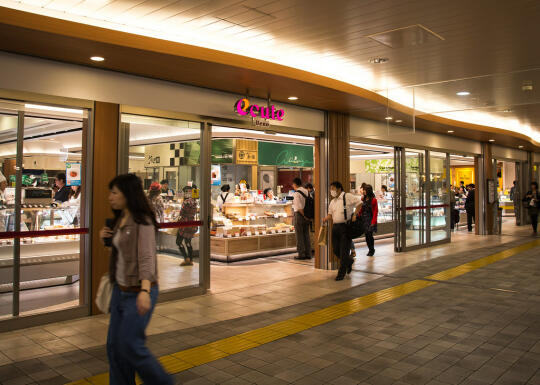 Ecute is a little food mall in Ueno station that has a bunch of little stores selling a huge variety of both sweet and savory foods.
We looked around for a bit – there were so many options, it was hard to choose!
But we finally decided on a bento box (1000 yen – about $13).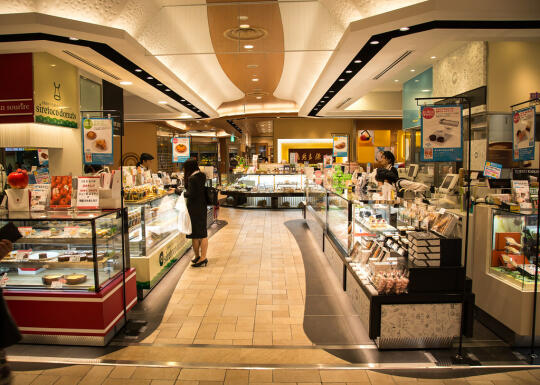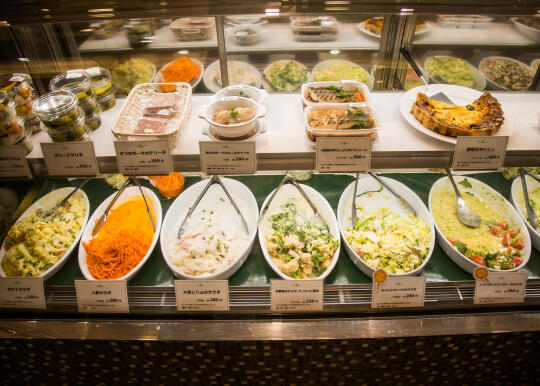 After all the ramen and greasy foods (takoyaki and katsu sando aren't exactly light foods!) of the past few days, I wanted something lighter, so I got a small salad as well.
Back at the hotel we got into the food… I just love the bento boxes in Japan! So many interesting foods, you can't possibly get bored with all that variety (and Son is obsessed with all the different kinds of rice).
The fish was fantastic, all the different tsukemono and types of rice were delicious, and I especially loved the little meatball – tsukune – in the lower right corner.