I love cooking for other people.
But in general, that's limited to making sushi and spicy cheesey wontons for my family, or baking cookies to send off to friends.
Or cooking for Son at home.
Now, while I love doing all of those, there's nothing like cooking for people who aren't related to me and being able to feed them in person. Because honestly, the reaction is the best part. Really, who doesn't love watching people enjoy the food they made?
So when I heard about a post-BlogHer Food picnic being held by Shauna Ahern (aka Gluten Free Girl) and her family at Dolores park in San Francisco… well, I just had to make something for it.
Problem was, I was traveling from Los Angeles, and leaving several days beforehand. So something savory was pretty much entirely out of the question.
Okay, I like baking… but I didn't have time to go search for all the special gluten-free flours or figure out how to convert a recipe to be gluten-free.
(They said it was okay if you brought something with gluten in it, like these s'mores, but… still.)
Shoot.
I really, really, really wanted to make something. And really wanted it to be gluten-free, so everyone there could eat it.
After all, there ended up being some gorgeous, and amazingly delicious gluten-free desserts there, like that fig and raspberry tart from Irvin (Son ate at least two slices of it) and some addictive cream puffs from Zest Bakery.
What to do?
Lucky for me, I'm part Japanese. And I love mochi. Which means I always, always have rice flour on hand.
Rice flour is gluten-free! Yay!
So in looking through the many recipes I have bookmarked, I found a recipe for mochi cake from Lemonpi that I've really been wanting to try.
I made two mochi cakes – a banana-chocolate chip one, and a chocolate-peanut butter one. They very nearly didn't make it out of the apartment… I tried a piece of each, and had to force myself to save some for the picnic!
(And I like to think Shauna's daughter, Lucy, approves… she kept grabbing at the container of mochi cake. 😀 )
Everyone else seemed to enjoy them as well.
And the picnic was awesome.
We got to see the Blue Angels putting on their show…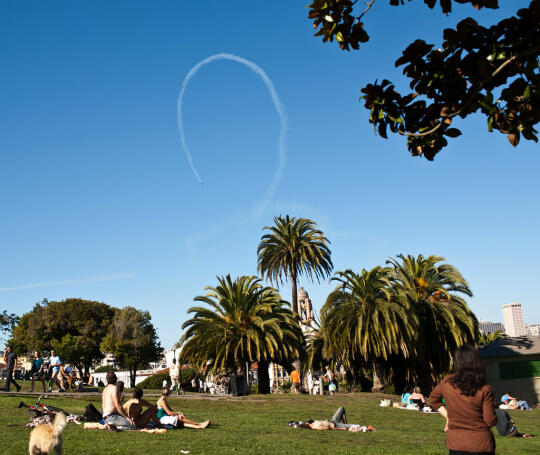 (Although holy cow, some of those fly-overs were loud!)
… we got to hang out and eat fantastic food with tons of great people one more time after the conference…
… and heck, we even got to watch people practice tightrope walking right next to us.
Mochi Cakes, adapted from Lemonpi.
Ingredients
225g mochiko
85g unsalted butter, melted
175g sugar
187g evaporated milk (1/2 can)
2 eggs
1 teaspoon baking powder
1 teaspoon vanilla extract
and either
2 bananas
1 cup semi-sweet chocolate chips
or
1 bar semi-sweet baking chocolate, melted
1 cup peanut butter
Cooking Directions
Preheat the oven to 350°F or 175°C.
Grease a 9×13″ baking pan with butter.
Sift the mochiko and baking powder together.
In an electric mixer, whisk the eggs and sugar until light and fluffy.
Fold in the melted butter, then the evaporated milk and vanilla.
Fold in the dry ingredients, and either the bananas and chocolate chips or the melted chocolate and peanut butter.
Pour the cake batter into the prepared baking pan.
Bake for 20 – 25 minutes or until a toothpick inserted into the middle comes out clean.
Cool, then remove from pan and cut into desired shapes.
Coming Soon!
Percent Daily Values are based on a 2000 calorie diet. These values are only estimates based on the individual ingredients, and not meant to replace the advice of a medical professional.