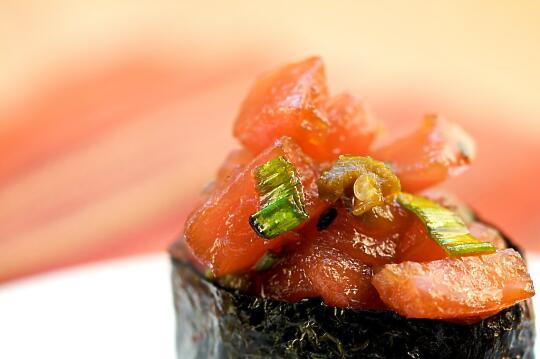 As we all know, I've got some awesome readers. Often I get emails from readers, telling me about their favorite roll from a sushi restaurant, or a new idea they had for sushi they make at home. This is one such sushi recipe, from a reader named Alex Viera.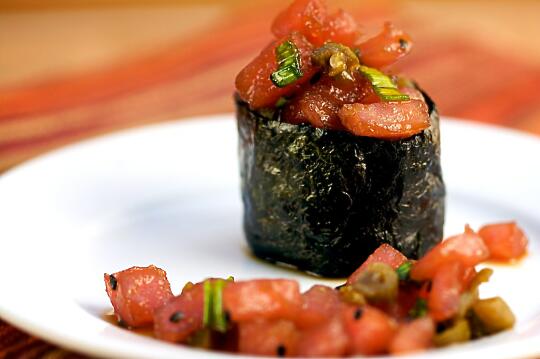 The tuna poke mixture used in this gunkan maki has a very complex yet addictive flavor. It is both sweet and spicy, but still the clean tuna flavor is allowed to shine through. This has a heat that slowly builds until it fills your mouth with fire. At the same time, it is so flavorful that you can't help but want more. This recipe has definitely earned a place on the list of sushi that I make over and over again – it's just that good.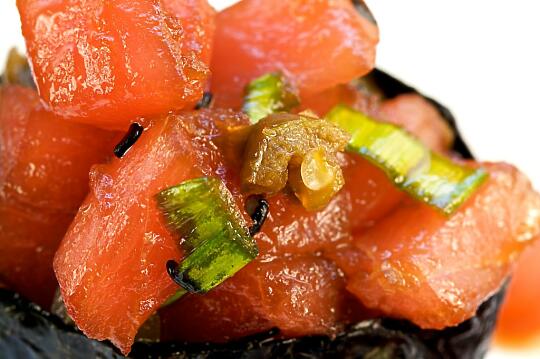 Ingredients
3 sheets nori
4 cups sumeshi
3 jalapenos, minced
3 green onions, finely chopped
3 tbsp brown sugar
1/3 c shoyu
2 tbsp toasted sesame seeds
5 tbsp sesame oil
1 tsp Chinese hot oil
1/2 tsp freshly ground black pepper
1 lb sashimi-grade ahi (yellowfin) tuna
Cooking Directions
Slice Tuna into small bite sized pieces.
Mix jalapenos, green onions, brown sugar, shoyu, sesame seeds, sesame oil, hot oil, and black pepper in a bowl.
Add tuna; gently toss with large spoon.
Seal bowl with plastic wrap and refrigerate for one hour.
Gently mix/toss again, seal bowl and refrigerate for one more hour.
Prepare the gunkan maki, using the tuna poke mixture instead of roe.
Enjoy!
Serving Size: 1 piece Alex's Dakine Poke Gunkan Maki
Calories:

140

Fat:

7g, 11% DV

Saturated Fat:

1g, 6% DV

Cholesterol:

11mg, 4% DV

Sodium:

707mg, 29% DV

Total Carbohydrates:

11g, 4% DV

Dietary Fiber:

1g, 4% DV

Sugars:

6g

Protein:

8g, 16% DV

Vitamin A:

16%

Vitamin C:

3%

Calcium:

4%

Iron:

7%

Magnesium:

8%

Potassium:

4%
Percent Daily Values are based on a 2000 calorie diet. These values are only estimates based on the individual ingredients, and not meant to replace the advice of a medical professional.