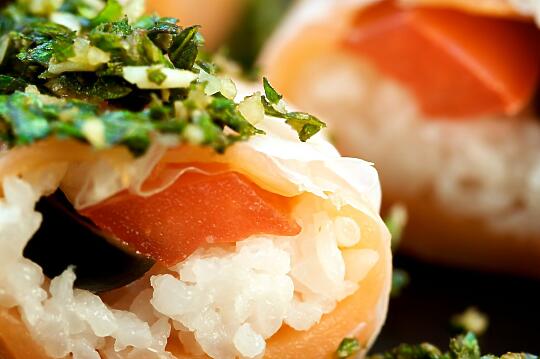 Harry and James, James and Harry. Our dear Men with Pens. Both are really amazing guys that I'm proud to call my friends, and both are sushi lovers one is a sushi lover. I'm still working on the other one.
Harry was the easy one. He loves sushi, especially salmon. Salmon, salmon, salmon… he apparently can't get enough of it. (I'm pretty sure he's actually a cat, though I've never actually met him offline, so I can't say for sure.) It was ever so simple to figure out a sushi he would love, and whaddaya know? I made it, and it was pretty gosh darn delicious.
And then… there's James. The difficult one. Turns his nose up at sashimi, won't go within 100 yards of a fish egg, and generally refuses to try sushi. So troublesome, that one, when all I wanted to do was make sushi for him! But, as we all know, I certainly do love a challenge, and of course in the realm of sushi… I always prevail.
Thus the Gatekeeper Maki was born. A non-sashimi, not-a-fish-egg-to-be-seen sushi, suitable for The Gatekeeper himself. It's a bit of an Italian-style sushi roll, what with the tomato, olives, and pesto… with the addition of smoked salmon (which we've discovered he will eat), it's quite fantastic indeed. Now to get him to actually make and eat the roll…
Don't forget to enter my contest to win a copy of the book, Sustainable Sushi, by Casson Trenor. You have until Saturday night to enter!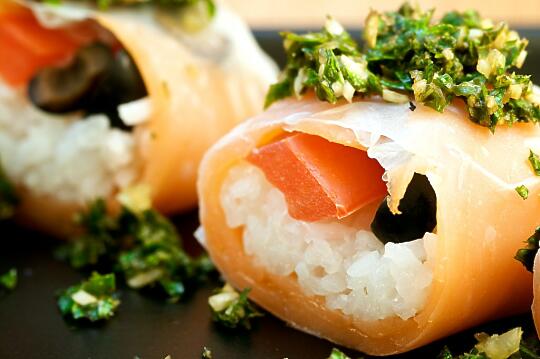 Ingredients
6 sheets circular spring roll wrappers
2 cups sumeshi
6 oz smoked salmon
3/8 cup sliced black olives
1 small tomato
Cooking Directions
Slice the tomato, discard the seeds.
Wet the spring roll wrapper with warm water, making sure to cover every last spot on both sides of the wrapper.
Lay the wrapper flat on your workspace.
Lay some smoked salmon in the middle of the wrapper, leaving about 2 inches uncovered on either end.
Scoop about 1/3 cup sumeshi onto the smoked salmon, patting it into an oblong shape with either end pointing towards the sides of the wrapper.
Lay some tomatoand olives on top of the sumeshi.
Fold both sides of the wrapper in, over the fillings.
Fold the bottom of the wrapper tightly up over the fillings.
Roll the sushi away from you, until you reach the top of the wrapper, and seal it shut. (The wrapper should be sticky enough to stick to itself. If not, dampen the end with a little water.)
Using a sharp knife, slice into 4 pieces.
Top with the basil pesto.
Enjoy!
Serving Size: 1 roll Gatekeeper Maki
Calories:

393

Fat:

27g, 42% DV

Saturated Fat:

4g, 22% DV

Cholesterol:

25mg, 8% DV

Sodium:

924mg, 38% DV

Total Carbohydrates:

26g, 9% DV

Dietary Fiber:

2g, 9% DV

Sugars:

9g

Protein:

13g, 25% DV

Vitamin A:

34%

Vitamin C:

14%

Calcium:

11%

Iron:

2%

Magnesium:

15%

Potassium:

2%
Percent Daily Values are based on a 2000 calorie diet. These values are only estimates based on the individual ingredients, and not meant to replace the advice of a medical professional.