Who is Emily? In kindergarten, I had a friend named Emily who had the most beautiful long hair. She was astonished that I walked to and from school every day instead of driving. After kindergarten, she moved away. This is not that Emily.
In elementary school, my mother used to baby sit my classmate Cathy's family before and after school. She had a very young sister named Emily, who was just a baby at the time. It's amazing to look at pictures now and see how much she's grown up since then – sometimes people just don't age in my mind if I don't see them often. This is not that Emily.
In middle school, there was a girl named Emily who was in G.A.T.E. with me. She was a year older than me, and was always so nice. She started dating a guy who I used to have a little crush on who was also a year older than me. Ten years later, they are still an adorable couple. This is not that Emily.
When I went to Camp Summersault, a camp for young cancer patients and their siblings, my first counselor was Emily. I adored her. She was so much fun to be around, and she even came to see me perform in the Nutcracker and other ballets several times. This is not that Emily.
In fact, this roll is not named for any Emily I know. Rather, it is my take on a roll of the same name that is from the menu of Tex Wasabi's, a Californian BBQ and sushi restaurant co-owned by Food Network star Guy Fieri.
Not only is the roll beautiful in presentation (it's so colorful!), it is also delicious. It starts out rich and salty from the smoked salmon on the outside, and the tobiko that the sushi was rolled in pop in your mouth. Once you get to the center, it is smooth, creamy, and a little crunchy from the tempura. In other words, delicious, delicious, and more delicious.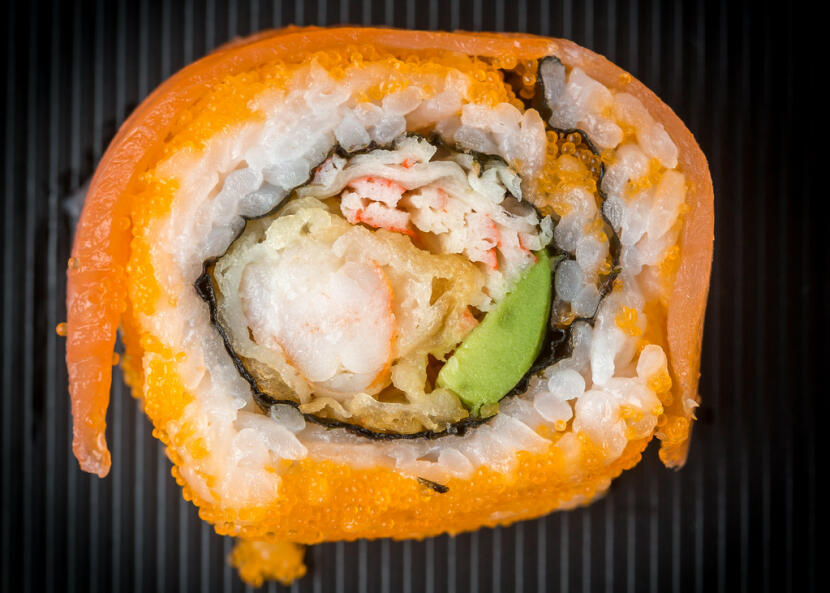 Ingredients
6 sheets nori
3 cups sumeshi
12 pieces tempura shrimp
1/2 small avocado
1 cup imitation crab, shredded
1 tbsp mayonnaise
1/2 cup tobiko
6 oz smoked salmon
Cooking Directions
Bake tempura shrimp as directed on the package. I used this tempura shrimp, but I'm sure other types, or even homemade tempura shrimp will work just fine. You can also fry the tempura shrimp if you choose, but baking it is healthier, and you can prepare other things (such as the sumeshi) while it's baking.
Cut the avocado in half, discarding the pit.
Cut off the hard skin and discard.
Slice the avocado into thin sticks.
Mix the mayonnaise and imitation crab.
When you lay the sumeshi on the nori, press tobiko into the rice before flipping it over.
Roll the sushi inside-out, using two pieces of tempura shrimp, a few sticks of avocado, and some imitation crab mix as your fillings.
Cover the roll with smoked salmon, and use the rolling mat to press it onto the roll.