Archive
For the month of October, 2010
---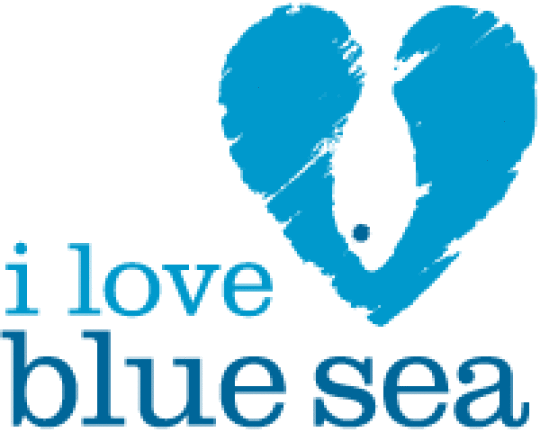 A couple of weeks ago, Son and I went up to San Francisco for BlogHer Food. Or rather, I went for the conference, and he just tagged along.
Since we had a wedding to go to for a dear friend of mine from high school the next weekend, we decided to make a road trip out of it, and stay up in San Francisco the week between the conference and the wedding. (If you care to see what else we did on our trip, all our (mostly food) photos can be found on my flkr.)
So what to do during that week in San Francisco?
Well, if you're me, the answer is obvious. There are two things in San Francisco that I've been dying to do for months now – eat at Casson Trenor's sustainable sushi restaurant, Tataki, (review coming soon!), and meet the guys from I Love Blue Sea (who I would have gotten to meet earlier, at an awesome sushi party that Rachael invited me to, except I just happened to be out of town that weekend.)
So I tweeted Martin, the owner of I Love Blue Sea, and asked if he and the guys would be available to meet with me that week and do an interview. Happily, they were! So here, for your reading pleasure, are the photos that Son took that day, and the interview with the men from I Love Blue Sea.
Continue Reading
---
I love cooking for other people.
Continue Reading
---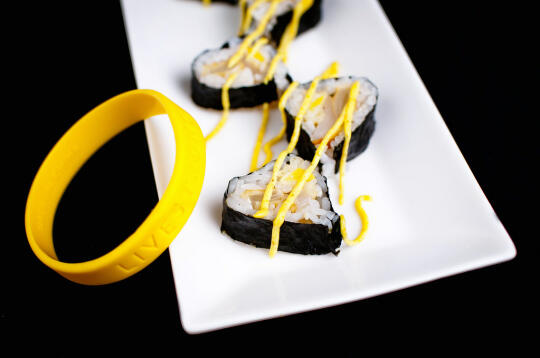 This heart is for my little brother.
This heart is for my dad.
This heart is for all of my friends and family who are or have ever had to suffer through cancer.
I wish I could take all the hurt away.
(These hearts are also for Barbara Harris' event, LiveSTRONG with a Taste of Yellow 2010 – Heart Series.)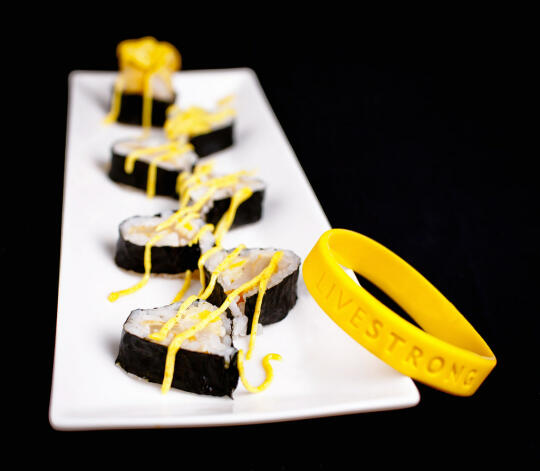 Ingredients
6 sheets nori
3 cups sumeshi
1/2 small onion, sliced into half-rings
1 small yellow squash, sliced into long sticks
cooking oil
1 cup flour
1 batch tempura batter
12 scallops
1 tbsp cooking oil
1/2 cup mayonnaise
1 tsp curry powder (or more, to taste)
Cooking Directions
Coat onion and squash in flour, then dip in tempura batter, making sure to cover it completely.
Fry the tempura onion and squash in cooking oil until golden brown.
Drain on paper towels, salt.
Sear scallops in 1 tbsp cooking oil.
Thinly slice scallops.
Mix mayonnaise and curry powder.
Roll the sushi, using the tempura onion, tempura squash, and seared scallops as fillings.
Drizzle with curry mayonnaise.
Coming Soon!
Percent Daily Values are based on a 2000 calorie diet. These values are only estimates based on the individual ingredients, and not meant to replace the advice of a medical professional.
Continue Reading