Missed the stream? Watch it on Twitch!
RAMEN!!!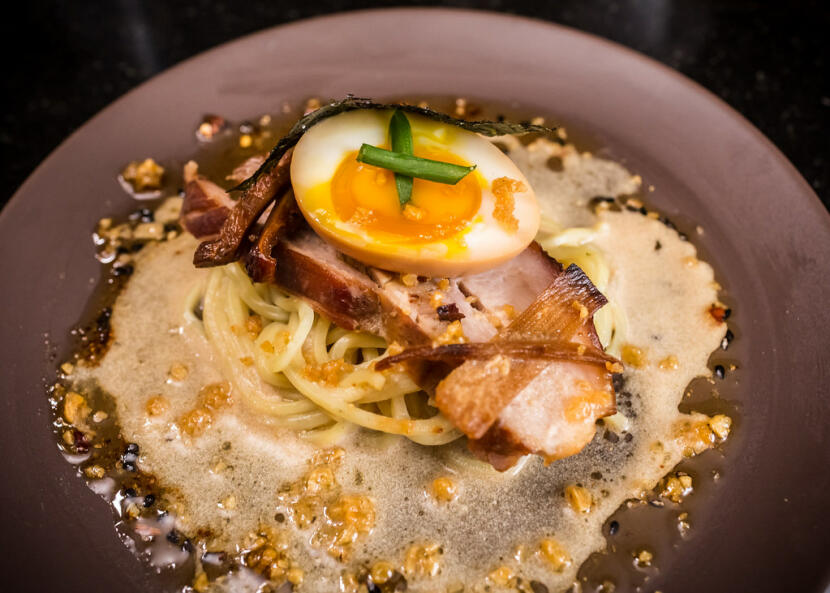 I've been wanting to make ramen for years. Years and years and years. And ever since I started my Twitch cooking stream, it's been one of the top things on my list of todos.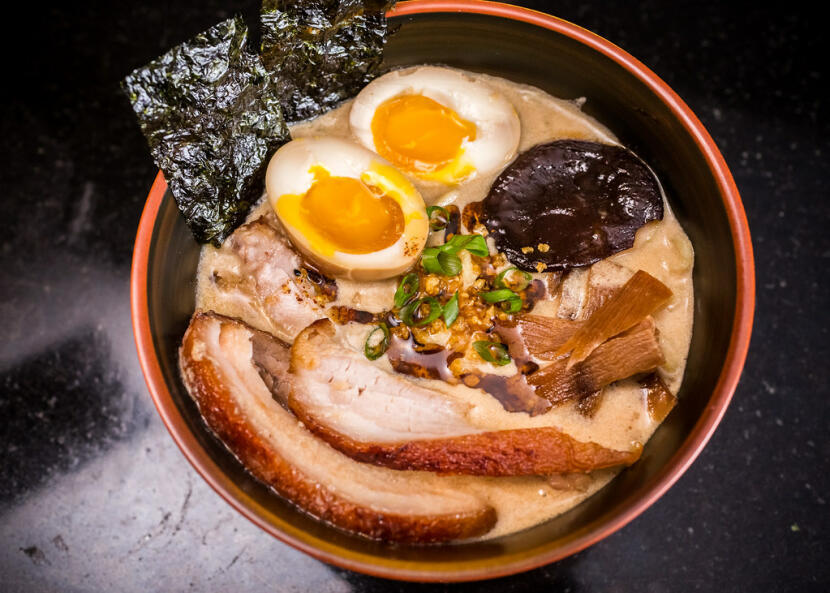 It would've been easy to be paralyzed by "which one to make?", or, "which ramen should be my first?" But when I came across a recipe named the "Vampire Slayer Ramen Express", from the excellent Mandy of Lady and Pups, it went straight to the top of my list.
I mean, look at all that garlic. I don't even care if it's not traditional, it had to happen.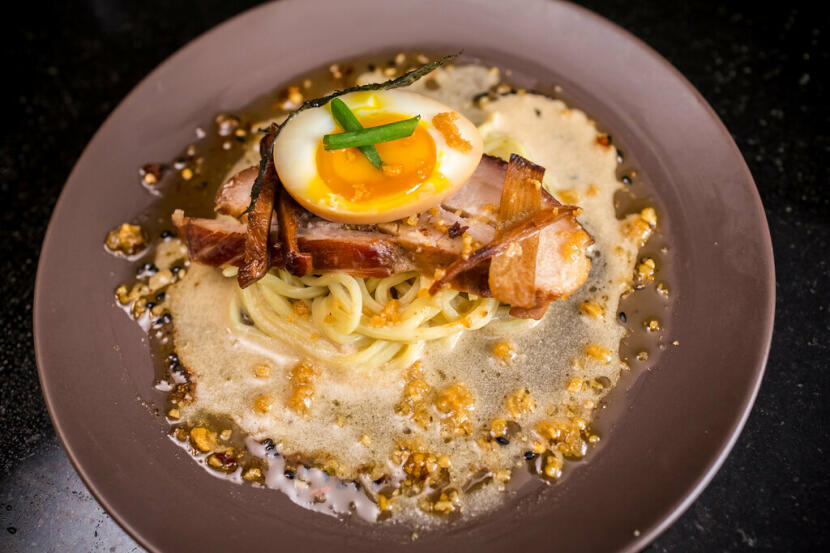 I got a head start on Saturday's stream (ramen prep in lieu of our usual Sushi Saturday), so with the ramen eggs marinating, menma cooked, and chicken broth already in the fridge, finishing the ramen was a neat five-hour stream. (If I'd tried to do it all in one day… it likely would have been closer to 24-hours.)
The chashu was a simple sear, then stick it in the oven and wait. Since I had two and a half hours to kill, I tried something else I've been wanting to do for years… milk tea! (No boba this time, only because it was a last minute addition to the menu and I had none in the house.)
I used this Milk Tea recipe from Chichilicious, which was basically just very strong black tea, plus sweetened condensed milk. Oh so good. 10/10, would make again.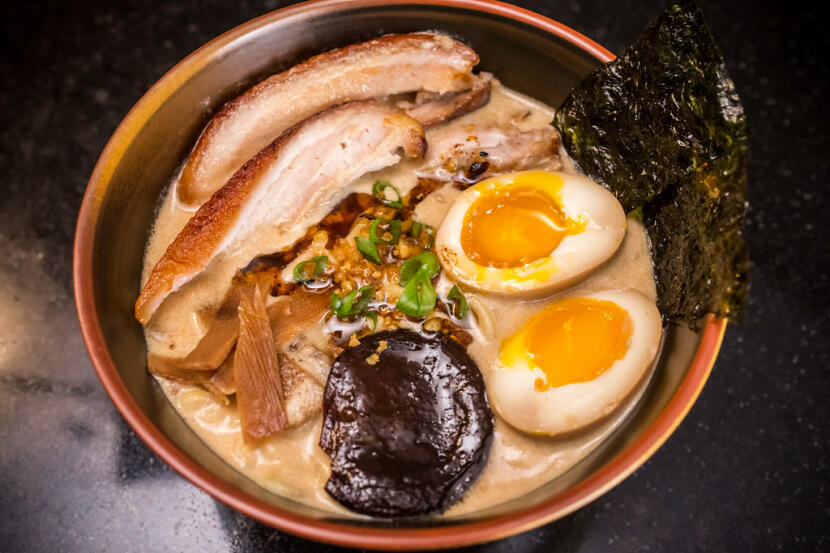 So on a massive caffeine and sugar high (wheee!), I made the garlic powder, garlic oil… and then finished up the ramen!
The biggest question from our chat is… was it worth the two days of work?
Both Son and my answers? A resounding YES.
Holy cow, it's so good. (And SO garlicky. You definitely have to love garlic to eat this ramen.) While the chicken broth by itself was surprisingly light yet flavorful, the broth itself is thick, has an fantastic depth of flavor, and is so rich that you can't eat more than one bowl. Exactly what you'd expect from a good bowl of ramen.
And when you add in all the other toppings? EVEN BETTER. The menma turned out deliciously, I'm still swooning over the ramen eggs (I don't think I can make soft-boiled eggs any other way now), the chashu is oh so good, and I love that the garlic oil and garlic powder add EVEN MORE LAYERS OF GARLIC.
(There is no such thing as too much garlic.)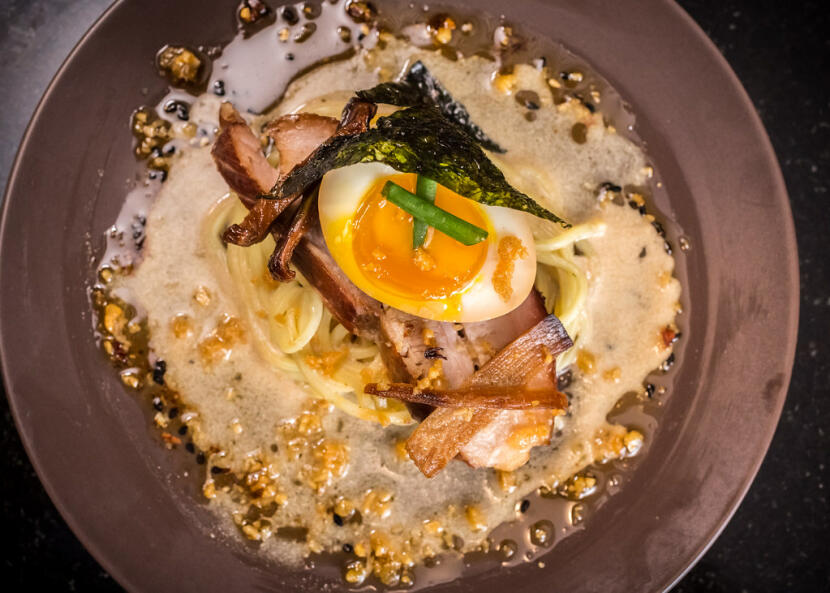 Also, since I'm writing this the next day, I can tell you that leftovers? Also excellent.
I may have to go steal another ramen egg from the fridge.
Today's Question of the Day: What is your favorite kind of ramen?
Visit my Twitch stream to catch up on past streams, and hang out when I'm streaming! Want to know when I'm in the kitchen? Hit the follow button (the heart up top) so you'll get notifications when I'm live – it's always free to follow! Or you can follow me on Instagram or Twitter, where I usually post when I'm starting the stream.