Archive
For the month of December, 2011
---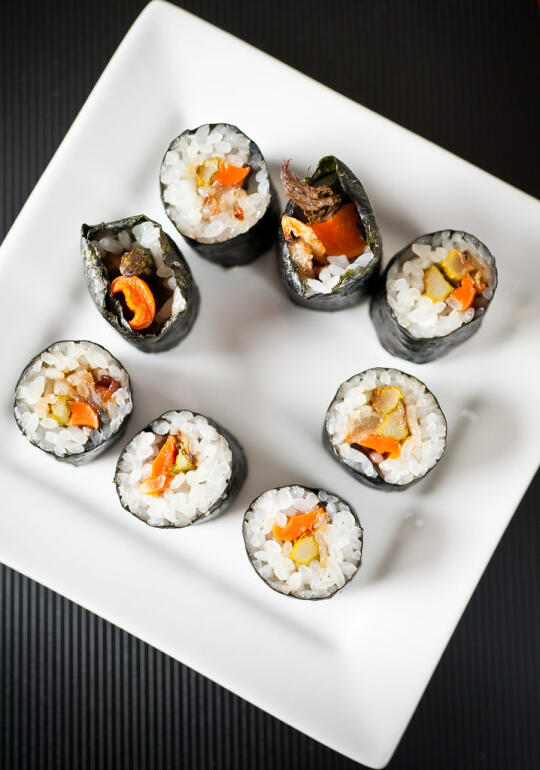 I love to cook for others. Like, really, really love making sushi for other people.
In a perfect world, I'd be allowed to experiment and have as much freedom coming up with new rolls as I do here on Sushi Day. But this isn't a perfect world, and not everyone will eat all the random rolls I put together (and, to be honest, not everything I attempt comes out well…). And I'm okay with that.
These days, there are a lot of things you have to take into account when making sushi for other people, like if you're going to a potluck. While my Spicy Shrimp Inari is always a crowd pleaser, you know there are always a few picky eaters: "I don't eat seafood… at all." (Hence my Man Sushi… trust me, that'll convince any meat eater that sushi's actually delicious!)
Then there are those with allergies – gluten-free? Just stay away from tempura. (And bring some wheat-free tamari soy sauce… did you know that most normal soy sauce actually has wheat products in it?) Dairy-free? Okay, no rolls with cream-cheese.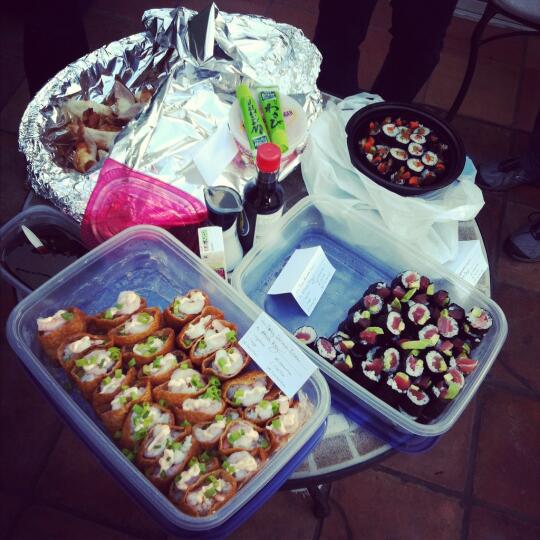 And, of course, you have those with other dietary restrictions, like vegetarians and vegans. At the most recent potluck I went to, I knew we'd have a few vegetarian/vegan attendees. So in addition to the other sushi dishes that I brought, I decided to come up with a vegetarian roll.
Obviously, I was going to use primarily vegetables in the roll. I considered using tofu, but decided against it since I didn't think there would be a quick, easy way to make tofu taste good in sushi. (I needed something that wouldn't be too time-consuming, since I was making four dishes that morning for the potluck.) I also couldn't resort to tempura-frying the veggies, since tempura isn't vegan – the batter uses egg. For the same reason, no mayonnaise is allowed either.
But it had to be a delicious, somehow interesting roll. It just wouldn't be right to make delicious rolls for my meat-eating friends, and then bring a boring, "blah" roll for my vegan friends. So I had to come up with something so good even the meat-eaters would love it.
"Asparagus… roasted. Obviously. I love roasted asparagus."
"Onions… sauteed? Nah, I want a texture contrast. How about fried? Yeah, I'll need to heat up oil to fry the Arctic Char and Cream Cheese Wontons, so I can just fry up a bunch of thinly-sliced onions before I start the wontons."
"What else… what would go well with asparagus and onions? Hm. How about carrots? Yeah, carrots would be good. But I don't want to just roast them. I'm already roasting the asparagus; another plain roasted vegetable would be boring. Oooh, what if I glaze them with a little maple syrup? That would add a nice sweetness that should round out the roll."
So how did it turn out? According to my veg(etari)an (as well as my omnivorous) friends, this fish-less, meat-less roll was a grand success. So much so, that it has definitely earned a place in my regular potluck menu. ^_^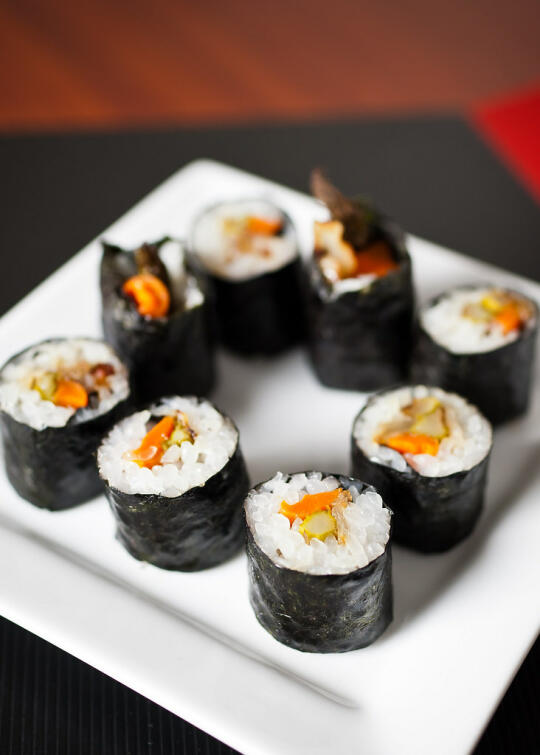 Continue Reading