I. Love. Slow cooker recipes.
I know everybody loves their Instant Pots, but even though I own one, I somehow missed that bandwagon.
Pressure cookers still scare me… but if you have a favorite Instant Pot recipe that you think I should try, let me know!
But… slow cookers.
I love starting something in the slow cooker first thing in the morning, or right before bed.
And then gradually your house just starts to smell SO amazing.
Plus, slow cooker recipes are always so easy. Just dump a bunch of stuff in, turn it on, and 6-8 hours later, you have tasty foods!
It doesn't get easier than that.
This vietnamese chicken and bok choy recipe is one we've been making for YEARS.
It's succulent and healthy and oh so good over rice. And, most importantly, so easy to make!
First, place your chicken in the slow cooker. I like bone-in, skin-on chicken thighs for this, but skinless, or a different part of the chicken, should work fine.
Add a quarter cup of fish sauce, and a quarter cup of shoyu – both will add different flavors of that salty umami we love so much.
A bit of earthy white pepper.
And a ton of minced garlic. As far as we're concerned, more is always better, but you can tone down the garlic if you'd prefer.
A couple of tablespoons of canola oil, and a quarter cup of brown sugar, for a touch of sweetness to round out the flavors.
Don't worry about the chicken being submerged. As it cooks, the chicken will release fat and the liquid level will rise.
Cook on low for about 6 hours, or overnight.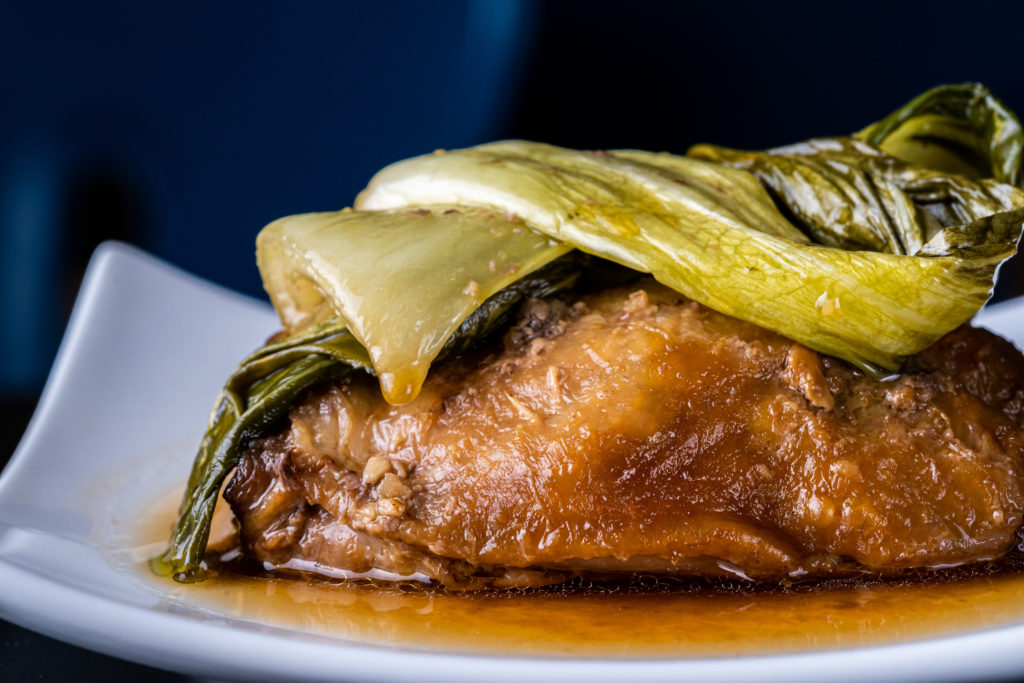 After the chicken is done cooking, prep your bok choy.
I like to cut off the core of each head first, and then wash it. Bok choy, especially if you buy organic, can get pretty dirty, so it's easier to wash it when the leaves are all separated.
Remove the chicken from the slow cooker, and set aside for now – then stuff all the bok choy in the slow cooker, making sure it all gets submersed in the cooking liquid.
Put the lid back on, and cook on high for another hour. You may have to turn the bok choy a couple times if it's not all submersed. You want to make sure it all gets nice and wilty.
Serve the chicken and bok choy over rice, and enjoy!
Vietnamese Slow Cooker Chicken and Bok Choy
Recipe adapted from Yankee Kitchen Ninja. We like to make lots and have leftovers all week, and the bok choy is our favorite part so we make quite a bit extra. However if you have a smaller slow cooker or just want enough for a meal, you can refer to the original recipe.
Ingredients
10 bone-in chicken thighs
1/4 cup fish sauce
1/4 cup shoyu
1 tsp white pepper
8 cloves garlic, minced (I usually add more because we really love garlic)
2 tbsp canola oil
1/4 cup brown sugar
lots of bok choy (I usually go with 5lbs or so; other greens can also be used)
Cooking Directions
Put everything except the bok choy in the slow cooker. Cover and cook on low for about 6 hours.
Wash the bok choy, discard the last inch of the base. When the chicken is finished cooking, carefully transfer it to another bowl. Place the bok choy in the slow cooker, stirring to make sure it is coated with the sauce. Replace the lid, and cook on high for another half hour or so, until the bok choy is wilted and soft.
Serve over white or brown rice. Enjoy!
Sub to my YouTube channel to get notified whenever we have new videos!
Links in this post may be affiliate posts. If you buy an item through an affiliate link, I get a small fee, which helps support this blog!