On our Twitch cooking stream, we had a loyalty point system called fishcoins. If a viewer gathered enough fishcoins, they could redeem them to help choose something for me to make on stream.
Many of the redemptions were cookbooks or countries – you could pick one, and then I'd choose a recipe to cook from it.
However, if you really racked up your fishcoins, you could choose a specific recipe, and I'd have to cook it.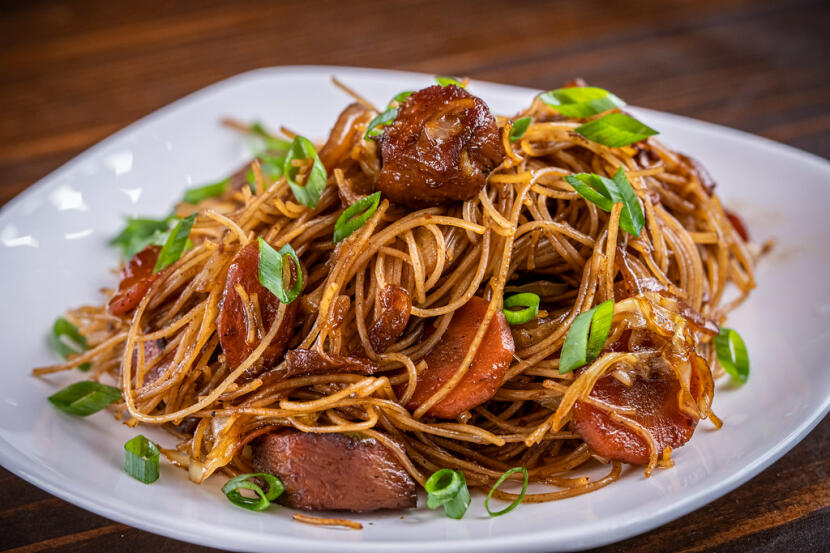 Since we've wrapped up our Twitch stream to make time for other ventures (such as our YouTube channels, more dev projects, our podcast, blogging… the list goes on), I told all our viewers that they could still redeem their fishcoins, and I'd just do the redemptions on YouTube instead.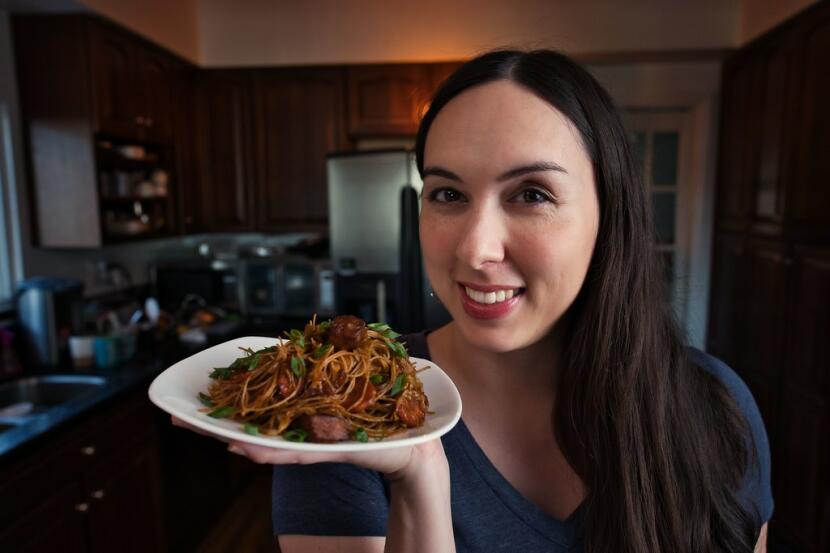 Today's recipe choice came from busdriv3r, who by far had the most fishcoins of any of our viewers. You'll be seeing his name a lot, because he used up all his fishcoins for a bunch of redemptions!
We had a lot of Filipino viewers on Twitch, and one dish that they repeatedly mentioned but we still had never tried was pancit.
It sounds delicious – a rice noodle, meat, and veggie stir-fry… what's not to love? But somehow we just never got around to making it.
However, thanks to busdriv3r, we can't inadvertently avoid it any longer! He used 10k fishcoins to redeem this pancit recipe.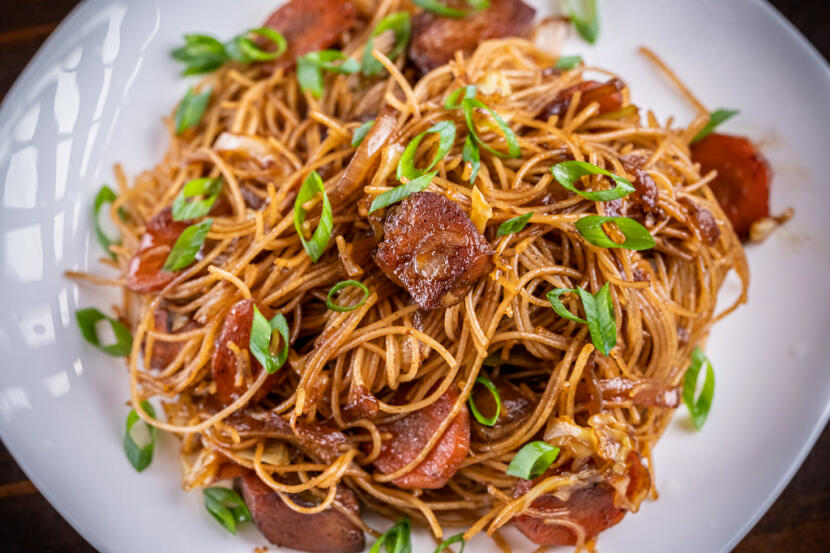 It starts with chicken breast, marinated overnight in the teriyaki sauce that we made in our last video, and garlic.
Then, the ingredient that is most important to pancit, the noodles. I've seen pancit recipes using different types of noodles, but rice noodles tend to be the most common.
Soak the rice noodles in warm water – this will soften them, so you can stir-fry them without getting inedible, burnt noodles.
Brown the marinated chicken, and then set it aside.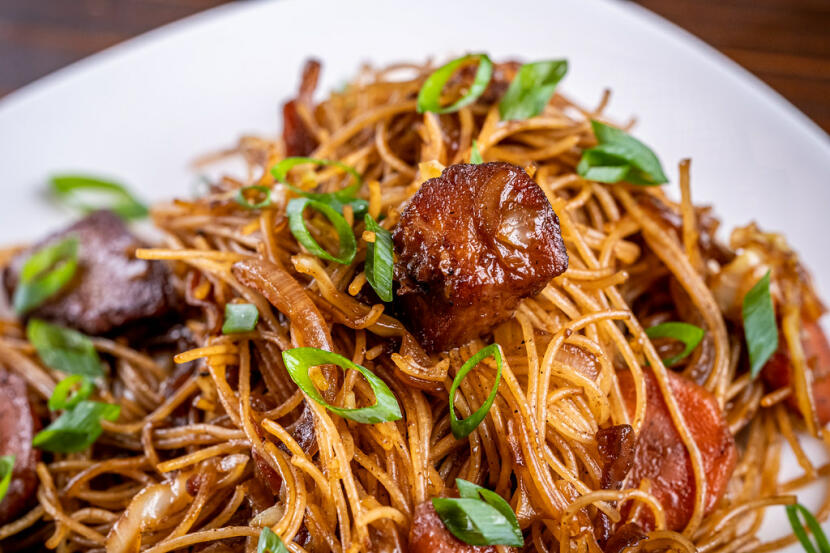 Next, it's veggie time. Garlic (with a dash of msg!), carrots, cabbage, onions.
Soy sauce for more umami, and then the chicken joins everything.
Lastly, the noodles, and a bit more soy sauce, stir-fried all together with everything until the noodles are tender.
Serve with green onions and lemon juice, and there you have it – pancit!
Pancit
recipe from food.com
Ingredients
1 lb chicken breast, cubed
1/2 cup teriyaki sauce
5 cloves garlic, minced
8 oz bihon rice noodles
2 cups cabbage, chopped
1 cup carrot, sliced
1 cup onion, sliced
5 tbsp cooking oil, divided
5 tbsp soy sauce, divided
1/2 cup green onion, chopped
1 lemon, sliced
Cooking Directions
Marinate the cubed chicken breast with the teriyaki sauce and 2 cloves of minced garlic in the refrigerator overnight.
The next day, soak the rice noodles in warm water for 15-30 minutes, then drain.
Drain the marinated chicken and discard the marinade.
Heat 1 tbsp of oil in a wok or skillet over medium high heat and cook the chicken flipping occasionally, until browned on all sides. Set chicken aside.
Heat 2 tbsp of oil over medium high heat and stir-fry the remaining minced garlic for 30 seconds.
Add the carrots and stir-fry for about 5 minutes.
Add the cabbage, onions, and 1 tbsp of soy sauce and stir-fry until the vegetables are tender.
Add the browned chicken to the vegetables and continue stir-frying.
Add the drained noodles, along with 1/8 cup of oil and 1/4 cup of soy sauce. Mix well.
Continue stir-frying until the noodles are tender and cooked thoroughly.
Serve with the green onions and lemon slices.
Sub to my YouTube channel to get notified whenever we have new videos!
Links in this post may be affiliate posts. If you buy an item through an affiliate link, I get a small fee, which helps support this blog!