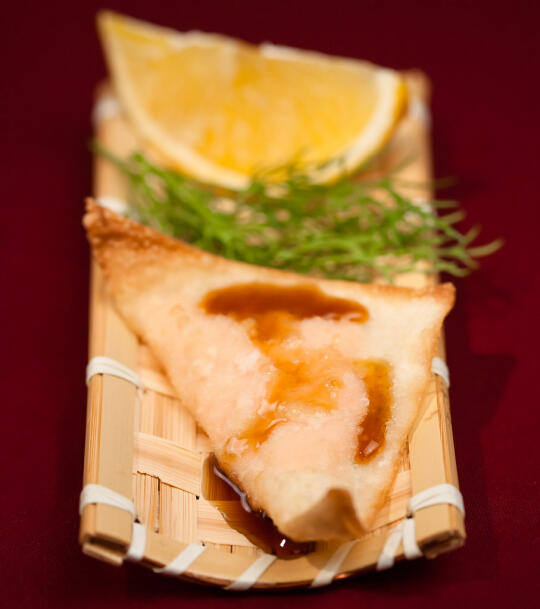 I have a challenge for you.
Come up with something – anything (though it has to be edible food) – that wouldn't go well in a wonton.
I bet you can't do it.
(Neener neener!)
I mean, really. You can fold anything in a wonton skin, fry it up, and it'll be delicious.
An. Y. Thing.
And if you can't come up with something that would do badly in wontons? Give me a cool, crazy, awesome, ridiculously creative combination that you would put in a wonton.
Like these, which my great aunt asks me to make every year at our family's annual Christmas party.
Or like this recipe here – arctic char with dill cream cheese, drizzled with a maple ponzu sauce.
Heck yeah.
Good stuff.
And… you know what?
I think I'll give away a Sushi Day shirt and a sushi kit to the person who comes up with the best (edible!) suggestion for what WOULD NOT go well in wontons.
And I'll give away another Sushi Day shirt and a sushi kit to the person who comes up with the best GOOD combination that I can put in a wonton.
You have 1 week to enter. That's until next Thursday, November 18, at 11:59PM PST.
Ready… go!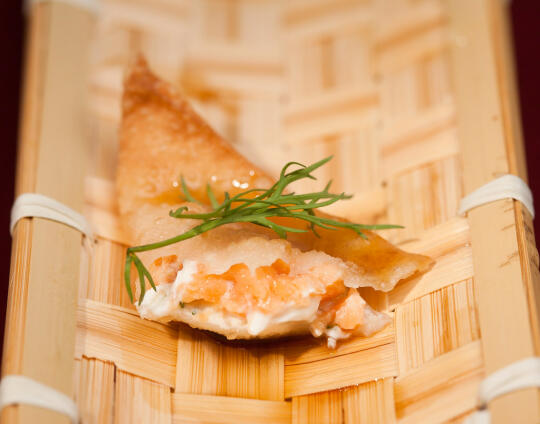 The maple ponzu sauce was adapted from this maple-soy sauce, which was recommended to me by my friend Mike Kelly. Yum, yummy, yum.
Ingredients
1 fillet very fresh arctic char (about 1/3 lb)
20 oz cream cheese, softened
1 tbsp dill, chopped
20 wonton skins
1/4 cup maple syrup
2 tsp shoyu
2 tsp fresh-squeezed orange juice
canola oil for frying
Cooking Directions
If the arctic char fillet has skin and bones, carefully pick out all the bones, and scrape the pink flesh off of the skin. Discard any bones and skin. By now the arctic char probably resembles a lumpy mush, but if not, chop it a few times until it does.
Mix the cream cheese with the dill.
Spread a layer of cream cheese on one triangular half of a wonton skin, then top with about a tablespoon of arctic char. Dampen the edges of the wonton with water, then fold over the other half of the wonton skin and press along the edges to seal it. Repeat until you have used up the arctic char.
Heat the oil to 400°F.
Fry the wontons, about 10 seconds on each side. They should be a very light golden brown, just barely starting to brown around the edges. We still want the arctic char to be mostly raw inside the wonton. Drain on a cooling rack.
Mix the maple syrup, shoyu, and orange juice. Drizzle over the wontons.
Enjoy!
Coming Soon!
Percent Daily Values are based on a 2000 calorie diet. These values are only estimates based on the individual ingredients, and not meant to replace the advice of a medical professional.