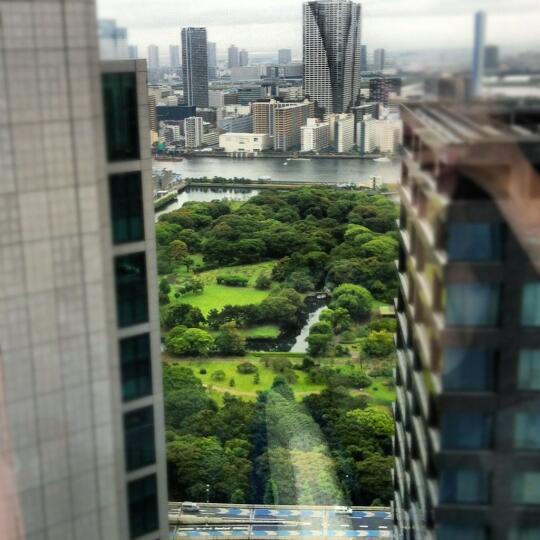 Day 1. Our first full day in Japan. We woke up to find we had quite a lovely view of Hamarikyu Gardens from our hotel room.
Since we weren't able to get our JR Passes the previous evening when we arrived in Japan, off we went to Shinagawa station, where there was a JR Exchange Office.
And back we went to our hotel room, because someone (we won't name names, but it starts with "S" and ends with "on") neglected to bring their passport, and we couldn't exchange our JR passes without it. (They wouldn't even take a photocopy! Boo.)
But we weren't totally empty-handed – since the first time we were in Japan we stayed across the street from Shinagawa station, we became quite well acquainted with the curry pan from a bakery in the station. Obviously, we couldn't walk by and not get one.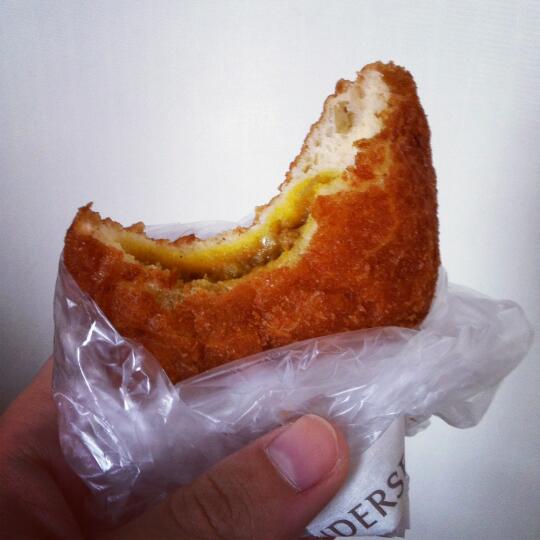 Do you have any idea how impossible it is to resist buying a cream puff when you can smell them, freshly baked, the scent wafting through the train station? It's like going by Krispy Kreme when that "Freshly Baked" sign is blinking, or In N' Out when you can smell french fries cooking from across the street. Or smelling bacon, anytime, ever. Instant cravings.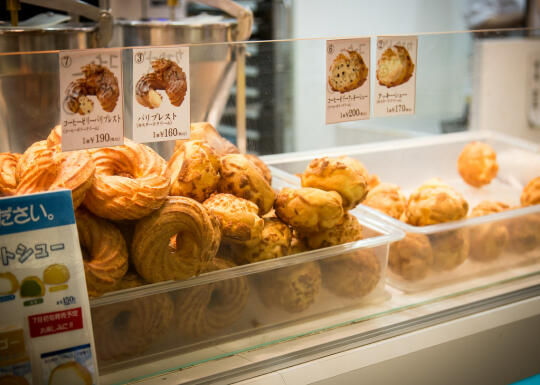 Yeah, so there's a Beard Papa's shop in Shimbashi station, right near the entrance to the JR station. And Son has a coworker who's OBSESSED with Beard Papa's (hi, Victor!), so of course we had to stop by and see how the ones in Japan compared to the ones in the US.
All in the name of research and being a good friend. Yup. That's our excuse, and we're sticking with it.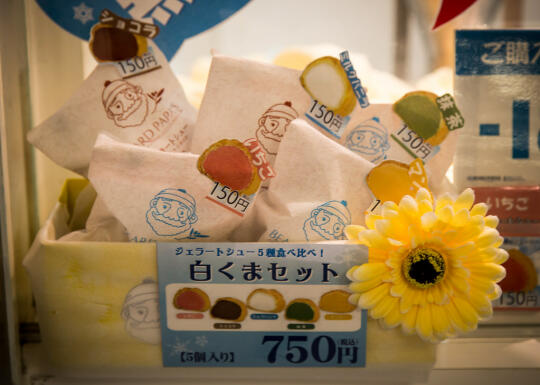 No comparison. None. At all. Even just the plain custard-filled cream puff blew our minds. (Which unfortunately is, I'm pretty sure, the only one we had there that you can actually get in the US. Come on, US Beard Papa's! What's your deal?!) Best. Cream puffs. Ever.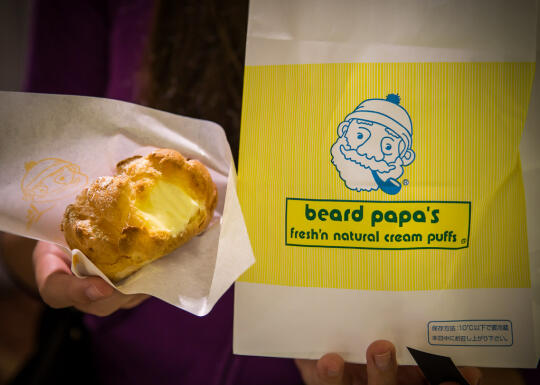 So, after a quick jaunt up to our hotel room to retrieve aforementioned someone's passport, off we went to Tokyo Station to exchange our JR Passes. (Tokyo Station is in the opposite direction of Shinagawa Station, a little bit closer to Shimbashi Station so cost us less, and also has a JR Exchange Office.)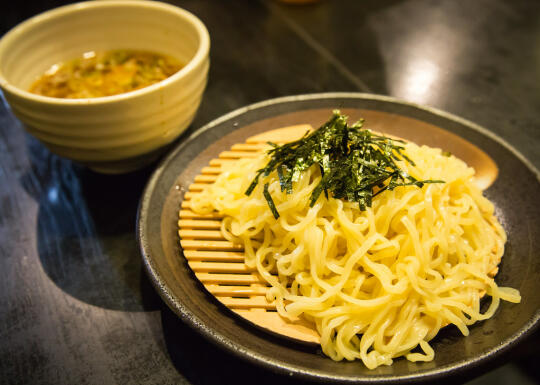 After attaining our JR Passes, we decided to walk around Tokyo a bit. (When I say Tokyo, I mean the area around Tokyo station.) By then our stomachs were starting to grumble (a curry bun and a cream puff, shared between the two of us, does not make for much of a breakfast.)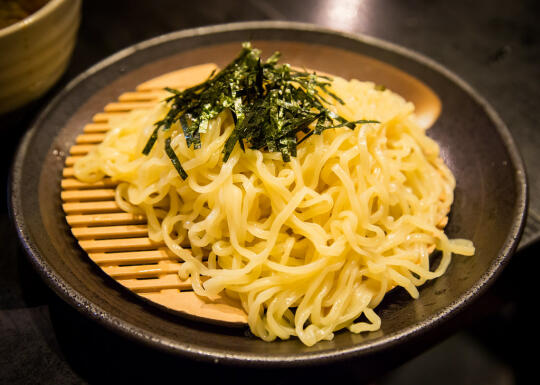 Mind you, neither of us read or speak Japanese, and we're only somewhat familiar with certain parts of Tokyo. So when it comes to finding a good place to eat… we're pretty much useless. After a bit of wandering, we ended up at a ramen place with a line out the door for lunch – always a good sign.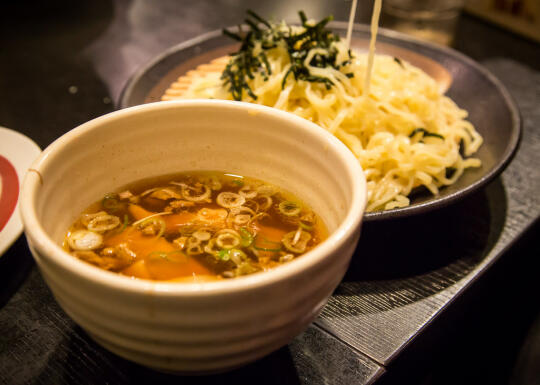 I got the tsukemen, which is similar to ramen, but the noodles are served on the side and the broth is thicker than normal ramen.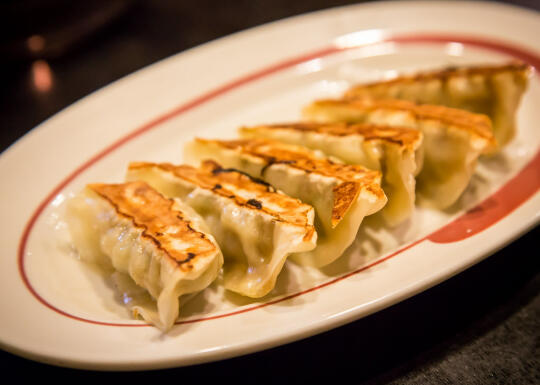 Son had the miso ramen, and we shared an order of gyoza.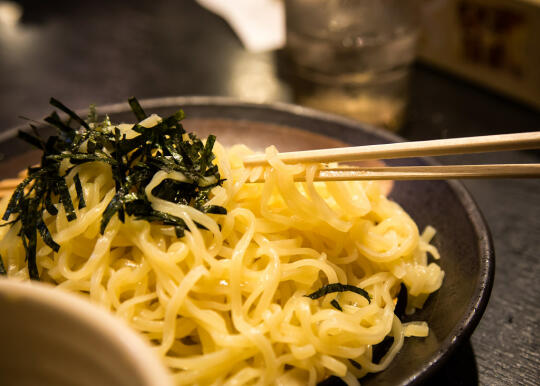 The tsukemen was ridiculously good. The weirdness of squishing into a table across from a couple of businessmen was worth it for that tsukemen.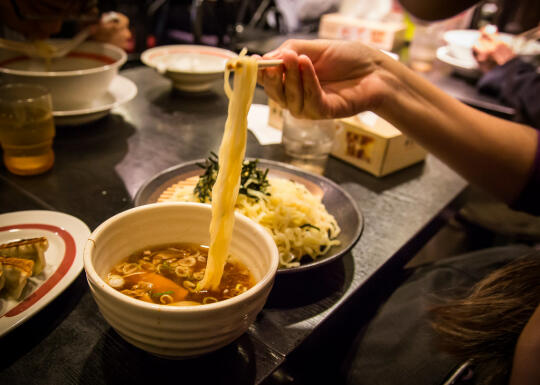 Son's ramen and the gyoza weren't bad either, but we were both in agreement that my tsukemen was the winner of that meal. (The meal came out to 997 yen – about $12 – such a deal!)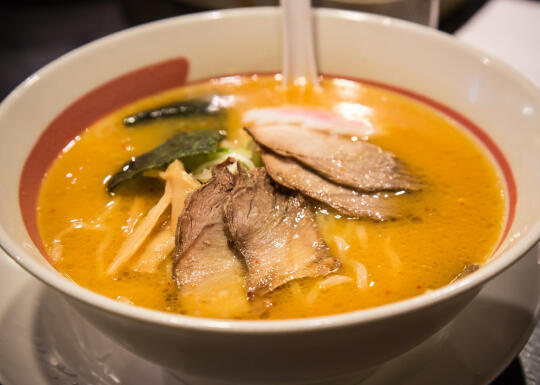 After lunch, we walked around a bit, then headed back to Shimbashi station.
We couldn't help but stop by Beard Papa's again – more research, of course.
We also stopped by the Tully's inbetween Shimbashi and Shiodome stations (on the way to our hotel).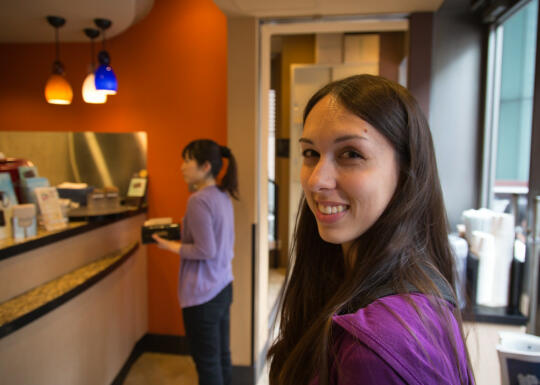 Hoping for a taste of home, and unable to resist buying boba milk tea (me, an addict? Nah…), we stopped there for a second, and then sat down in the courtyard outside.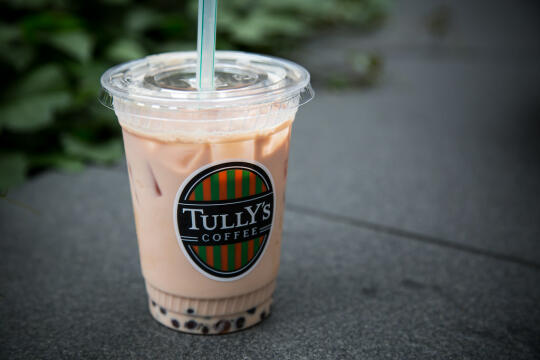 We were so, so sorely disappointed.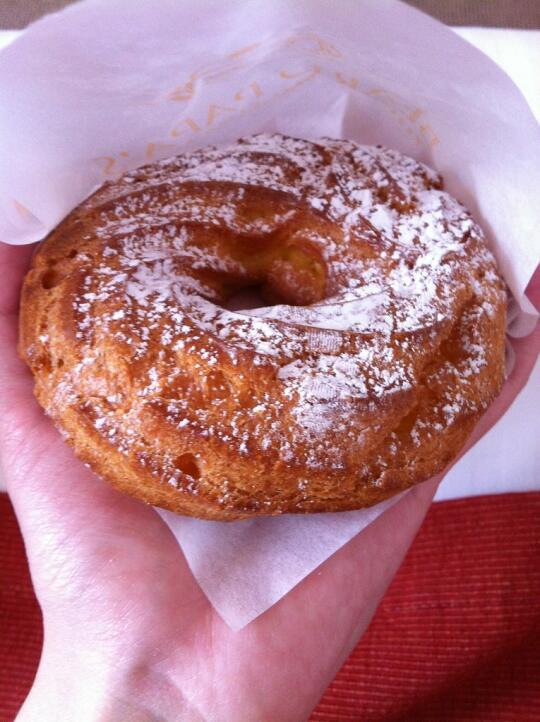 In the boba, I mean. The cruller-type pastry we bought from Beard Papa's (filled with the same sort of pastry cream as the regular cream puffs) was fantastic! Quite possibly even better than the original cream puffs.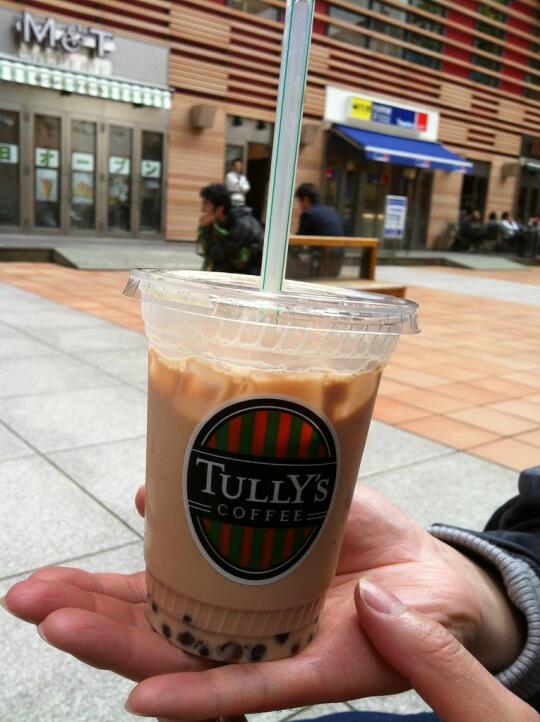 But that boba… ugh. Such a waste of 150 yen.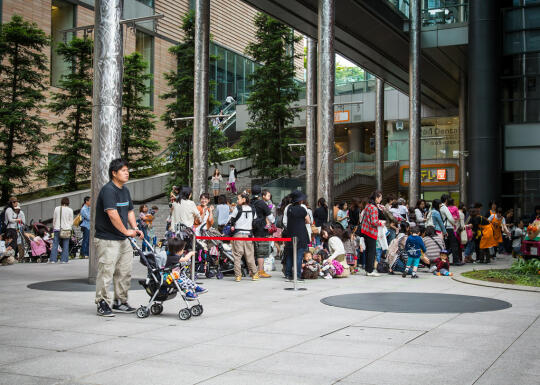 After a quick nap – jet lag had us utterly exhausted by that time – we took the train over to Harajuku.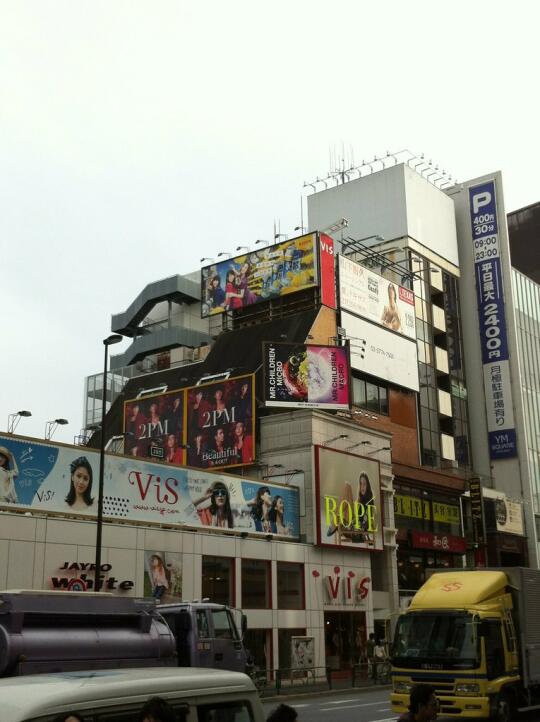 We walked around Harajuku for a bit, then through Yoyogi park – one of our very favorite parks in Tokyo. This time it was too late to see the Rockabilly dancers or visit food stalls, but it was still nice, a moment of calm in the middle of a busy city.
We searched for the Sword Museum on the other side, but it ended up being closed by the time we got there.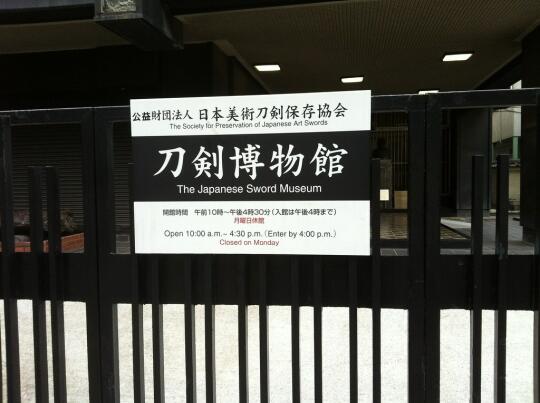 So instead, since we were in the area, we took a train to Shindaita station and walked to Bassanova – the ramen shop where Keizo of Go Ramen works.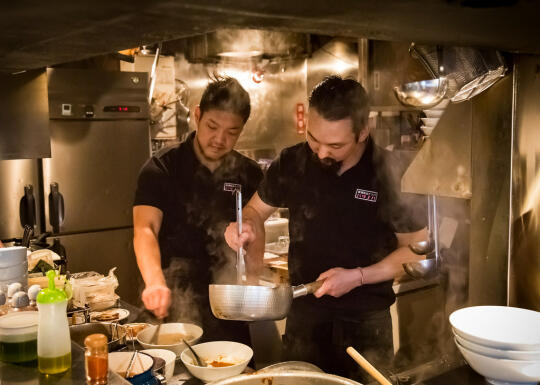 We got to meet Boom, another Japanese-American who began working at Bassanova after Keizo mentioned on his blog that they were looking for more employees.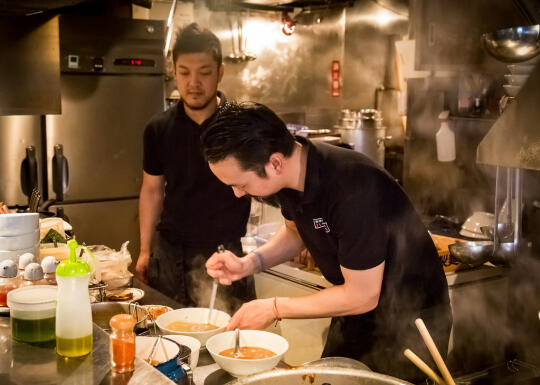 Son got the Tom Yum Ramen, a spicy Thai-style ramen. It was fantastic. Seriously, we haven't had anything here that wasn't amazingly good.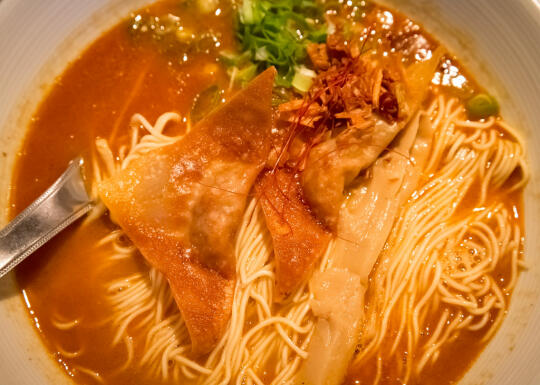 But that wasn't what I was here for.
I came to Bassanova looking to get my Green Curry Ramen Soba fix!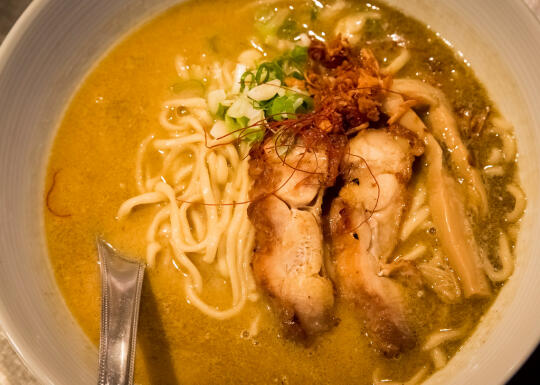 Ooooh, baby. That's some freaking fantastic soba.
I'm still working on convincing Keizo to open a branch of Bassanova in LA, so I don't have to travel all the way to Tokyo to get my fix!
I swear, it's like a drug.
And 1800 yen (about $23) for 2 bowls of ramen makes it a very affordable drug.
After hanging out at Bassanova with Keizo for a bit, we took the train to Shibuya to walk off all that ramen.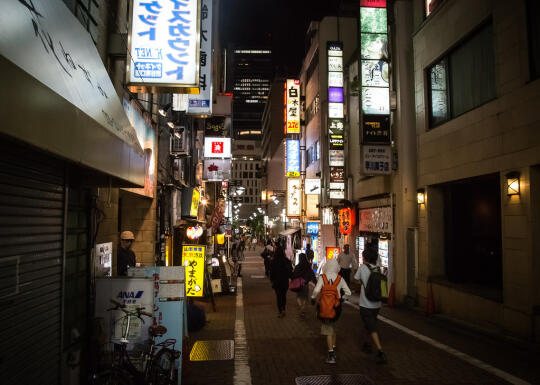 Then back to the hotel to pass out. Day 1 was a ramen-filled success!