Other Recipes
Other sushi includes types of sushi that don't quite fit in so well to the other categories. This includes inari-zushi and sumeshi, the sushi rice.
---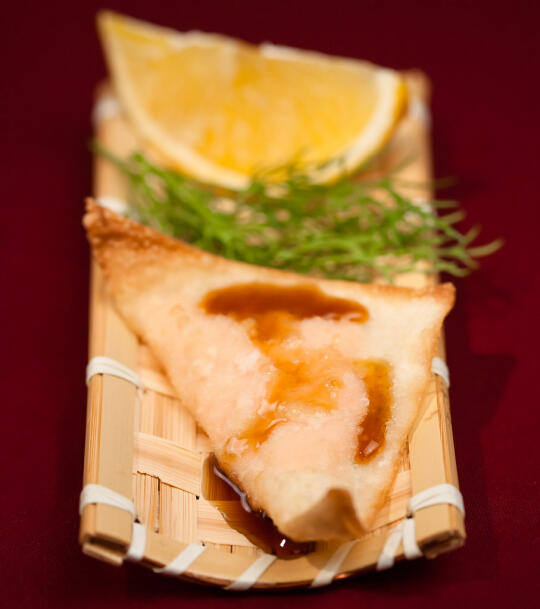 I have a challenge for you.
Come up with something – anything (though it has to be edible food) – that wouldn't go well in a wonton.
I bet you can't do it.
(Neener neener!)
I mean, really. You can fold anything in a wonton skin, fry it up, and it'll be delicious.
An. Y. Thing.
And if you can't come up with something that would do badly in wontons? Give me a cool, crazy, awesome, ridiculously creative combination that you would put in a wonton.
Like these, which my great aunt asks me to make every year at our family's annual Christmas party.
Or like this recipe here – arctic char with dill cream cheese, drizzled with a maple ponzu sauce.
Heck yeah.
Good stuff.
And… you know what?
I think I'll give away a Sushi Day shirt and a sushi kit to the person who comes up with the best (edible!) suggestion for what WOULD NOT go well in wontons.
And I'll give away another Sushi Day shirt and a sushi kit to the person who comes up with the best GOOD combination that I can put in a wonton.
You have 1 week to enter. That's until next Thursday, November 18, at 11:59PM PST.
Ready… go!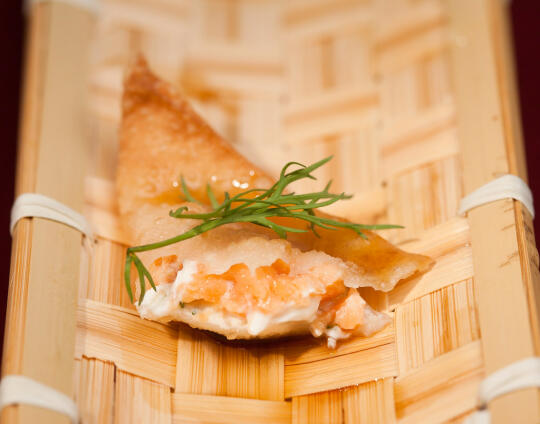 Continue Reading
---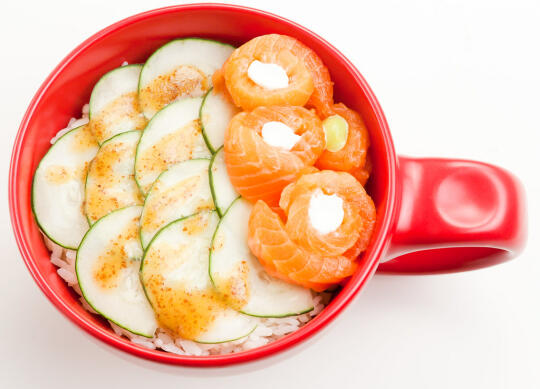 Every time I get a new type of fish, I try to think of good flavor combinations that I can use as inspiration for my dishes. I look through my bookmarks for recipes using that fish. I ask people on twitter. I look back in my archives for older, similar recipes for inspiration.
For today's recipe, for example, I found a salmon recipe that I had bookmarked a while ago and decided that the sauce looked fantastic, then deconstructed a salmon recipe I had made years ago for the dish itself.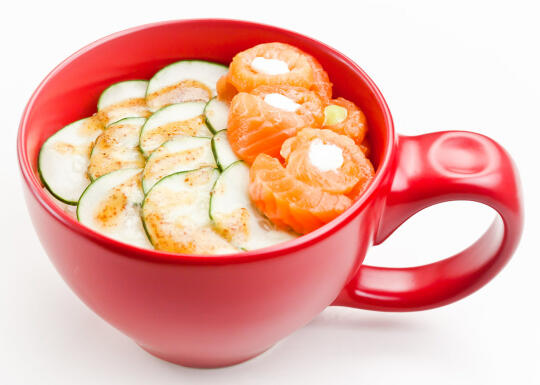 Continue Reading
---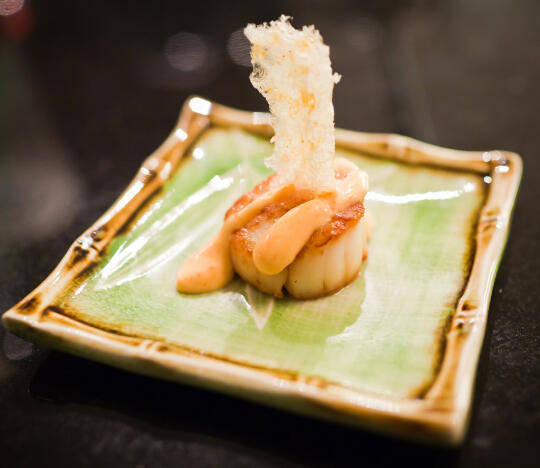 After my interview with the men of I Love Blue Sea, they sent us home with a gift of some beautiful black cod and scallops, which we cooked for my relatives that we were staying with that evening. With the black cod we made sashimi (very good!), faux-nagi, and miso black cod (recipe to come soon!). With the scallops we made Hajime's Hotate, sashimi, and these delicious seared scallops.
Since I had wanted to stop by Boccalone in the Ferry Building to get prosciutto for the Hajime's Hotate, I also stopped by the 4505 Meats booth at the farmer's market (they're there Thursdays and Saturdays) to pick up a few bags of their chicharrones, because I heard they're to die for. (They are! Consider me addicted, now.)
After lunch at Tataki, Son and I got to thinking on the way back.
"You know what would be really good?" He paused for a long moment, keeping me in an impatient suspense while he thought about it. "What if… you know how they have bacon-wrapped scallops?"
I nodded, not sure where he was going with that.
"Well, what if we did chicharrones instead?"
"Yeah…" A slow smile grew on my face, as I saw what he was getting at. "That might be good…"
"With lemon juice," he insisted.
"And something else…" I thought for a moment. "What if we put spicy mayonnaise on it, too? Add a little spice, to go with the spice in the chicharrones, a little creaminess…"
"Yes!" Son exclaimed. "This is going on the menu at my restaurant."
(He has a hypothetical someday restaurant… anytime we come up with a particularly delicious recipe, it goes on the list of random things that will be on the menu if he ever opens a restaurant. Do any of you do that too?

)
When we made this later that day, it was a hit. Delicious.
It's definitely going on the menu.
Continue Reading
---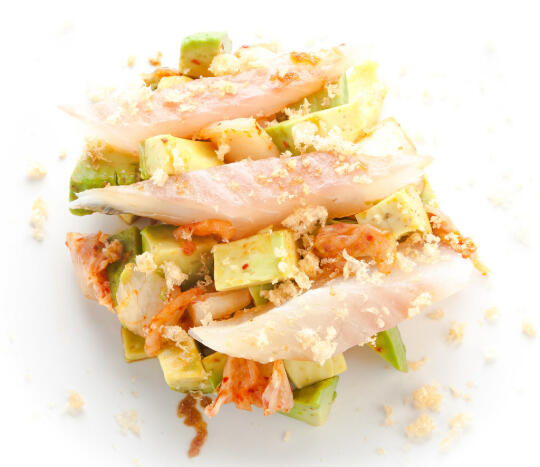 Aside from rice and nori, avocado is probably one of the most widely used ingredients in sushi rolls. It seems to go well with almost every type of fish.
In our household, kimchi goes with everything. Or at least, that's Son's opinion. I'm a little more conservative with my kimchi usage, though I enjoy the fermented vegetables as well.
You don't have to be a kimchi fanatic like Son to like this combination, though. Avocado and kimchi go quite well together, and the shoyu adds a little saltiness. Chicharrones add a subtle little crunch to the dish. Delicious!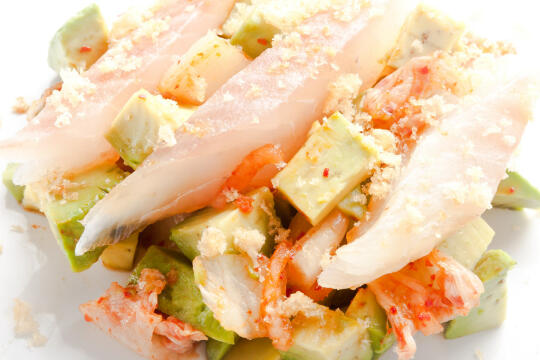 Continue Reading
---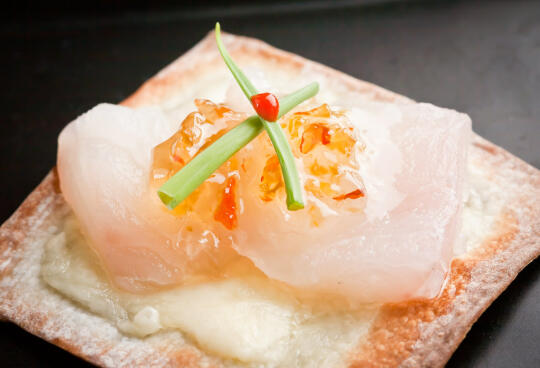 Jalapeño jam.
To the uninitiated, it sounds weird. "Jalapeño jam? Ew. Isn't that… gross?"
I was one of the skeptical ones, before I tried it. Heck, I'm not a huge fan of spicy anyways, so I had a feeling I wasn't going to like it all that much.
Wrong, wrong, wrong. I was so wrong. Jalapeño jam is sweet (I know it's hard to imagine if you've never had it) and has only the faintest hint of spice. It's ridiculously good… especially on nachos. And I hear it's awesome on crackers with cream cheese, though I haven't tried it yet.
So when I was looking through my fridge to see what ingredients I had that might go well with halibut, the jalapeño jam caught my eye. I've used jalapeños with yellowtail… halibut tastes similar to yellowtail… so therefore surely jalapeño will go awesomely with halibut! (Don't you love my logic?)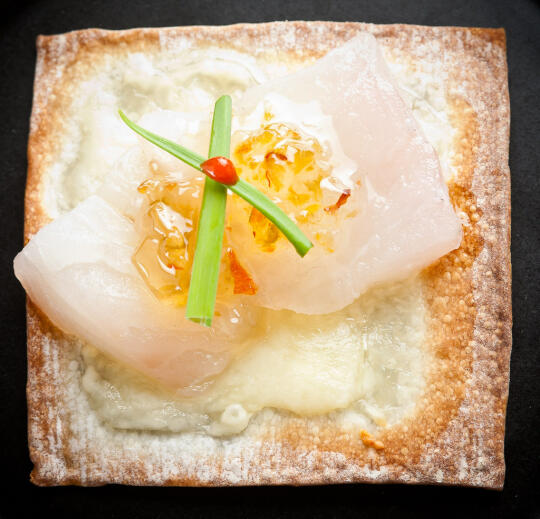 Continue Reading
---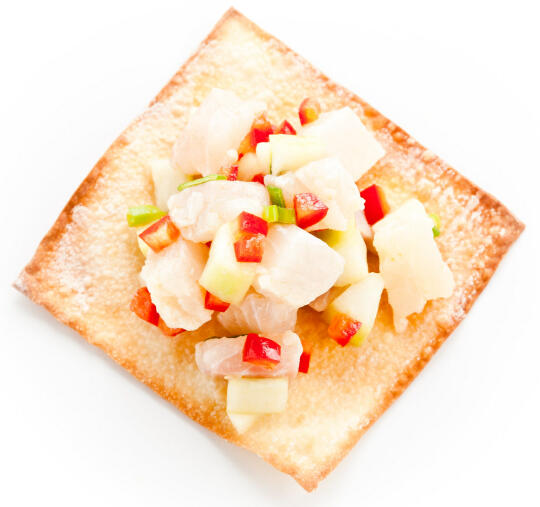 I am not perfect.
In case you were wondering.

I make mistakes, sometimes. Okay, lots of the time.
I was at Mitsuwa the other day, looking for sustainable seafood. (I would have ordered something from I Love Blue Sea, except it was Saturday, and I wanted to make sushi the next day, so there's no way I would have gotten it in time.)
So I pull up the Monterey Bay Aquarium Seafood Watch iPhone App. Standing in front of the refrigerated shelves of sashimi, I went to the "Sushi" section of the application, and sorted it by rating. Because I figured, I only want to buy seafood with the best rating, right?
So matching up the recommendations from the list to the options on the shelves, I saw izumidai – tilapia. It appeared to have a good rating, so I went ahead and bought it.
What I didn't realize until I got home, was that the good rating was only for tilapia farmed in the US. The tilapia I got was from Taiwan. Shoot. That's the worst type.
Cringe.
(Dear Monterey Bay Aquarium Seafood Watch… it would be really great if you could always keep the different ratings for each type of fish grouped, even when we sort it by best rating – so that when I look and see that a type of fish from one region is great, I'll also see that that same type of fish from other regions aren't so great, and can therefore make better informed decisions. Thanks, Allison)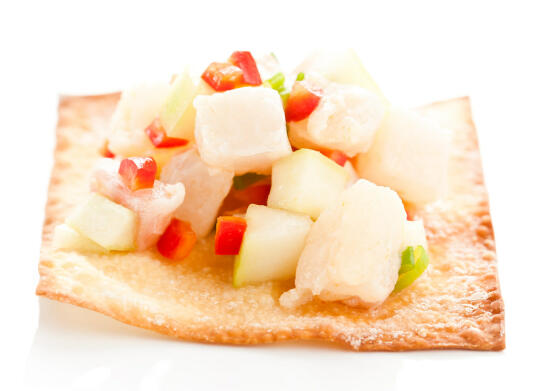 Continue Reading
---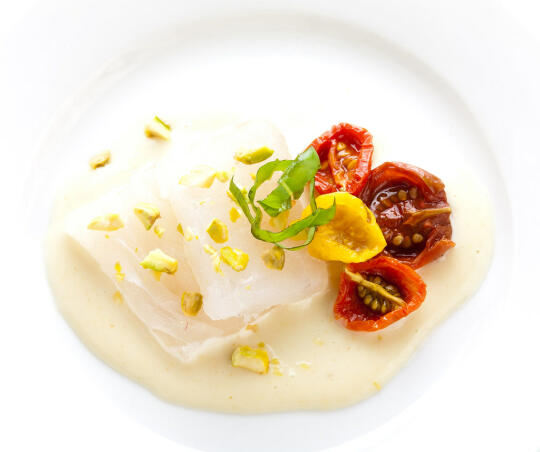 I'm no chef. Certainly not. But I wanted to raise the standards for my sushi, make it something that you look at and really crave.
Oh, and Son complains I make too many rolls.
So I was looking through my kitchen, trying to figure out what the heck we had that could possibly be used to make a really awesome dish with the halibut I got.
Then I saw these tomatoes in the fridge, which had been used as a side for a really amazing sake-steamed black cod dish I made the day before. Hm. Tomatoes… seafood… cocktail sauce! Why don't I make a sort of cocktail sauce, except without the tomatoes mixed in?
(Yes, my mind works in weird ways sometimes.)
So I looked up a recipe for cocktail sauce, then made up my own version, except without the tomatoes blended into it. Just because it looks cooler that way. And… well, this is what I came up with.
It actually turned out very well. Son has fallen in love with the sauce… it goes amazingly well with seafood.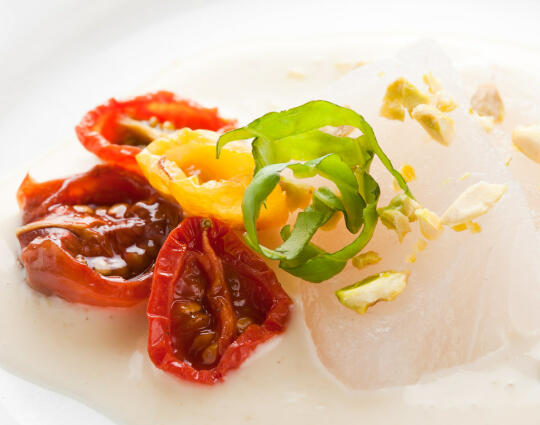 Continue Reading
---
I love cooking for other people.
Continue Reading
---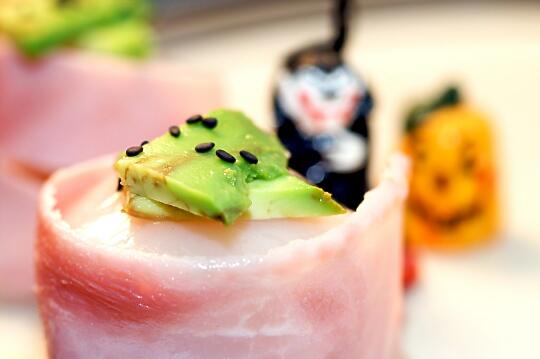 Three years. 200 posts. 2000+ comments. 500,000 visitors. 1.5 million pageviews. It's been quite a ride, here on Sushi Day. There have been some great posts and some complete and total flops (that still get angry comments!), we've all learned a lot and there have been some amazing opportunities that have come from this blog. Such as that dinner at Mashiko, where this creation comes from. Technically it's not sushi, as there's no sumeshi involved… but it's easily one of my favorite sashimi creations I've ever had. Obviously, I had to share it with you.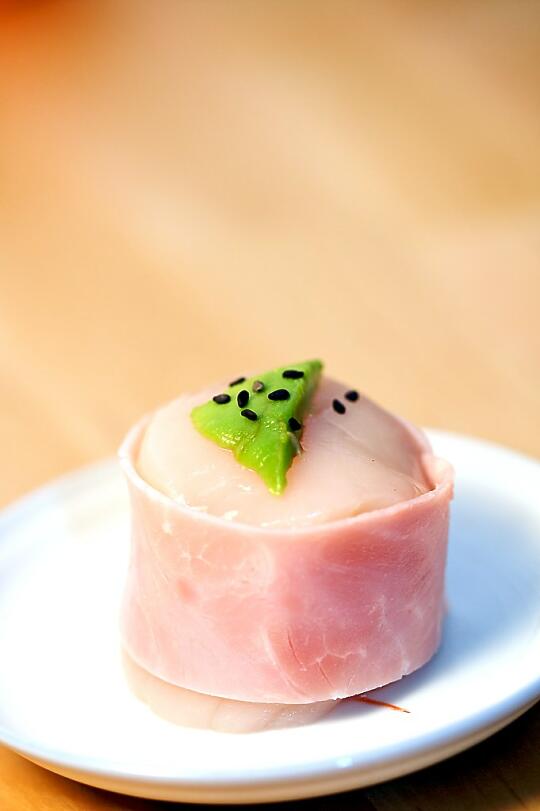 But when it all comes down to it, it's really you guys who make Sushi Day what it is. I could post every day, but if nobody read, nobody commented… I'd be nowhere. So today, on Sushi Day's third birthday, I want to give back to you guys, with a contest.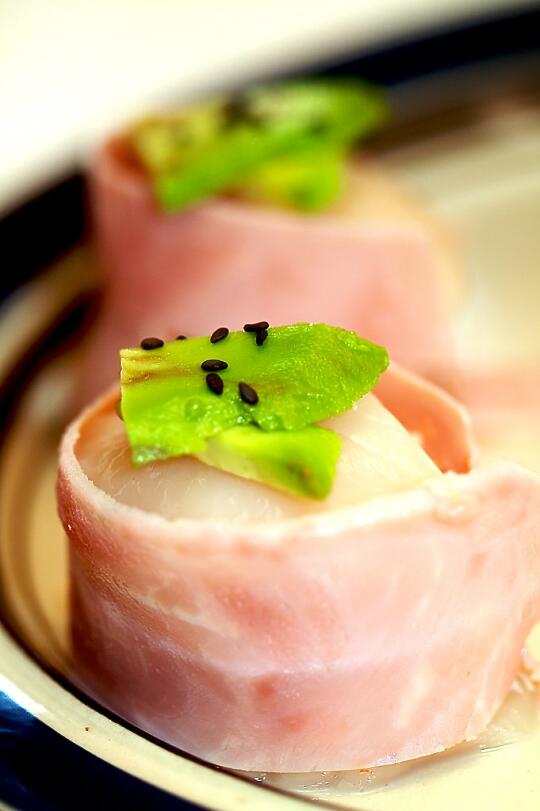 I'm giving away 3 sushi kits – each includes a rolling mat, a package of nori, a bottle of sushi vinegar, a bottle of shoyu, and a tube of wasabi. (Actual items may be slightly different from those pictured.) Everything you need to make sushi at home… all you need to provide is the rice, the fillings, and a few sushi lovers. And heck, I'll even throw in a Sushi Day shirt – any size you want – for the winners.
All you have to do to enter the contest is leave a comment on this post by 11:59pm PST on November 7th, 2009. That's a week from now. And if you want a second entry, just tweet about this contest with a link to this post, then come back here and leave a link to your tweet in a second comment. Then I'll randomly pick the winners, and announce them a week from today.
And if you don't win? I'll put the sushi kits in our store a week from today, so you can purchase one for yourself.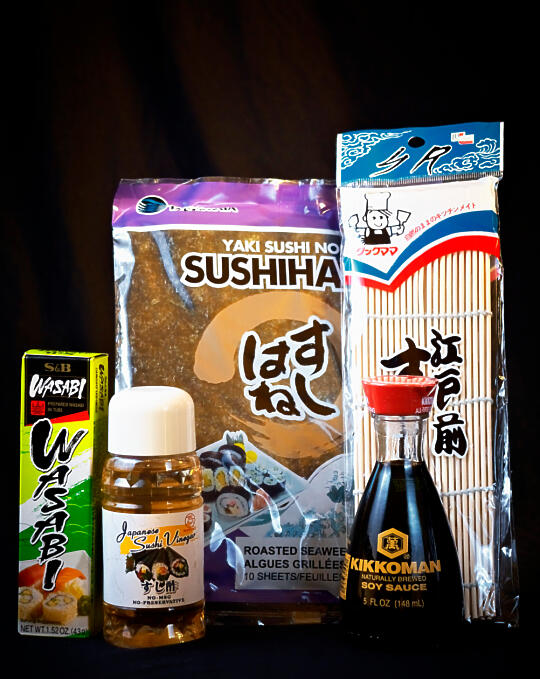 Ingredients
6 sashimi-grade scallops
1 cup crab
1 tbsp mayonnaise
1 tsp Sriracha sauce
2 slices ham
1/2 avocado
a small handful of black sesame seeds
Cooking Directions
Slice each scallop in half, like you're cutting open a sandwich roll.
Mix the crab, mayonnaise, and Sriracha sauce.
Slice each piece of ham into thirds, lengthwise.
Cut the avocado in half, discarding the pit.
Use a large spoon to scoop the avocado out of the hard skin, being careful to keep the avocado half as whole as possible.
Slice the avocado into slices, and then in half width-wise.
Place one half of each scallop on a plate.
Pile a small scoop of the crab mix on the scallop half.
Top with the second half of the scallop.
Wrap a slice of ham around the circumference of the scallop/crab sandwich.
Top with two half-slices of avocado. Sprinkle with black sesame seeds.
Enjoy!
Serving Size: 1 piece Hajime's Hotate
Calories:

88

Fat:

5g, 8% DV

Saturated Fat:

1g, 4% DV

Cholesterol:

10mg, 3% DV

Sodium:

274mg, 11% DV

Total Carbohydrates:

5g, 2% DV

Dietary Fiber:

0g, 1% DV

Sugars:

1g

Protein:

5g, 11% DV

Vitamin A:

1%

Vitamin C:

4%

Calcium:

2%

Iron:

2%

Magnesium:

6%

Potassium:

5%
Percent Daily Values are based on a 2000 calorie diet. These values are only estimates based on the individual ingredients, and not meant to replace the advice of a medical professional.
Continue Reading