Sushi
Maki sushi is probably the most well known type of sushi in the U.S. It consists of a layer of nori surrounding a layer of rice surrounding the fillings in the middle, all rolled into a cylinder and then cut into several smaller slices. The most well known type of maki sushi is the California Roll.
---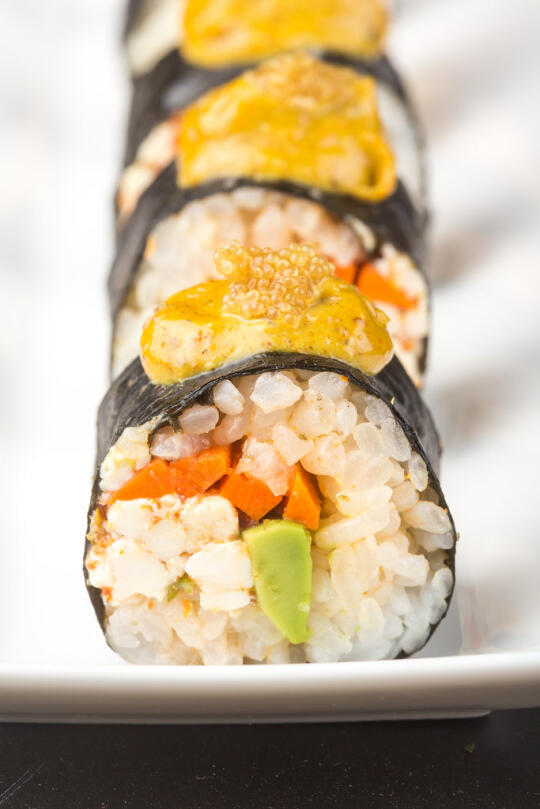 I've been a big fan of Marisa Baggett for quite some time now. (We sushi ladies stick together!) I loved her first book, Sushi Secrets – so when I heard she was coming out with a second, vegetarian sushi cookbook… I was definitely excited.
Then she reached out to me about a year ago, asking if I'd write a foreword for her upcoming cookbook. I was flabbergasted. Marisa Baggett, southern sushi chef extraordinaire, wants me, maker of the most random sushi and owner of a more or less defunct sushi blog, to write something for her cookbook?! This woman had Trevor Corson write the foreword for her last cookbook. I was certain she'd made a mistake, perhaps she meant to ask someone else?
But no – she really did mean to ask me.
And today, nearly a year later, I can officially say I'm a published author (I swear this counts… sort of…), because today is the release date of Vegetarian Sushi Secrets!!!
(Can you tell I'm all sorts of excited?)
And seeing as not only did I contribute a foreword to the book, but also that I am a sushi blogger (ignore the fact that I haven't blogged in ages), of course I had to try out some recipes from her book to celebrate!
As a matter of fact, I tried three recipes. Her Faux Roe "Boats" are a fun vegetarian take on fish roe gunkan maki! Her Clear Soup with Pumpkin Dumplings was delicious and easy to make, and perfect for these cooler autumn days – you can find that recipe over on the Fridgg Blog.
But my absolute favorite recipe that I tried from Vegetarian Sushi Secrets is her Spicy Tofu Roll.
To say Son and I loved this roll would be to put it mildly. It would be more accurate to say we're obsessed, we're addicted, we couldn't stop going back for more.
Now I must warn you – there's a good reason this is called a Spicy Tofu Roll. One piece had me sprinting for a glass of water, then following it with a glass of milk to try to cool my flaming mouth. (Although, yes, I am a bit of a spice wimp. But in my defense, Son thought it was pretty spicy too.)
But despite all that (or perhaps because of it), I couldn't.stop.eating them. The flavor combination is exactly on point (and trust me – even though it makes it even spicier, you must top each piece with a bit of curry mayonnaise!), and the textures of the ingredients complemented each other perfectly. Next time I'm quadrupling the batch, because Son and I demolished the rolls I made.
And the ultimate complement? Of all the sushi recipes I've ever posted on Sushi Day, there are only a few that end up on the annual New Year's Day sushi rotation: I make a bunch of bacon crunchy shrimp rolls, a few kyoto rolls, plenty of spicy shrimp inari, and just a couple of kappa maki. But despite the fact that my mom's generation of my family really, really doesn't do spicy, these Spicy Tofu Rolls are definitely going in this year's sushi rotation – even if the younger generation are the only ones brave enough to eat it!
Recipe from Vegetarian Sushi Secrets by Marisa Baggett, out today!
Ingredients
Cooking Directions
Mix together the tofu, green onion, orange juice, fresh orange zest, togarashi, dark sesame oil, and garlic chili paste. Add salt, to taste.
Place a 4×7-in (10×18-cm) sheet of nori vertically on a bamboo rolling mat. Make sure that the short end is parallel to the bottom of the mat and that the rough side is facing upwards.
Dip your fingertips lightly in cool water and spread about 3/4 cup (150 g) of the sushi rice evenly over the bottom 3/4 of the nori.
Spread 2 1/2 tablespoons of the spicy tofu mixture horizontally across the center of the rice. Place 1 avocado wedge on top of the spicy tofu. Top with 1/4 of the carrots.
Wet your fingertips again and slide your thumbs underneath the mat while grasping the fillings with all other fingertips. Roll the bottom of the mat just over the fillings, tucking the fillings tightly under the fold. (Do not allow the mat to get stuck inside the roll!)
Lift the edge of the mat. Continue rolling until the roll is complete and the seam is facing down. Gently shape the roll by pressing your forefingers on top of the mat while simultaneously pressing your thumbs and middle fingers on the sides.
Allow the roll to rest seam-side down on a cutting board for at least 2 minutes. Repeat steps to make 3 more rolls.
To cut the rolls, dip the blade of a very sharp knife in water. Use a swift sawing motion to cut each roll into 5 pieces. Dollop curry mayonnaise on each piece and top with faux roe before serving.
I received a copy of this cookbook for free, as well as provided a foreword for the cookbook. Links in this post may be affiliate links.
Continue Reading
---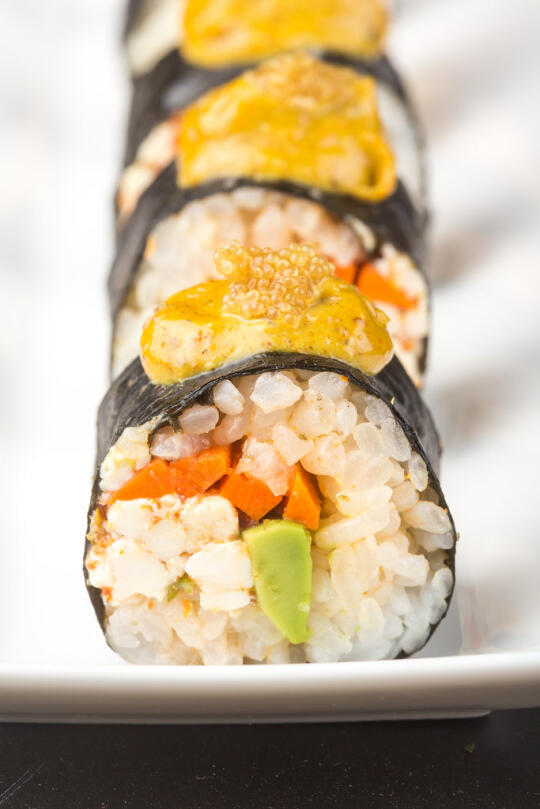 One batch of this is way, way more than you need for a batch of the spicy tofu rolls from Marisa Baggett's Vegetarian Sushi Secrets.
However, you should definitely still make a full batch. Because if you're anything like me, you will find yourself addicted to this amazing curry mayonnaise, and start putting it on everything.
Eat it with sushi. Slather it on sandwiches. Dip vegetables in it. The possibilities are endless!
As for me, I'm off to go make another batch. Like I said… addicted!
Recipe from Vegetarian Sushi Secrets by Marisa Baggett, out today!
Ingredients
Cooking Directions
Combine all ingredients in a small non-metal bowl and mix to combine. Cover and refrigerate for at least 10 minutes before using to allow the flavors to settle.
I received a copy of this cookbook for free, as well as provided a foreword for the cookbook. Links in this post may be affiliate links.
Continue Reading
---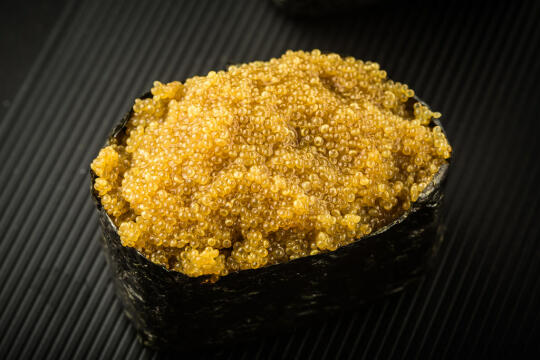 Roe, roe, roe your boat…
These "Faux Roe Boats", or gunkan maki, are a fun sushi to make, and easier than normal rolled sushi – perfect for beginners!
Recipe from Vegetarian Sushi Secrets by Marisa Baggett, out today!
Ingredients
Cooking Directions
Wet your fingertips and palms lightly with water. Grab a walnut-sized amount of the sushi rice (about 2 tablespoons) and mold it into a rectangular mound. The bottom should be flat. Repeat this with the remaining rice to form 12 "beds" in all.
Cut the nori into twelve 1 1/2 x 5-in (4×13-cm) strips. (Any remaining nori can be saved and cut into "seatbelts" for nigiri sushi.) Wrap one strip of nori, rough side facing in, around 1 bed of rice to form a wall. If desired, use a single grain of rice to "glue" the edges together. Repeat with remaining nori strips and rice beds.
Arrange the rice beds on a serving tray. Top each with 1 tablespoon of the faux roe.
I received a copy of this cookbook for free, as well as provided a foreword for the cookbook. Links in this post may be affiliate links.
Continue Reading
---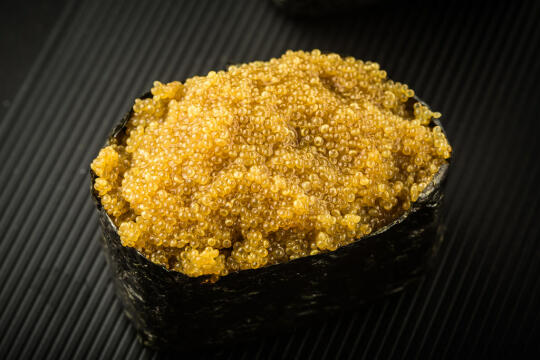 When I first saw the recipe list from Marisa Baggett's new cookbook, Vegetarian Sushi Secrets, this Faux Roe recipe jumped out at me. How did she manage to create something that looks so similar to real fish roe, and yet is vegetarian?
Well now I know – amaranth! This grain is one of those "superfoods" that people go on about, and in addition to being healthy, is the perfect size and shape to imitate fish roe. Add in some turmeric for color, and vegetarian dashi for an almost-fishy flavor, and you've got the perfect "faux roe"!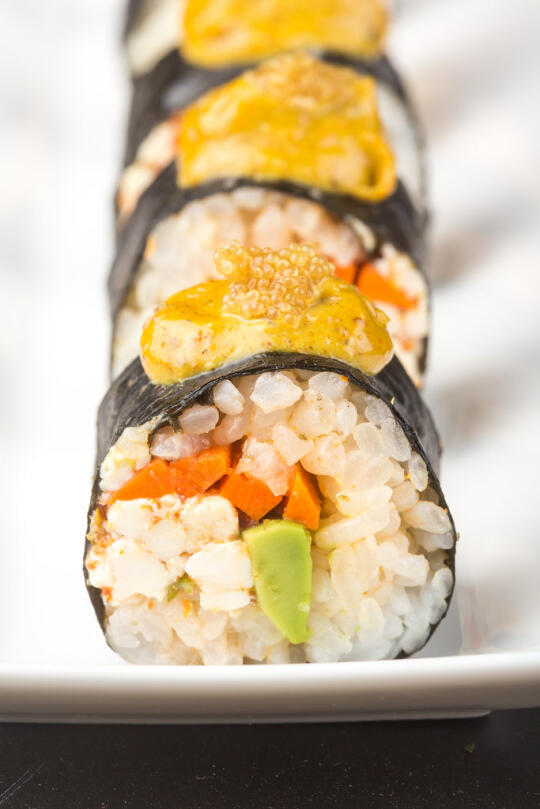 Recipe from Vegetarian Sushi Secrets by Marisa Baggett, out today!
One batch of this is enough to make both the faux roe "boats" and the spicy tofu rolls.
Ingredients
1 1/2 cups vegetarian dashi (half a batch)
1/2 cup (100 g) amaranth
1/2 teaspoon salt
1/2 teaspoon turmeric
One 1/2-in (1.25-cm) piece kombu (kelp), wiped with a damp cloth
Cooking Directions
Bring the vegetarian dashi to a boil in a medium saucepan. Add the amaranth, salt, and turmeric, stirring well to prevent sticking. Add the kombu. Cover the pan and reduce heat to keep at a low simmer. Cook for 20 minutes. There should still be some liquid left in the pan. Strain the amaranth and set aside to cool.
I received a copy of this cookbook for free, as well as provided a foreword for the cookbook. Links in this post may be affiliate links.
Continue Reading
---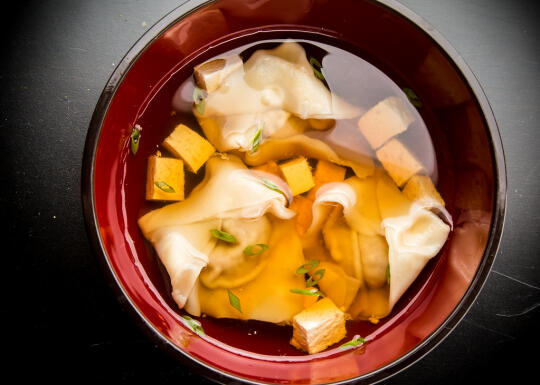 Even though I am by no means vegetarian, I have a tendency to make vegetarian dashi far more than the normal dashi that uses bonito flakes. I especially like this version – nice and simple to make!
Recipe from Vegetarian Sushi Secrets by Marisa Baggett, out today!
Ingredients
Cooking Directions
Cover the dried shiitake mushrooms with the water and allow to soak for 5 minutes. Drain the mushrooms, reserving 2 1/2 cups (625 ml) of the soaking water.
Wipe the kombu on both sides with a damp cloth. Bring the reserved shiitake water to a boil in a saucepan. Remove from heat and add the kombu and soaked mushrooms.
Stir all ingredients, and then allow to sit for 5 minutes. Strain away mushrooms and kombu to obtain the dashi liquid.
I received a copy of this cookbook for free, as well as provided a foreword for the cookbook. Links in this post may be affiliate links.
Continue Reading
---
Every few months, Son and I go out to eat KBBQ with some of his old coworkers. Charred meat, a huge variety of banchan, your clothes smelling like KBBQ all the way home… what's not to love? Unless, of course, you're the one vegetarian of the group, who always gets stuck in the corner, marinating in meat smoke while noshing on whatever meatless dishes the restaurant happens to serve.
To make up for that, every time we have a potluck, I try to make some hearty, delicious meatless dishes that our token vegetarian can enjoy. Especially when he's the one hosting – it just seems so wrong to bring a meaty dish to a vegetarian's house.
One of the sushi recipes that I make most often for potlucks and at home is my Spicy Shrimp Inari. It's simple and delicious… and, as it turns out, seriously easy to convert to vegetarian! Now, this new mushroom inari recipe, along with my Vegan Sushi, are my go-to recipes when I know vegetarians or vegans will be present. Both are easy to make, and both are delicious enough that even serious carnivores love them!
Ingredients
1 package aburaage (inari pouches)
3 cups sumeshi
1 whole portabello mushroom
1 tbsp unsalted butter
1/4 cup mayonnaise
1 tbsp Sriracha sauce
1 tbsp black sesame seeds
Cooking Directions
Slice the portabello mushroom into long slices, then cut each slice in half.
Melt the butter in a saute pan over medium heat, and saute the mushroom slices until softened and brown.
Prepare the inari pouches according to the directions on the package. (Some require no preparation, while some say you should boil the pouch of inari for a few minutes before using them.)
Mix the mayonnaise and Sriracha sauce until well blended.
Stuff each pouch of inari with about 1/4 cup of rice.
Lay a piece of mushroom on top of each stuffed inari.
Drizzle a little spicy mayonnaise over the mushroom.
Sprinkle sesame seeds over the sauce.
Enjoy!
Continue Reading
---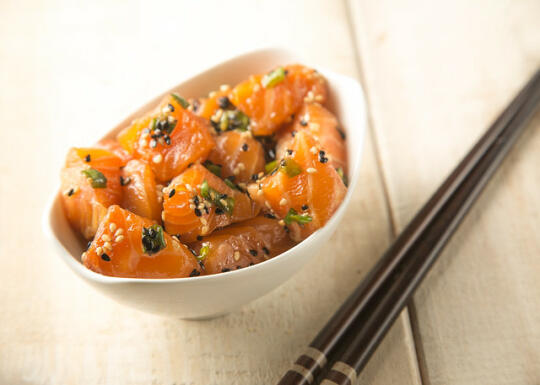 A few months ago, a new restaurant opened in Redondo Beach that serves nothing but poke. We're kind of addicted. (We like the California Roll poke the best.)
A few weeks ago, Son and I went on a business trip/vacation to Europe, which was tons of fun, exhausting, and left us craving Asian food like crazy. (Check out my Instagram for lots of pictures from the trip, and keep an eye on the Fridgg blog for writeups about everywhere we went, as soon as Son has time to process some of the thousands of pictures he took!) (We totally have been binging on Thai, Chinese, and Japanese food since we've gotten back.)
A few days ago, one of the awesome people I met at Big Traveling Potluck this year blogged about ahi poke. Yummm….
And then, Saturday night, after a long day full of lots of eating, Son and I were standing in front of the fish counter in Whole Foods at closing time, trying to figure out what I should cook for the next week. "Figure out what you want," I told Son with a yawn, as I gently pushed him towards the big slabs of fish.
"Hmmm, maybe salmon…" he hemmed and hawed.
"All the salmon is sashimi grade," offered the man behind the counter, with a smile. "You could make poke…"
"Ooooh!" Son and I both perked up at the idea. "We could get a couple of pounds of salmon, and make half into poke, and cook the other half…"
So we bought the fish, and the next day, used Samantha's ahi poke recipe (substituting the salmon for the ahi tuna, of course), and made half of the salmon into poke. And then made the other half of the salmon into poke, because it was too delicious not to. 😀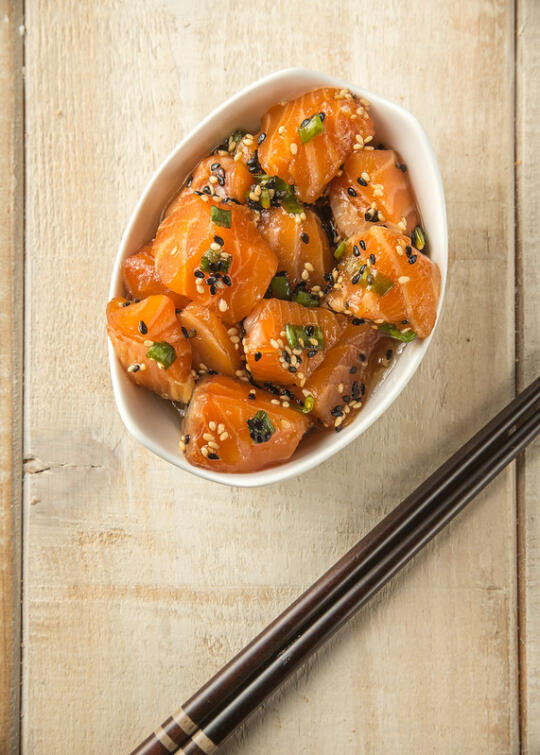 Recipe slightly adapted from Samantha of Little Ferraro Kitchen
Ingredients
1 lb sashimi-grade salmon, cut into cubes
3 tbsp shoyu
2 stalks of green onion, chopped
1 tbsp sesame oil
1 tbsp sesame seeds
1 tsp sea salt (optional – Son thought it was a little too salty, but I liked it with the sea salt, so add to taste)
Cooking Directions
Mix all ingredients in a large bowl and refrigerate until ready to serve.
Enjoy!
Continue Reading
---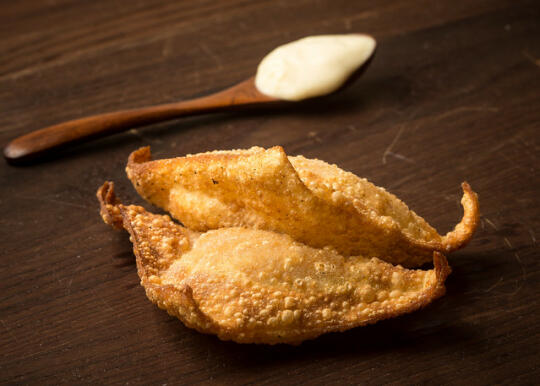 Now that we've launched Fridgg, I'm a little more conscious of being on top of holidays before they happen (unlike how I always used to post holiday recipes a week or so after the fact!) For example, I got the Halloween sushi post up a couple of days before Halloween, and here I am with a Thanksgiving post a whole two weeks before Thanksgiving (so long as you don't count the Canadians)!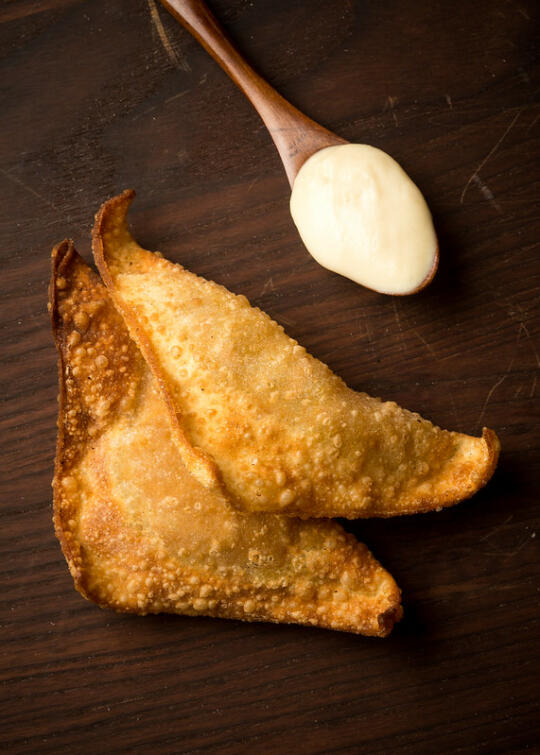 Continue Reading
---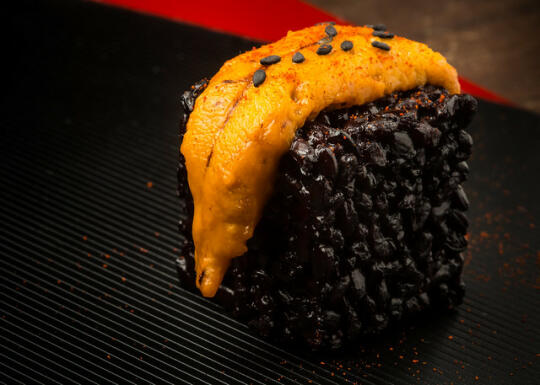 I recently realized that in all the six years that Sushi Day has been around, I've never once done a single Halloween post.
Not a single one!
Obviously, that needed to change.
Continue Reading