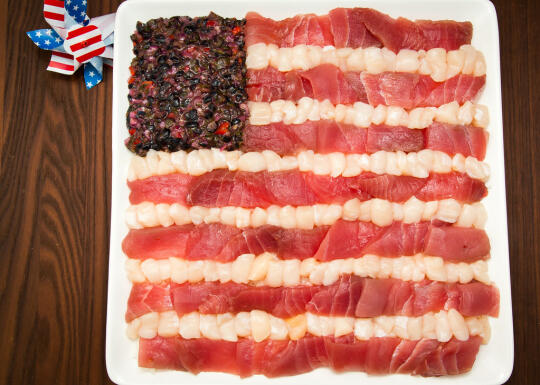 Over the years, we've all seen the American flag cakes, the patriotic fruit kabobs, the everything red, white, and blue for Independence Day. Heck, even Pocky sticks have been decked out in patriotic colors!
So, considering this is a sushi blog (and completely disregarding the fact that I have hardly posted in ages, thankyouverymuch), I'd be awfully remiss if I didn't make something sushi-style for the Fourth of July.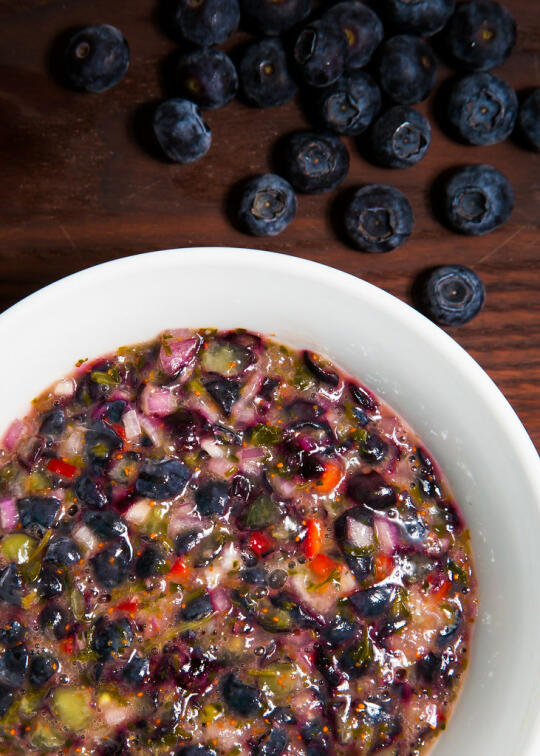 For the red and white, I used sashimi, of course. (I made this as a chirashi – sashimi on top of a bowl of sushi rice – so there is a layer of sushi rice underneath.) The red is ahi tuna, and the white is made up of bay scallops.
For the blue, I decided I wanted to make something with blueberries. I hemmed and hawed between pickled blueberries, some sort of blue tsukemono (Japanese pickles), or this blueberry salsa. Since it was only a couple of days before the fourth, I ended up not having enough time to make pickles, and no time to go to the Japanese supermarket to search for blue tsukemono. So salsa it was.
(I used red jalapeños instead of green ones, and lemon juice instead of lime – funny story, I thought I had run out of lime juice, then found it in the very back of the fridge several hours later. Oops.)
This recipe can easily be adapted to make however much or little you would like. As written, this makes a 12″ square chirashi "bowl", which could probably feed 4 people on its own, or a whole lot of people as part of a potluck.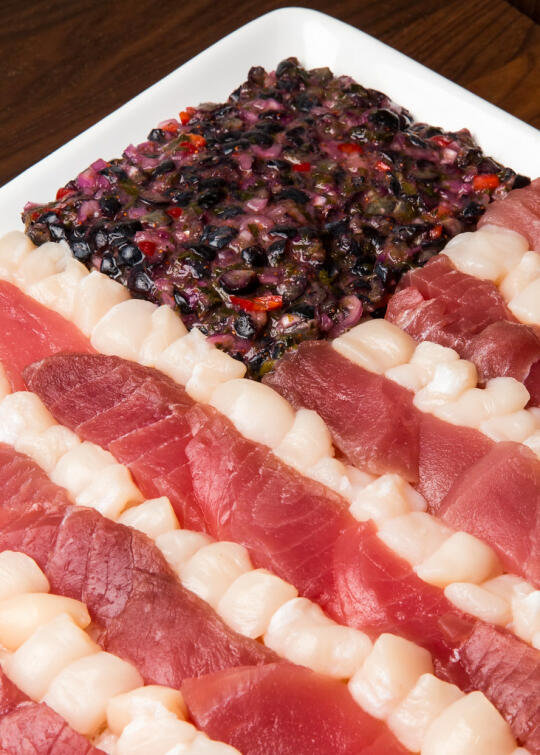 Ingredients
Cooking Directions
Make blueberry salsa. Refrigerate about 20 minutes.
Slice ahi tuna into thin, 1″-wide slices. Set aside.
Spread rice evenly on a large, square or rectangular plate.
Scoop the blueberry salsa onto the top-left corner of the rice. Spread into a small square (this will be the blue part of the American flag design).
Starting with the tuna, lay out the sashimi in alternating horizontal lines of red (tuna) and white (scallops) on top of the rice to create the stripes of the flag.
Serve immediately. Enjoy!
You also might like...
---
---