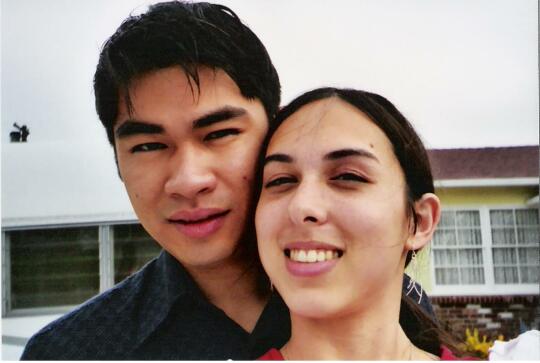 It was the very beginning of the year 2005. I was a freshman at UC Irvine – a dance major. It was a miserably cold, rainy winter in Southern California. Ants had infested my dorm room, and the boy I had been dating for the last nine months had just broken up with me, a week into the winter quarter.
I was a mess.
As any teenager is apt to feel after a breakup, I was devastated. I didn't have many friends at my new school – I've always been terribly shy around new people – and I felt awful about myself after I got dumped. Alone as I felt at the time, I started to do things that I might not have ever even considered before that winter… like try out for a ballroom dance team at the university.
I remember sitting in my dorm room, reading the Anteater Weekly – a weekly newsletter emailed to all the students, with information about club meetings and other events happening at UCI. Ordinarily, I would never consider going to any of the events listed – I was always too shy to join any clubs, or show up to anything but my normal classes on campus. But that week, right after my breakup, something caught my eye – there were going to be auditions for a ballroom team the upcoming Friday.
I had always wanted to do ballroom dancing, but in high school I had no time to do anything other than study and rehearse with my pre-professional ballet company. So, timid as I was, I decided I was going to go try out. I didn't think I would get in – after all, I didn't really have any ballroom experience, other than dancing with a Latin band the previous summer, and UCI's dance program was very competitive. But I figured it was worth a try – I was certain I would love it if I did manage to get in.
So I went – and not only did I completely rock the audition, I actually ended up spending most of the 'practice' time at the audition trying to teach the routine to other students who had no dance experience at all.
********
********
Son was in the first year of working on his Master's degree in Information and Computer Science at UCI. He hated it there. At the time, he was considering transferring to USC for his second year. But in the meantime, he had decided to take the Social Dance class to fulfill his one non-major elective that he was allowed to take, since he enjoyed latin dancing.
He hadn't intended to audition for the ballroom team. But the teacher saw that he was a good partner – something that can be hard to find – and convinced him to try out.
Son says he noticed me that very first day, that he couldn't stop watching me at the audition – somehow, out of all the girls trying out, I was the one who caught his eye. I didn't notice him… yet. I was too busy trying to help the other girls learn the very easy ballroom combination.
********
********
Both Son and I made it onto the team. It didn't take long for me to notice him – he was one of the best male dancers on the team, after all.
But I never thought of him as anything more than just another member of the team. I would have never in a million years even entertained the thought that we might one day be a couple… not because he wasn't incredibly good-looking, a great dancer, and all-around likable – he most certainly was! (Did I mention good-looking? Yeah…)
No… Son was Mr. Cool. Completely out of my league, or so I thought. He would show up to every rehearsal looking like a professional – dress shirt and pants, nice shoes. (For years I thought every grad student dressed like that.) He would stand by himself at the side of the room, arms folded, wearing his stylish sunglasses. Heck, just about every other guy on the team was friendlier to me than he was – which wasn't to say he was unfriendly. He was polite, but he didn't make an effort to joke around and hang out like all the other guys did.
A man like that? I would have told you he was far too good for me. Never once did I even consider him as a love interest – that was reaching too high for me!
Little did I know, he thought otherwise.
********
********
A month after we started rehearsals, our coach had us all sign up to be runners at a local ballroom competition. We weren't competing – oh no, our coach had far better things to do than to actually train us to compete – instead our job was to stand at the sidelines, and then gather up the scorecards from all the judges after each round of dancing. I don't recommend it – it's not a very fun job.
I showed up at the hotel in my little old light blue Honda Civic a little while before my shift was supposed to start… but couldn't for the life of me figure out where we were supposed to park. Luckily for me, all the team members had exchanged phone numbers previously. So I called one of the other people who was also going to be running during that shift – Son.
He came out to the front of the hotel, and got in the passenger seat of my car so he could show me where to go.
I remember feeling like I was shaking, I was so nervous having him sitting so close to me. That was the first time I ever recall him being more than just one of the guys on the team – likely the first time we ever said more than a few words to each other.
He must have been nervous too, because to this day he will swear up and down that my car was red. It wasn't. It was light blue. I have the pictures to prove it.
Once I had parked in the correct parking lot, we got out to walk back to the hotel where the competition was at, and made conversation on the way. He asked how old I was. "Eighteen," I told him. He was shocked. He was certain I was twenty-two… or at least twenty. He teased me about it, playfully accused me of lying. He was flirting with me, I suppose, though at the time the very idea that someone like him would flirt with little old me was just plain ridiculous.
We joked around here and there throughout the competition – even then, he liked to tease and make fun of me. But I didn't think much of it, at the time.
After the competition, I volunteered to drive a couple of my friends back to their respective dorms on campus. When I finally got back to my own dorm room, very late at night, I checked my phone and saw that Son had called me soon after I had left the hotel where the competition was.
But it was more than an hour later, and I wrongfully assumed that he had been calling about something relevant to the competition. Since it was so late at night, and I figured he'd already be asleep, I never called him back.
It wasn't until many months later that I learned he had actually been calling me to ask me out.
He took my failure to call him back as a sign that I wasn't interested.
That very well could have been the end of things right then and there.
********
********
From February into March, nothing of any importance happened between us. We continued to rehearse together, and we continued to be friendly. I was still completely oblivious to any signs that he might have had an interest in me.
But on March 18, 2005, everything changed. I was in a car accident that put me in the hospital for a week, required surgery after that, and forced me to take a leave of absence for the entire Spring Quarter of school. (I've written at length about my accident here, if you care to read about what happened.)
For all I knew, I would never see Son again – and I still hadn't the faintest idea that he'd ever had any interest in me.
********
*********
However, for Son, my accident was the excuse he needed. It gave him a valid reason to call me – after all, even friends I hadn't seen for years reached out to me when they heard I had been in such a bad accident.
The first time, he called to ask how I was doing.
And then he called me again.
And again.
It wasn't long before I discovered his blog… this was the first post I read… and I was smitten! (Imagine my minor disappointment when I discovered, years later, that Son actually hadn't written that post.)
Of course, I didn't tell him I knew about his blog. I was beginning to be very curious about this man who kept calling me… and went and read every single post on his blog. (What? Like you've never done that.) Er… little did I know that he actually did know I was reading his blog all the time… this was long before I knew anything about scripts that track how many people visit your blog! Son's alway has been very up to date on technology.
But little by little, I was developing quite a bit of a crush on the man.
So when I saw this post on his blog… (scroll down and read the paragraph under the photo of the rose)… well, I couldn't help but hope he was talking about me. (Even to this day, reading that post puts a huge grin on my face.)
Soon after, he asked me out. I hemmed and hawed for days, but he was persistent. He finally got me to go out on a date with him on May 15, 2005.
********
*********
And the rest, well, that's a story for another day. It's been almost six years – we've had our ups and downs of course, and I love him more than ever.
That's my love story. Shauna Ahern inspired me to share it with the world today… what's yours?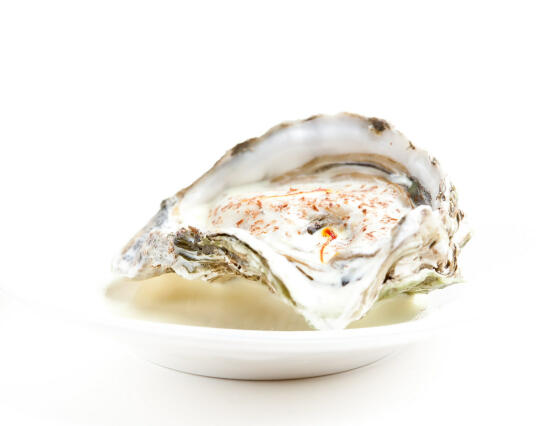 These last six years, Son and I have tried different things every year for Valentine's Day. At first we used to get each other gifts, and go out for a nice dinner. After all, that's what you're supposed to do, right?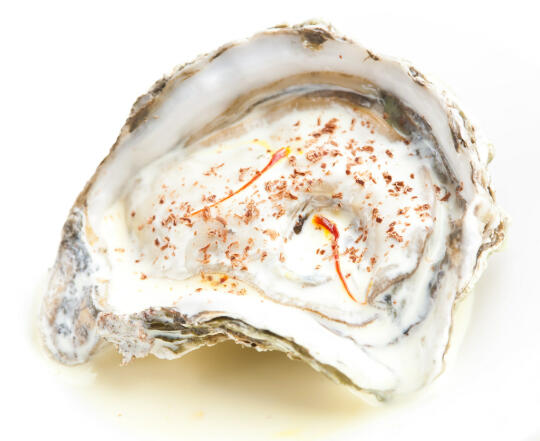 But as the years have gone by, we've realized the gifts aren't really necessary, and the fancy dinner is really not our style – we hardly ever go out anyways, and dealing with all the crowds and chaos on Valentine's Day just isn't our kind of thing.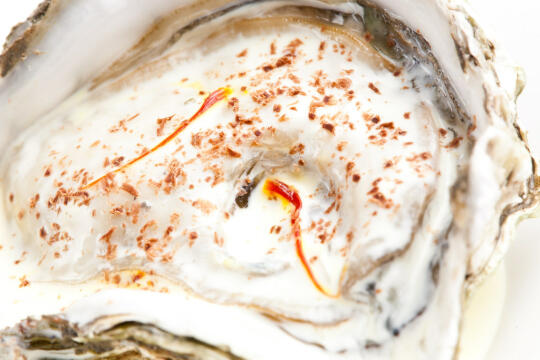 So this year, we didn't even think about gifts, or a nice dinner. However when we saw the Valentine's Special that I Love Blue Sea was featuring on their site, we knew we definitely had to get it.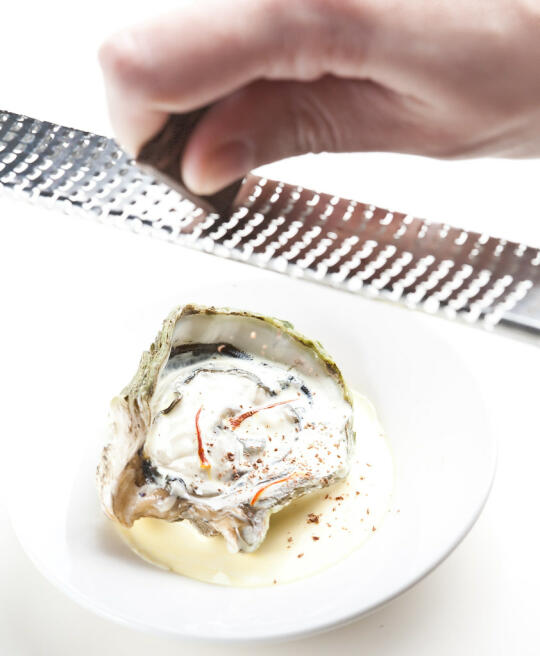 Now, we could have simply enjoyed the oysters, caviar, and truffles by ourselves, and had a nice, quiet, romantic Valentine's Day evening.
But this is Son and I we're talking about. No seafood goes through this household without turning into something for Sushi Day. Especially not seafood as fresh and beautiful (not to mention pricy!) as these oysters.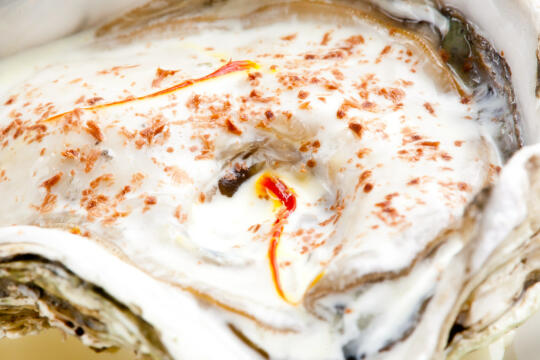 So for Valentine's Day, we bring you this romantic dish – oysters are already an aphrodisiac by themselves, but then we went and added saffron, cream, and chocolate (three other aphrodisiacs!) to the mix. Whatever your plans are for the day, these oysters are a must.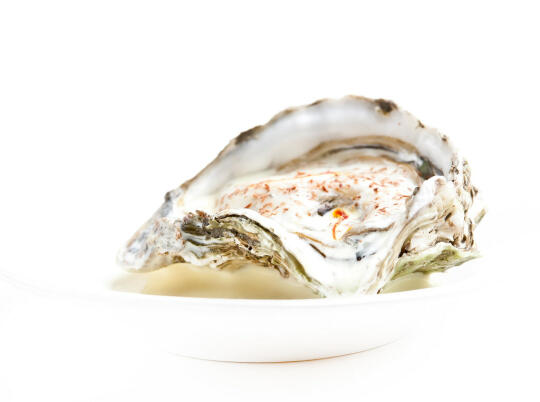 P.S. If you're wondering who won the Lunar Calendar dish towel, congratulations to Kanit!
Ingredients
6 fresh kumamoto oysters
1/4 cup heavy cream
small pinch of saffron
1 square of dark chocolate
Cooking Directions
Shuck all 6 oysters.
Warm the cream (do not boil) then add the saffron. Stir. Let sit for 10-20 minutes so the cream can take on the flavor of the saffron.
Spoon a small amount of the saffron-infused cream onto each oyster.
Grate the dark chocolate over each oyster.
Enjoy, preferably with someone special!
Coming Soon!
Percent Daily Values are based on a 2000 calorie diet. These values are only estimates based on the individual ingredients, and not meant to replace the advice of a medical professional.
You also might like...
---
---