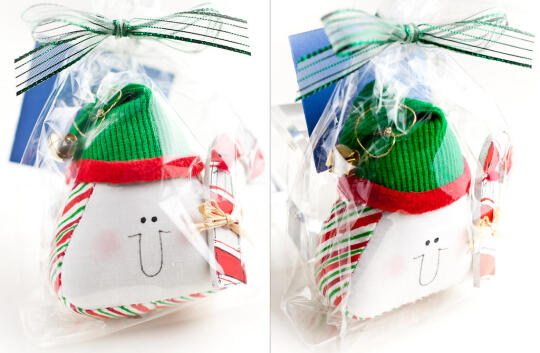 Japanese people make the cutest things.
I mean, seriously, have you ever been in a Japanese store? Or seen Japanese things online? (Of course you have, just look at what I'm giving away this week.)
We're really big on cute.
Especially food cute. Do a search on cute bento boxes, and you'll see what I mean.
Today's giveaway is no exception. This candy cane musubi ornament is cute as can be, don't you think? (They have other styles too – my mom has a whole Thanksgiving series that she puts out in November, and we also got a Lakers-themed musubi ornament for my Lakers-loving grandmother. Sshh, don't tell her!)
All you have to do to win this musubi ornament is leave a comment on this post, telling me what you would love to get for Christmas. (Me? I'd love a KitchenAid stand mixer. But since that's not likely, I'm hoping to get a pair of oven mitts… because somehow I still don't own a pair. And legwarmers. A dancer can never have too many legwarmers.)
The contest ends this Saturday, December 18th, at 11:59pm. The winner will be picked randomly. I'll ship anywhere, so anyone can enter. One entry per person, please!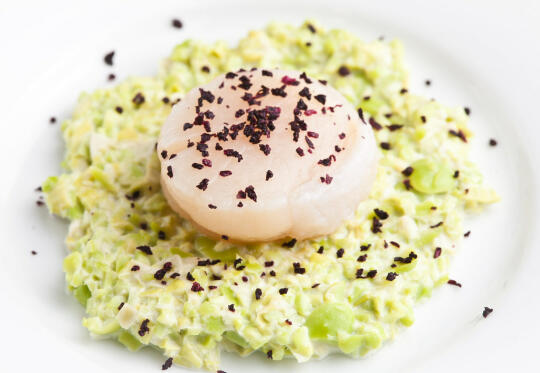 Edamame. Some people love it. Some people would really rather not bother with it.
I'm of the first group – I'm a big fan of edamame as an appetizer, or just as a snack. It's healthy, it's delicious. Good stuff.
So when Son suggested making a puree using peas to go with the scallops we were getting, I thought, why not use edamame instead? After all, it obviously goes pretty well with sushi.
So we did. And it was delicious. (I'll admit to stealing a few bites of the puree by itself, and just eating it plain!)
Tip: Our food processor isn't very good. So the coarse chop you see in the pictures was the best we could do. If you have a better food processor and can get a much finer puree, that would be great. Or if there's a Fresh and Easy store near you, they have a great edamame hummus that would also work perfect for this. (They're not paying me to say this, or anything. I'm just a gigantic fan of their products. They have the best fresh-squeezed orange juice… and their hummus is to die for!)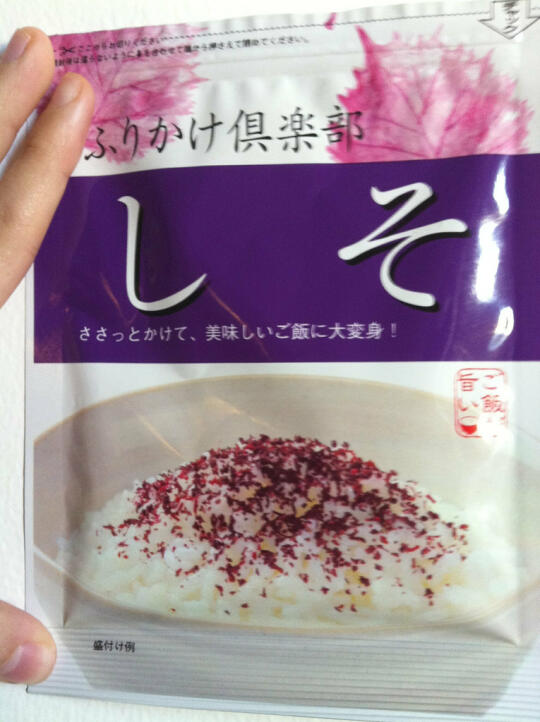 Now you may be wondering, what the heck is that purple stuff sprinkled on top of the scallop?
It's a type of furikake. Furikake is a Japanese seasoning, usually made from seaweed, salt, and sesame seeds (sometimes with other flavorings as well). You can use any sort of furikake you want for this, but I used one called "Nichifuri" – one with shiso and plum vinegar.
****
And don't forget, we're having a sale! Buy $40 or more worth of products from our Sushi Day store, then use the coupon sushiholidays at the checkout to get $20 off!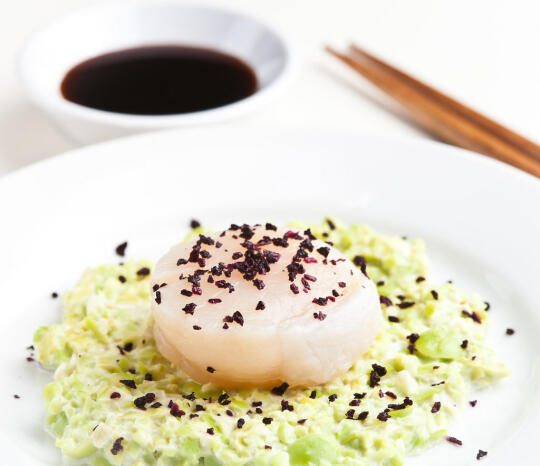 Ingredients
6 sashimi-grade scallops
1 cup cooked, shelled edamame
1/2 tsp salt
1/2 tsp lemon juice
1 tbsp mayonnaise
1 tsp furikake
Cooking Directions
Puree the edamame, salt, lemon juice, and mayonnaise together.
Place a small scoop on a plate, use the back of the spoon to spread it into a circle.
Place a scallop on top of the edamame puree.
Sprinkle with furikake.
Serve with shoyu, and enjoy!
Coming Soon!
Percent Daily Values are based on a 2000 calorie diet. These values are only estimates based on the individual ingredients, and not meant to replace the advice of a medical professional.
You also might like...
---
---