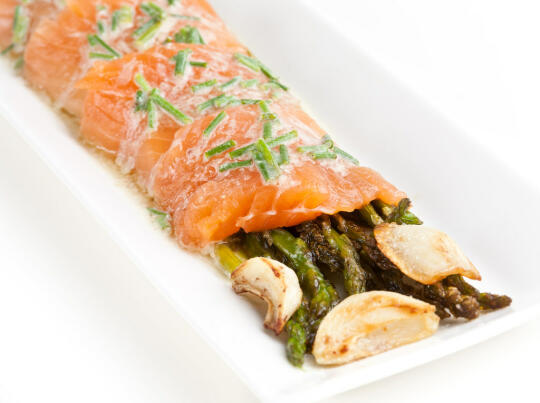 The general rule that I've found for coming up with dishes using sashimi is that if there is a sauce or marinade or glaze that works well with a cooked version of the fish, then some play on that sauce will most likely go great with the sashimi version of the fish.
Makes sense, right?
That's what I've been doing for a good number of the dishes I made in the last couple of weeks. Today, no different. I made a sauce that was used as a glaze on salmon, from my friend Robin.
Worked just as well as I had expected it to.
And don't forget to leave a comment on this post to enter our latest contest!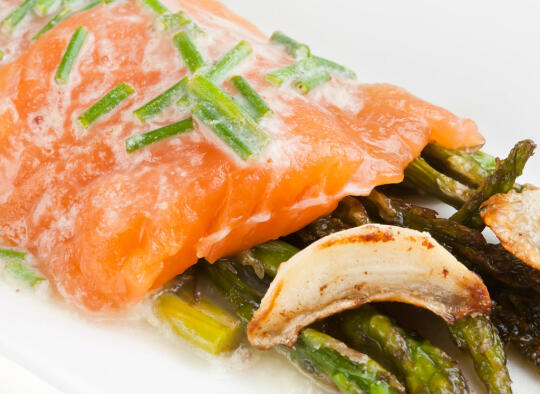 The butter-mustard sauce is inspired by the sauce in this salmon recipe.
Ingredients
1 fillet (about 1/3 lb) very fresh arctic char
2 bunches asparagus, prepared as instructed in instructions 1 and 2 here
1 head garlic
1 stick (8 tbsp) unsalted butter, split into 3 tbsp and 5 tbsp sections
salt
2 tsp dijon mustard
2 tsp lemon juice
1 tbsp chopped chives
Cooking Directions
Thinly slice the arctic char.
Add the 3 tbsp of unsalted butter to a wide pan. Caramelize the garlic on one side, then flip and add the asparagus. Continue to cook the asparagus as instructed in instructions 5 and 6 here.
Melt the 5 tbsp of butter; mix with the dijon mustard, lemon juice, and chives.
Pile the asparagus and garlic on a plate, then top with the arctic char. Drizzle with the butter-mustard sauce.
Enjoy!
Coming Soon!
Percent Daily Values are based on a 2000 calorie diet. These values are only estimates based on the individual ingredients, and not meant to replace the advice of a medical professional.
You also might like...
---
---