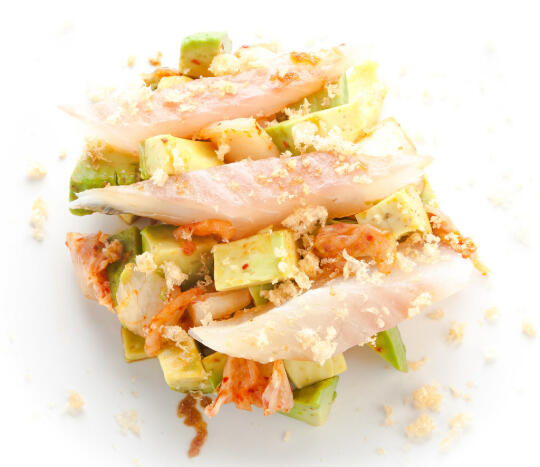 Aside from rice and nori, avocado is probably one of the most widely used ingredients in sushi rolls. It seems to go well with almost every type of fish.
In our household, kimchi goes with everything. Or at least, that's Son's opinion. I'm a little more conservative with my kimchi usage, though I enjoy the fermented vegetables as well.
You don't have to be a kimchi fanatic like Son to like this combination, though. Avocado and kimchi go quite well together, and the shoyu adds a little saltiness. Chicharrones add a subtle little crunch to the dish. Delicious!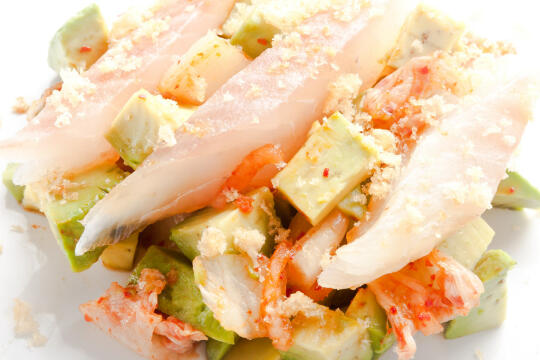 Ingredients
4 oz sushi-grade tilapia
1 avocado
1/2 cup kimchi
1 tbsp shoyu
2 pieces chicharrones
Cooking Directions
Dice the avocado and kimchi, and mix together.
Thinly slice the tilapia.
Top a scoop of the avocado-kimchi salad with several pieces of tilapia.
Sprinkle with shoyu and crumbled chicharrones.
Enjoy!
Coming Soon!
Percent Daily Values are based on a 2000 calorie diet. These values are only estimates based on the individual ingredients, and not meant to replace the advice of a medical professional.
You also might like...
---
---