Unicorn Roll
Posted By Allison On October 21, 2009 @ 6:00 pm In Maki Recipes | No Comments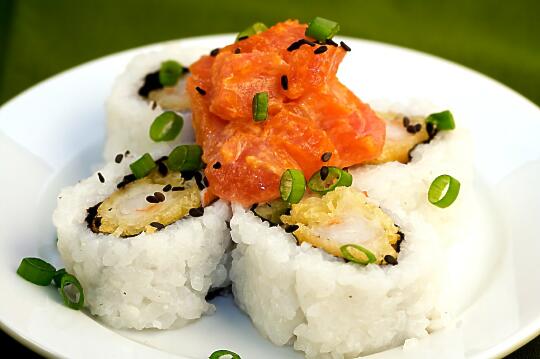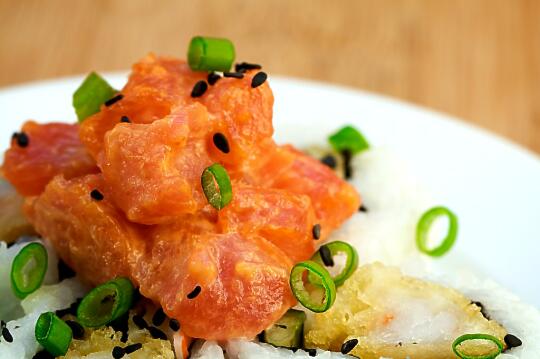 Ingredients
6 sheets nori [3]
3 cups sumeshi [4]
12 pieces tempura shrimp
1/2 small cucumber
1 cup imitation crab
6 oz sashimi-grade tuna
1 tbsp Sriracha sauce
1/2 cup mayonnaise
6 stalks green onions, chopped
1 tbsp black sesame seeds
Cooking Directions
Cook sushi rice. [4]
Cook the tempura shrimp as instructed (I usually do 10 min at 400°F).
Slice the cucumber in half lengthwise.
Use a spoon to scoop out the seeds of the cucumber.
Slice the cucumber into long, thin sticks.
Chop the tuna into 1/2-inch pieces.
Mix the tuna, mayonnaise, and Sriracha sauce.
Roll the sushi inside-out [5], using two pieces of tempura shrimp, a stick of cucumber, and some imitation crab as your fillings.
Top with the spicy tuna mix, and sprinkle with green onion and sesame seeds.
Enjoy!
Serving Size: 1 roll Unicorn Roll
Calories:

379

Fat:

13g, 20% DV

Saturated Fat:

1g, 6% DV

Cholesterol:

46mg, 15% DV

Sodium:

875mg, 36% DV

Total Carbohydrates:

46g, 15% DV

Dietary Fiber:

4g, 17% DV

Sugars:

19g

Protein:

17g, 34% DV

Vitamin A:

28%

Vitamin C:

14%

Calcium:

6%

Iron:

14%

Magnesium:

11%

Potassium:

5%
Percent Daily Values are based on a 2000 calorie diet. These values are only estimates based on the individual ingredients, and not meant to replace the advice of a medical professional.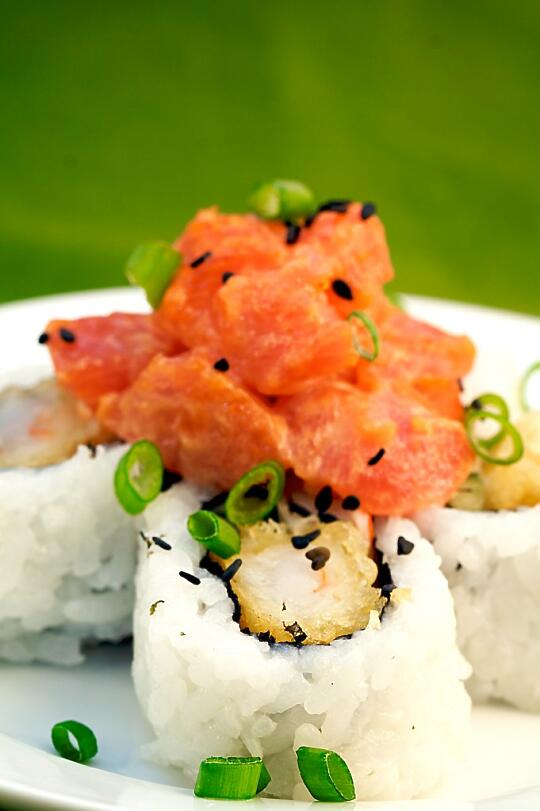 ---
Article printed from Sushi Day: http://sushiday.com
URL to article: http://sushiday.com/archives/2009/10/21/unicorn-roll/
URLs in this post:
[1] Recipe: #recipe
[2] Nutrition Info: #nutrition-data
[3] nori: http://sushiday.com/glossary#nori
[4] sumeshi: http://sushiday.com/archives/2006/10/21/sumeshi/
[5] Roll the sushi inside-out: http://sushiday.com/archives/2006/12/21/how-to-roll-inside-out-maki/
Click here to print.