I've been thinking a lot lately, about love, and dreams, and what it all means. Why do some people work their lives away in a job they hate, just to pay the rent, while others get to have the life of their dreams? Why do some marriages fail after only a few years, others go for decades then fall apart, and yet others can still be going strong after 70 years?
A week ago, Son and I went with my family to my great aunt and uncle's 70th wedding anniversary and renewal of vows. You read that right – 70 years. And they're still happy. The way they look at each other… it's plain as day that they still love each other deeply. How can, after 70 years, two people still be so madly in love with each other? (To put that into perspective, that's over three times my lifetime, or eighteen times as long as Son and I have been together.)
I may not know today what goes into a love story such as theirs, but it gives me a lot to think on and strive for in my own life.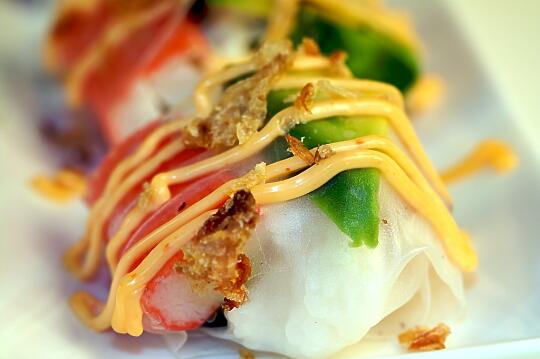 This sushi? Bright, beautiful, and happy, just like my great aunt and uncle. Also, very delicious. Crunchy, smooth, cool, warm, salty, spicy, yum.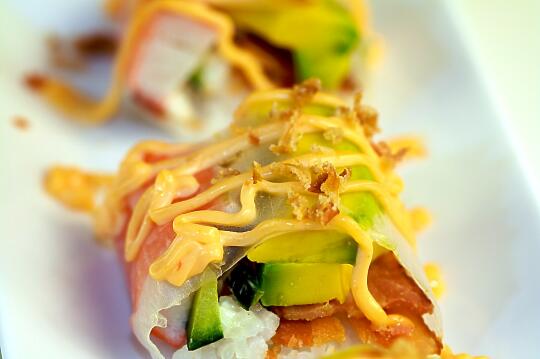 Ingredients
6 circular rice paper sheets
1.5 cups sumeshi
6 sticks imitation crab
3 oz cream cheese
1 small avocado
1/2 small cucumber
6 slices bacon
1/3 cup mayonnaise
1 tsp Sriracha sauce
fried onions
Cooking Directions
Cook the bacon.
Slice the cucumber into long, thin sticks.
Cut the avocado in half, discarding the pit.
Use a large spoon to scoop the avocado out of the hard skin, being careful to keep the avocado half as whole as possible.
Slice the avocado into slices.
Mix the mayonnaise and Sriracha sauce.
Wet the spring roll wrapper with warm water, making sure to cover every last spot on both sides of the wrapper.
Lay the wrapper flat on your workspace.
Lay a slice of bacon, a stick of cucumber, some cream cheese, avocado, and a stick of imitation crab in the middle of the wrapper, leaving about 2 inches uncovered on either end.
Scoop about 1/3 cup sumeshi onto the fillings, patting it into an oblong shape with either end pointing towards the sides of the wrapper.
Fold both sides of the wrapper in, over the fillings.
Fold the bottom of the wrapper tightly up over the fillings.
Roll the sushi away from you, until you reach the top of the wrapper, and seal it shut. (The wrapper should be sticky enough to stick to itself. If not, dampen the end with a little water.)
Using a sharp knife, slice into 4 pieces.
Drizzle with the spicy mayonnaise mixture.
Sprinkle with fried onions.
Enjoy!
Serving Size: 1 roll Happy Crab
Calories:

275

Fat:

13g, 20% DV

Saturated Fat:

3g, 14% DV

Cholesterol:

13mg, 4% DV

Sodium:

709mg, 30% DV

Total Carbohydrates:

28g, 9% DV

Dietary Fiber:

2g, 7% DV

Sugars:

10g

Protein:

6g, 12% DV

Vitamin A:

1%

Vitamin C:

7%

Calcium:

2%

Iron:

3%

Magnesium:

5%

Potassium:

6%
Percent Daily Values are based on a 2000 calorie diet. These values are only estimates based on the individual ingredients, and not meant to replace the advice of a medical professional.