Archive
For the month of February, 2009
---
These days, everyone is doing what they can to go green and be better for the environment. We use energy-saving light bulbs and appliances, drive cars that waste less gas, and recycle or reuse more of our resources. Going green has become the latest fad, the coolest thing to do. Just like everyone else, I do my part – but as a sushi lover, there's a heck of a lot more that I can do.
For those of you like me who love sushi, the most well-known way to save the environment is to stop eating bluefin tuna. Everyone knows the beloved fish is slowly nearing extinction, mostly because it has become so popular with us sushi fanatics. I do have to admit eating bluefin tuna, though only one or two times, but I do try to choose a different type of tuna whenever I make sushi at home. But did you know that there are many more types of fish and seafood that are just as unsustainable as bluefin tuna?
Recently, I was given a copy of Sustainable Sushi by Casson Trenor to review. I was shocked to see just how many different types of fish and other seafood were included in the book, and it was fascinating to see how my favorites stacked up in terms of sustainability.
For each type of seafood, Trenor gives a full description of the seafood and how it is caught. There are beautiful colorful drawings and photographs of the seafood and how it's often eaten on every page. He gives the English name, Japanese name, and Japanese symbols for each type of seafood. Finally, not only does he give separate ratings of sustainability for the different ways and locations in which the seafood is caught or farmed, he also gives a rating for the danger of the mercury level that can be found in the seafood. It really is a great book, quite helpful for those of us who love seafood but want to minimize our negative impact on the environment.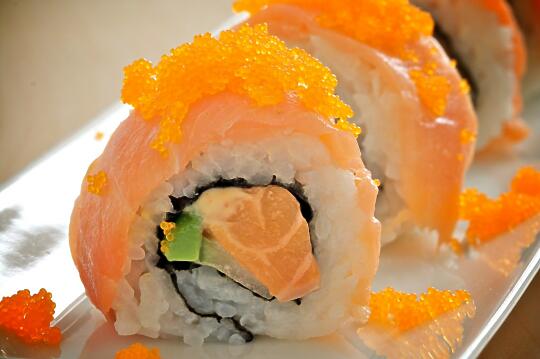 Win the Book!
Curious about whether your favorite fish or seafood is sustainable or not? Well, you're in luck! I've also been given five extra copies of the book, to be given away to five lucky Sushi Day readers. All you have to do to win is comment on this post and tell me what your favorite sashimi or seafood is. (Vegetarian? Tell me what your favorite sushi consists of!) Make sure you enter a valid email address in the email field so I can contact you if you win.
The contest ends on Saturday, March 7th, at 11:59pm PST. Five lucky winners will be announced on Monday, March 9th.
Bonus Entry: Write about this contest on Twitter! Just leave another comment here with a link to your tweet to get a second entry into the contest!
Continue Reading